Photo Gallery
Rock slide mitigation project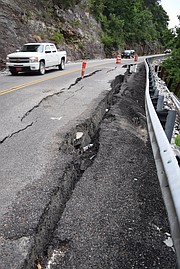 If you don't really think about it, those giant boulders looming above State Route 30 west of Pikeville, Tennessee, look like they've been there forever.
But water, vibration and gravity have been conspiring for decades to weaken the slope where Highway 30 in the Sequatchie Valley ascends Wheeler Mountain to the Cumberland Plateau. Rock slides happen every few years either above the roadway or below it where the path carves its way through the rocky bluff.
The Tennessee Department of Transportation is studying Highway 30's slide-prone areas near the top of the mountain for a potential fix.
A rock slide in 2009 and a collapse in 2016 forced traffic reroutes and repair work on the two-lane, winding state road, one of the primary westbound routes to Fall Creek Falls State Park on the Bledsoe-Van Buren county line.