Photo Gallery
Meet the chef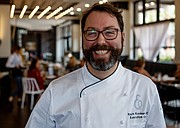 Kevin Korman, executive chef at Chattanooga's exciting new hotel The Edwin, received his degree in the culinary arts from Baltimore International College in Maryland and completed an honors internship in County Caven, Ireland. But his training began before that - long before.
His mother and grandmother were both excellent cooks, the latter a professional cook at a Catholic school. His brother owns a barbecue shack in Maryland, where his mother helps out on occasion.
The Edwin Hotel, on a prime piece of property at the south end of the Walnut Street Bridge overlooking the Tennessee River, has two dining venues. On the main floor is Whitebird, where Korman designed a menu with inspiration from his Appalachian grandmother.