Photo Gallery
VW hiring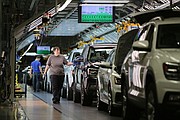 Volkswagen's Chattanooga plant plans to add a third shift, and potentially hire upwards of 1,000 more workers, as it readies to make the five-seat version of its Atlas SUV next year, an official said Friday.
"We're already planning," said Antonio Pinto, chief executive of the Volkswagen plant, adding that hiring is expected to start this year and continue in 2019.
Pinto, speaking after a ceremony unveiling the 100,000th Atlas produced at the sprawling factory, said the third shift will begin next year as the five-seat Atlas is added to production. Plant workers now assemble the seven-seat SUV and the midsize Passat sedan.
The plant now employs 3,500 people. It added about 1,100 workers over the past couple of years to produce the Atlas seven-seater.
Volkswagen Chattanooga spokeswoman Amanda Plecas said a decision on the final number of new jobs hasn't been made.
"We're still looking at all the additions we need to make for the five-seater," she said. "All of the jobs are part of our continued commitment to Chattanooga and Tennessee."
In 2014, Volkswagen announced it would create 2,000 more jobs as it planned SUV production in Chattanooga in a $900 million expansion. State and local officials agreed then to provide VW with $260 million in incentives for the 2,000 additional jobs, or $130,000 per post.
Earlier this year, Volkswagen said it would spend $340 million to build the five-seat Atlas.
Pinto said Volkswagen officials are pleased with sales of the seven-seater, which first hit dealerships in spring 2017.
"We are increasing volume, planning a third shift next year," he said. "That means employment and growth...for Tennessee."
Pinto said the aim is to produce the Atlas in America for Americans.
"This is just the first of many production milestones we anticipate celebrating for the Atlas," he said.
On Friday, VW showed off the 100,000th Atlas - a 2019 SEL premium finished in a new color, Pacific Blue, featuring a Shetland V-Tex leatherette interior.
Hamilton County Mayor Jim Coppinger said the money VW has invested into the plant to produce the seven-seat Atlas didn't just create factory jobs. It also gave rise to more than 7,700 indirect jobs, such as at suppliers, restaurants and other businesses.
"These projects are so important to our community," he said. "To continue to talk about new projects in Hamilton County and Chattanooga is something me and [Chattanooga Mayor Andy Berke] really appreciate."
Berke said partnerships are important to help VW thrive in Chattanooga.
He said the high-wage growth Chattanooga is experiencing puts pressure on employers such as Volkswagen.
"I wish I could say I'm sorry, but I really can't. When wages grow it's a great thing for our city. We have to find ways to work through it," Berke said. He cited the importance of workforce development and cooperation with Chattanooga State Community College and Hamilton County Schools.
Doug Bartow, senior vice president for strategy and new products for VW, said he served as the automaker's "launch manager" for the Atlas, helping to pull together the different aspects of the new vehicle.
"It's been a real exciting project," he said. "We have a beautiful product."
Bartow also said the VW plant has other projects on which it's working.
"We have some things on the table," he said.
Contact Mike Pare at mpare@timesfreepress.com or 423-757-6318. Follow him on Twitter @MikePareTFP.