Photo Gallery
Coaches supporting educators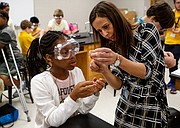 Hannah Horne circles her first-grade classroom, stopping at each of the five tables to lean in to talk with her students.
She asks one student to read out loud the sentence she is writing underneath a bright, hand-drawn picture. She gently pats the back of a student at another table and redirects one who runs up to her, not following directions.
While Horne guides her students through their writing lesson, another adult quietly follows her steps, like a shadow. He leans in behind her, watching and listening to what Horne says, offering gentle suggestions or engaging with the students himself.
Horne is not being evaluated, but the two will debrief later about the lesson and her teaching methods.
The shadow? He is Brent Page, one of Hamilton County Schools' two new-teacher coaches.
First year, first challenges
The first year of any job is a learning curve. First-year teachers suddenly find themselves in a situation they haven't encountered before - alone in front of a classroom of students.
Many experts agree that "an effective teacher is perhaps the most important factor in producing consistently high levels of student achievement," according to a report from the National Council for Teacher Quality, but first-year teachers often face many challenges and aren't always supported or shown how to overcome them.
"It's so difficult to just walk into a classroom as a first-year teacher, and depending on the school that you're in, you may have some supports in your school or you may be surrounded with 10 other brand-new teachers, so you don't really have anyone to go to," said Penny Murray, director of human resources for the district.
Classroom management, lesson planning and other facets of the job can overwhelm teachers, and burnout is high. Nationally, teachers are most likely to leave the profession within the first three to five years - as much as 17 percent, according to the National Center for Education Statistics.
At the end of the 2017-18 school year, Hamilton County Schools had a 26 percent turnover rate for first-year teachers.
This year, the district has 205 new teachers across the district, and more than 70 of them are concentrated within the 12 Opportunity Zone schools.
For arguably the first time, Hamilton County Schools is revamping how it trains and supports teachers in their first year in order to retain them and ensure they are as effective as possible.
The district's plan
Since Superintendent Bryan Johnson took the helm of the district and hired Chief Talent Officer Keith Fogleman, there has been a shift within the human resources department.
Previously, supporting and mentoring first-year teachers was undertaken by individual school principals and content-area instructional coaches (the system has district-level content coaches for subjects such as math, science and literacy).
This school year, the district launched a mentoring program, pairing every first-year teacher with a veteran mentor and supporting them through their first three years of teaching.
"We are really trying to get those mentors to be well connected with their first-year teacher, so that it is another layer of support to get them [the first-year teachers] to stay," said Jill Landtroop, one of the district's new-teacher coaches.
Along with mentors, new-teacher coaches and specific on-boarding, first-year teachers will have monthly professional development meetings focusing on topics that veteran teachers might have already mastered, such as classroom behavior, communicating with parents or how teacher evaluations by their principals will work.
Job-based, in-the-classroom coaching is the most important component, though, district leaders agree.
With the help of funding available through the State Partnership Network supporting Hamilton County's five highest-need schools, the district also hired two first-year-teacher coaches: Brent Page and Landtroop.
Landtroop supports first-year teachers in middle and high schools, and her counterpart, Page, supports elementary first-year teachers.
Alongside mentors, school principals and instructional coaches, Page and Landtroop's primary responsibilities are to work with brand new teachers in the Opportunity Zone.
"They call your first year 'survival,' because that is what it feels like," Page said. "You are doing everything you can to prepare for the next day. I know how challenging it is, the sheer weight on you when you are a first-year teacher there's very little that can prepare you for it."
Along with the mentoring program, new-teacher coaches and new-hire orientations and a New Teacher Academy held at the start of the school year, Murray hopes the district will improve retention and preparation of its newest teachers.
"We are trying to show what differentiates us from surrounding counties," Murray said. "The opportunities that we have to be a teacher leader, we have so many different opportunities and pathways and use that as a recruitment strategy and to keep them here."
Support, support, support
Coaching a brand-new teacher can look a lot of different ways, Page says.
The coaches will make a surprise visit to a teacher's classroom and observe a lesson, meet with them during their planning time to plan ahead for lessons and even jump in during or model an entire lesson in the teacher's classroom.
"Normally [Page] comes into my classroom and we talk about what's going on, what I feel like I'm doing well or struggling with I feel like he knows everything," Horne said. "What's most beneficial for me is when he watches and observes a lesson in my classroom and he might jump in if he feels it will help, and then we debrief after and he gives me advice and shares its takeaways."
Page said that he not only wants new teachers to be effective, but to learn to be "consciously competent" or thoughtful about what works and what doesn't. Most of all, he wants them to feel supported.
"Being a classroom teacher can be isolating," Page said. "We're all sitting on top of other people's shoulders."
Page, who has worked for Hamilton County Schools for more than a decade and started his career as a kindergarten teacher, also trained the new teachers' mentors during this summer's New Teacher Academy.
"Their mentors are a huge part of the support they will get this year," he said. "They can provide instructional support, the emotional support and they are the living model of making it happen."
Erin Kirby, the district's induction specialist, spent much of the summer meeting with principals and high-quality teachers and then matching veterans with their mentees. Most new teachers have a mentor within their school building, but in some schools and subject areas, such as high school art or music, mentors come from other schools.
"The relationship piece is the most important," Kirby said. "A good mentor is somebody who is really empathetic, but not a pushover and has expectations for themselves. It's somebody who knows when to coach and knows when to sit side by side and say, 'I'm going to sit side by side and hold your hand through this.'"
Page also hopes that he and Landtroop can help teachers in the Opportunity Zone feel like they are a part of "something bigger than themselves."
Beginning teachers often start their careers in high-needs schools with students who come from communities of concentrated poverty and low student achievement. This trend, which is true for Hamilton County, is also true nationally.
Horne, a graduate of the University of Tennessee at Chattanooga, said many of her classmates were worried about teaching in those schools. She said she was even guilty of that after doing her student teaching at Normal Park Museum Magnet, a school with much different demographics and levels of performance than Clifton Hills.
"Sometimes people who don't know about the Opportunity Zone make it sound kind of scary and you don't want to go teach there, but it's not what you expect when you get here," Horne said. "There are so many great supports put in place. We have so many coaches in our building that are willing to help with everything and anything It feels great to be so supported."
Contact staff writer Meghan Mangrum at [email protected] or 423-757-6592. Follow her on Twitter @memangrum.