Photo Gallery
Mocs over Catamounts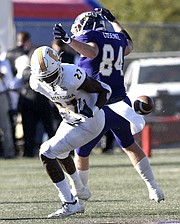 CULLOWHEE, N.C. - The University of Tennessee at Chattanooga football team needed a solid performance heading into its bye week.
It received just that.
With a dominant defense and an opportunistic offense, UTC jumped to a 19-0 lead and cruised to a 26-6 victory over Western Carolina University on Saturday in front of 7,362 at Whitmire Stadium. The win halted the Mocs' two-game losing streak and put them at 5-2 overall and 3-2 in the Southern Conference.
UTC plays next on Oct. 27 for homecoming against Virginia Military Institute.
"It was really important for us to get back on track," UTC coach Tom Arth said. "To be able to come down here, play well and come out with a win, our team really needed it.
"I thought our guys played hard, and I thought we really fought hard in some situations defensively where the ball was driven downfield and they were down at the goal line and (we were) able to come down with stops repeatedly. I think that was a big-time difference in the game. The offense did a great job protecting the football. Being able to run the ball at the end of the game and close it out the way we did was really exciting and a big moment for our team."
The Mocs defense kept the Catamounts (3-3, 1-3) out of the end zone, limiting a team that led the league with 35.8 points per game to a pair of Will Horton field goals. WCU played both Tyrie Adams and Will Jones at quarterback, but the Mocs forced three takeaways, with Kareem Orr intercepting an Adams pass - leading to a UTC touchdown - and Jones fumbling a quarterback-running back exchange at the 1-yard line.
The Catamounts came into the game averaging 489.8 yards of total offense. They had 238 against the Mocs.
The UTC offense was effective. Quarterback Nick Tiano had 204 passing yards and a pair of touchdown throws to Joseph Parker. Running back Tyrell Price had a big day, with 135 yards on 29 carries as well as 38 yards on six catches. He had a 3-yard touchdown run for the Mocs' final points.
The Mocs rushed for 144 yards, their second-most this season.
"We'll watch film and see what to correct, but as a whole I thought the offensive line and the offense played well," UTC offensive lineman Harrison Moon said. "I think it's good momentum going into the bye week. As a team, getting a win going into the bye week is going to make that bye week a little sweeter.
"We took the past few weeks personal. We want to pad TP's (Price's) stats; we want Tiano to have a good game. Our backs having a good night means we're clearing the way for them."
UTC pass rusher Jerrell Lawson helped put the first points of the game on the board, sacking Adams in the end zone for a safety. The offense then put together an eight-play, 75-yard drive, with Tiano finding Parker for an over-the-shoulder catch in the end zone for a 9-0 edge.
After a Victor Ulmo field goal, the Mocs took advantage of Orr's interception and 28-yard return to set up the second Parker receiving score - his first such scores since hauling in the game-winning grab against East Tennessee State in the 2017 season finale.
The Mocs collected four sacks, 2.5 by Isaiah Mack, a career high for the senior. They also had nine tackles for loss.
"I feel like we did a good job today," Mack said. "The offense and the defense did a good job feeding off of each other, and we just wanted to keep them out of the end zone. As a defense we're never pleased, but to hold a top-flight offense to just six points, we can go to sleep on that."
Contact Gene Henley at ghenley@timesfreepress.com. Follow him on Twitter @genehenley3.