Photo Gallery
'Jewish Words'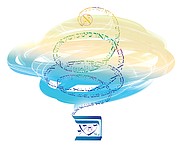 There are multiple messages in the latest exhibition at the Jewish Cultural Center, but curator Ann Treadwell says the main takeaway of "Jewish Words" should be "hope."
"Words make us human. Words are mighty swords. They can be dangerous and swiftly kill, or gentle and loving. Words, in the context of reflecting on community, are powerful resources in times of sorrow and fear," she explains in a news release.
If you go
› What: "Jewish Words" exhibition.› When: Through Thursday, Oct. 11. Gallery hours are 9 a.m.-5 p.m. Monday-Thursday, 9 a.m.-4 p.m. Fridays (except during Jewish holidays).› Where: Jewish Cultural Center, 5461 North Terrace Road.› Phone: 423-493-0270.› Online: www.JewishChattanooga.com.
"Words can build hope."
Works in all media by artists from 21 states are included in this national exhibition, presented locally by the Jewish Federation of Greater Chattanooga.
Each