Photo Gallery
'Jewish Words'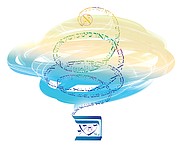 There are multiple messages in the latest exhibition at the Jewish Cultural Center, but curator Ann Treadwell says the main takeaway of "Jewish Words" should be "hope."
"Words make us human. Words are mighty swords. They can be dangerous and swiftly kill, or gentle and loving. Words, in the context of reflecting on community, are powerful resources in times of sorrow and fear," she explains in a news release.
If you go
› What: "Jewish Words" exhibition.› When: Through Thursday, Oct. 11. Gallery hours are 9 a.m.-5 p.m. Monday-Thursday, 9 a.m.-4 p.m. Fridays (except during Jewish holidays).› Where: Jewish Cultural Center, 5461 North Terrace Road.› Phone: 423-493-0270.› Online: www.JewishChattanooga.com.
"Words can build hope."
Works in all media by artists from 21 states are included in this national exhibition, presented locally by the Jewish Federation of Greater Chattanooga.
Each artist's label contains a description of his or her piece, a short biography and where he or she lives. Artists ranging from Massachusetts to California and from Florida to Ohio share work from traditional quilting and quilling, to sculpture and photography. Several of the artists have shown their work at the Jewish Cultural Center in the past, but more than half are new to the Jewish Cultural Center.
"Visitors will view pieces that focus on Judaism in a solemn way," according to the news release. "Where possible, an artist will tell you what verse or Jewish story inspired their artwork. Additionally, the exhibit contains works with Yiddish proverbs. There are pieces combining Hebrew and Arabic with English translations on the labels. There are pieces that should bring a smile, maybe even a laugh, as they poke fun at Jewish traditions. In addition, there are pieces that are commentaries on our current social situation and remind us of our responsibility to the greater community."
The exhibit also may also be viewed virtually at www.JewishChattanooga.com. To schedule a group tour or confirm hours, call 423-493-0270.