Photo Gallery
'Strong Women'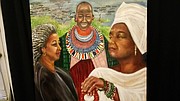 "Strong Women" is not the first art exhibit to be held at the North River Civic Center, but it's the first juried show.
"When I first put it out, the call to artists, I didn't know what the response would be, but the response has been tremendous," says director Linda Rugina.
She believes the theme may have helped generate interest.
"I had a lot of calls about it," she says. "It's a way to honor the people who have been influential or an inspiration."
If you go
› What: "Strong Women" opening reception and awards presentation› When: 1-3 p.m. today, April 7; exhibit continues through Friday, May 31› Where: North River Civic Center, 1009 Executive Drive, Suite 102› Phone: 423-870-8924
While there was no overt political angle in the choice of themes, she says, the news is full of noteworthy achievements by women.
"I just wanted [the show] to be about what's going on in the world," she says. "People took different angles. I told them it was about honoring somebody from their family or in their community or a teacher or leader, just the women in their lives."
Rugina says the Civic Center has been presenting art shows since it opened in 2004, and various art classes, including watercolor, drawing and portrait painting, are part of the weekly programming.
"I thought [a juried show] would take us to the next level," she says. "Our artists are always looking for new things and new projects."
The initial response brought in some 75 original paintings from more than 30 Chattanooga-area artists. Those were narrowed down to 45 entries to be judged by professional artist Judi Ann Hostetter of Harrison. Awards include $300 for first place, $200 for second place and $100 for third place, plus honorable mentions. Those will be announced at the opening reception from 1 to 3 p.m. this afternoon.
Performers with the Rhyme & Chatt poetry group also will be at the reception. Rugina says they have selected some of the paintings to "bring to life" with poems inspired by the images.
Contact Lisa Denton at ldenton@timesfreepress.com or 423-757-6281.
Participating artists
› Mary Ahern› Sandra Babb› Miki Boni› JoAnn Bracey› Barbara Bye› Vanessa Cullars› Peter Ewing› Madeline Gavin› Lupina P. Haney› Irma Herzog› Carol Hobbs› Geri Igou› Faye Ives› Janice Kennedy› Sara Lord› Lynn Mayer› John McCormick› Tori Parrish› Susan Poss› Tom Reddy› Denton Ridge› Linda Rugina› Yahya Sadre› Brij Singh› Vicki Styons› Evelyn Williams› Gerri B. Williams› Faye Wolfe