Photo Gallery
St. Francis Cottage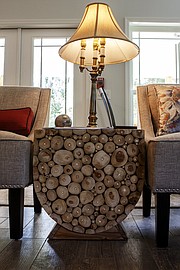 Wallace and Nancy Braud have done their fair share of traveling, but it's possible their furniture has had even more adventures.
Two years ago in April, the Brauds opened St. Francis Cottage, a bed-and-breakfast neighboring their home in East Brainerd. To furnish the seven bed/bath combos and common areas, the Brauds relied on luck and perseverance to acquire an inn's worth of gently used, previously loved merchandise. It's secondhand in many cases, but hardly second-rate.
"Guests give us lots of positive comments on the decor," Wallace Braud says.
Not everything is secondhand, of course. "Used mattresses are not a good idea" for an inn, says Wallace. But even the new merchandise has been bought at a discount from dealers who specialize in closeouts or liquidations.
Tips from the Brauds
* Think beyond the expected. Wallace Braud has modified several furnishings for other uses. A writing desk became a bathroom vanity with the addition of tile. Metal carts became a serving buffet when topped with a plank.* Don't worry about imperfections. They can often be camouflaged. In the sitting room, for instance, a large piece of quartz not only adds visual interest, it hides a blemish on a side table.* Keep your options open. St. Francis Cottage is fully furnished, but the Brauds say they still find items to add or change out in the decor. They still pay visits to favorite resale stores.* Don't worry about matching. The Brauds say they get lots of compliments from guests about the eclectic nature of their decor. They prefer to coordinate pieces through like colors rather than having perfect matches.
The Brauds are inveterate bargain shoppers. Especially Nancy, says her husband. "That woman wouldn't pay retail if that was the only option left," he laughs.
Many of their furnishings came from Habitat for Humanity's ReStore, a network of storefronts operated by the global housing organization. ReStores receive new and gently used merchandise by donation, everything from furniture and accessories to building materials and appliances. Proceeds from sales are then funneled back into Habitat's homebuilding efforts.
The Brauds are Habitat veterans, both as volunteers and former corporate employees, so they know the value and breadth of the ReStores' options. The inventory covers a floor-to-ceiling checklist of items - from vinyl tile to roofing shingles, depending on the donation - sold at a fraction of the retail price. Just what the Brauds needed for outfitting their inn.
"We found small kitchen items, serving pieces and sugar bowls, those kinds of things, all the way up to furniture and shelving," Wallace says.
The mixed and matched assortment gives the place a homey feel. "It's very eclectic," Wallace says of the collection. "We call it urban cottage."
Getting started
The Brauds' journey from concept to cottage took about three and a half years. The process required city-approved rezoning and replatting of their 5 1/2 acres, then designing and building their dream B&B. Built by America's Home Place, the inn began with a floor plan for a large family home that was adapted for commercial use.
The result offers guests both space and privacy - and gave the Brauds plenty of floor and wall space to fill. They supplemented their ReStore finds through myriad other searches.
"During that whole process, we wandered resale places, estate sales, antique stores, yard sales, garage sales," Wallace says. "For four years - three and a half, anyway - we'd go out at least twice a month; probably more like weekly. We even did the World's Longest Yard Sale at least once, maybe twice."
The result is an assortment that represents "everything from auction houses to people's front yards," he says.
While they waited on the inn's completion, they stockpiled whatever accoutrements they'd acquired in the meantime. They started out with a 5-by-10-foot storeroom, and had graduated to a 20-by-40-foot space by move-in day.
Along the way, the storeroom held the sofas, armchairs and mattresses that now provide soft landings when guests arrive, along with the dressers, nightstands and tables that add structure to the space. Lamps, rugs and artwork that were once tucked into storage add coziness and color to the two-story cottage.
Names like Monarch, Cardinal and Sunflower hint at each room's customized ambience. The look is neither cutesy nor cookie-cutter. Only the themed artwork, such as paintings of butterflies in the Monarch room, conveys a sense of cohesion in the Brauds' design decisions.
In each room are beds with different headboards, different linens, different looks. Even in Bluebird, which fills its space with two beds, each is its own restful tableau, with headboards, linens and a quartet of table lamps that coordinate but don't match.
The mix is fairly stable, though Wallace says they still add and subtract, whether to make room for a new treasure or because they've found a better fit for an old find.
They rely on feedback from guests for some of those decisions. A small nightstand in a handicap-accessible room was changed out after a visitor suggested that a heavier version would be more useful for anyone who needed to use it as a brace to get in and out of bed.
More often, they simply rely on their newly honed innkeeper's eye to tell them when it's time to make a switch.
"We had different art on that wall when we opened," Wallace says of one room, "but we decided it was too hotel-y."
Though there's little that matches in any of the rooms - "sometimes not even
the pillowcases," says Wallace - everything works in harmony. For the most part, soft whites, browns and blues tell the color story, while sturdy metals and solid wood pieces add depth and dimension.
If nothing else, the fact that the pieces have had previous lives provides reassurance when the inevitable happens.
"We had a guest spill red wine on this bench three days in," Wallace says.
He shrugs it off. The bench is red. The wine was red. You see the blotch if you know to look for it, but the story of the stain is now interwoven in the story of the inn, much like the essence of the other pieces once owned by others.
One of the oldest pieces is a glass-doored wooden cabinet that houses a small collection of souvenirs. Wallace says they found it at an antiques store, whose owner said it had been passed down through generations of one of Chattanooga's most prominent families. One of its trifid feet is missing a toe - there's undoubtedly a story there - but otherwise it's a stately addition to the sitting room. Its doors open easily. Its light can still illuminate the glass shelves.
"It's a gorgeous piece," Wallace says of the cabinet. "It became our gift shop."
Another large antique, a hall tree from England, occupies space in the foyer. Squares of blue stained glass march across the top, and metal hooks stand ready for outerwear. But not all of this piece is old. The metal drip pans for umbrellas may look vintage, but they are actually a couple of 9-inch cake pans Wallace pressed into service when he rehabbed the piece.
For all the sturdy antiques that decorate the inn, Wallace says it may be a trio of newer pieces in the sitting area that garner the most attention from guests. The three side tables are made of bundles of olive branches encased in wooden sleeves. A Chattanooga dealer often donates overstocks of this brand, Jeffan, to the Chattanooga ReStore, Wallace says. The 20-year-old company, based in Indonesia, promotes designs that are eclectic and fashion-forward.
No one else might have put these pieces together, but "it works" at St. Francis, Wallace says.