Photo Gallery
Chattanooga Prep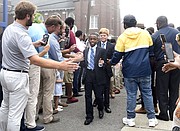 Fisto Irakiza looked away as David Strickland leaned down and tied the boy's navy blue tie outside Chattanooga Preparatory School.
The sixth-grader's dark brown eyes were wide, his smile tight.
Fisto said he was nervous. It was his first day at a new school - and he wasn't alone.
School officials at Chattanooga Preparatory School, the city's newest public charter school, greeted more than 70 new students this week as they celebrated the beginning of the school's second school year with double the faculty and new administration leading the way.
Strickland smiled as he tied Fisto's tie - part of the blue-shirt and khaki pant uniform that "Prepsters" are required to wear.
His own son, Nathan Strickland, was also starting school that morning. Nathan, Fisto and several other boys have grown-up together. They went to Normal Park Museum Magnet School together, went to church and after-school programs together.
Now, they make up the second class of Prep's boys.
And the school's new leader, Head of School Brad Scott, and its founders, Ted and Kelly Alling, have big dreams for these boys.
New year, new administration
Chattanooga Preparatory School opened its doors to 66 boys in August 2018.
The launch of the school was the result of the Allings' vision four years ago when they sat down with Elaine Swafford, executive director of the nationally known Chattanooga Girls Leadership Academy (CGLA), and and asked how they could replicate the school's success and create a high-performing school for boys.
As a public charter school, the school receives funding from the state - and local taxpayers - but is privately managed. Hamilton County students can apply to attend the school, similar to the magnet student process, but there is a long wait list to get in.
Strickland said he and his wife thought carefully about where they wanted to send their son to middle school.
He said the academics the school presented to him and his wife showed promise.
"I want to give [my son] a promising start on life," he said.
Outwardly, Chattanooga Prep's first year was a success. Hundreds of community members showed up Wednesday to line up outside the school's new building and welcome the boys. Almost 300 men in the community answered the call to be paired with boys in the one-to-one mentoring relationships that are a hallmark of both Prep and CGLA.
But the school has seen some recent internal shifts.
In April, the school and its founding principal Tim Gerrish parted ways. Both Ted Alling and Scott have said Gerrish was exploring other opportunities, but some community members and parents expressed concern about his leadership.
Swafford also stepped down as the school's executive director in December 2018, a role that Scott now fills.
But the Allings are confident in the staff and the new leadership of their school.
"Watching our seventh-grade boys being leaders for our new sixth-grade Prepsters is just a powerful thing," Kelly Alling said. "That's just a testament to the love and hope that our teachers poured into them last year."
Scott, a former founding principal of a charter school in Texas, joined the team in May. Ted Alling said Scott brings proven results and stability to the school.
Scott helped hire Diamond Kelley, formerly of Woodmore Elementary, as the school's new assistant principal and drew Joe Banks from The Howard School to serve as the new dean of students. Scott also said about 85% of teachers returned for a second year, which he said meets the school's goal.
Because the school will continue adding a new grade level a year for the next five years (until it serves nearly 500 students in grade 6-12), change and growth will remain a part of the school's operations and the Allings say the school will also need stability.
Scott said he's here to stay, though, and he's already planning for future years.
'Preparing future global leaders' starts now
Twenty-two percent.
That's the number of Chattanooga Prep graduates that Scott wants to see be accepted and matriculate to Ivy league and Tier 1 college and universities in 2025.
"We believe college is not just preparing Prepsters for future jobs, but also is part of our social justice mindset," Scott said. "We are preparing them to be leaders in the community one day."
To achieve this goal, Scott believes the work begins now with his sixth and seventh graders.
He said Chattanooga Prep's leadership team met this summer and identified some priorities: to embed literacy in all content areas and to create a strong, joyful culture for both students and staff at the school.
"Leadership [took] a step back over the summer and thought through changes based off feedback from parents, teachers and students," he said.
For students, the school is offering more elective classes during it's extended learning time in the afternoons. Boys already receive two sessions of math and reading during their extended school day, which begins at 8 a.m. and ends at 4 p.m. Now boys can participate in Spanish classes, art and music class and extracurricular activities like the school's new lacrosse team, chess club and a new math class.
Through a federal 21st Century Learning Grant and a partnership with CGLA, Chattanooga Prep will also be a Boys and Girls Club site and offer activities and childcare until 7:30 p.m. each day.
"I'm a firm believer [that] it takes a village," Scott said. "We're practically a home for a lot of our boys."
The school also hired a STEM (science, technology, engineering and math) teacher who will be working with other content areas to incorporate science labs into the curriculum. Reading and writing will remain a focus though, Scott emphasizes.
Most of the boys come from neighborhoods with some of Hamilton County's lowest-performing schools. They are often reading well-below grade level and aren't proficient in math either.
Scott, who like other educators has seen embargoed test results from last school year, said he is happy with the school's data and the results will continue to drive curriculum and teaching and learning decisions made at the school.
Eventually, Scott hopes to offer Advanced Placement (AP) courses to the boys starting in eighth grade and launch an International Baccalaureate (IB) Program at the school. Only two Hamilton County public schools currently have IB programs, which is one of the most popular college-preparatory high school programs in the country.
"I want Chattanooga Prep's high school to be one of the top high schools in not just the state, but in the country," Scott said.
The boys are back
Fisto said he was nervous about meeting new people after going to the same school for five years, even though some of his closest friends are also attending the school.
He is looking forward to the field trips and laughed when he was encouraged to learn to tie his own tie.
Daniel Jackson and Sean Besley are both returning students - all but one student is returning for seventh grade, Scott said. They said field trips were some of their favorite parts of sixth grade.
But they acknowledged that last year was hard.
Jackson said he got in trouble sometimes - Chattanooga Prep has strict rules such as no cellphones and professional uniforms. Class could be hard, too.
But on the first day of school, 10 minutes into the school day, Jackson raised his hand in Jennifer Huskins' guided reading class and shared his takeaways from his summer reading assignment.
The boys read "Claudette Colvin: Twice Toward Justice" for summer reading and they talked about what they learned. Huskins was visibly excited as she shared what she learned and called on the boys to summarize the story.
Jackson said he was glad to be back at Chattanooga Prep. Despite being one of the shortest seventh graders at the school, Jackson stands a little straighter.
"I want to show [the sixth graders] how to be a young man like I was in the sixth grade," he said. "I want to show them this is what you've got to do to be successful."
Scott and school leaders have high expectations for Chattanooga Prep's boys, and Jackson and his classmates are planning on meeting them.
Contact Meghan Mangrum at mmangrum@timesfreepress.com or 423-757-6592. Follow her on Twitter @memangrum.