Photo Gallery
Bobby Fulcher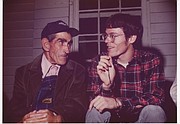 Bob Fulcher has been on a victory tour of sorts.
The longtime Tennessee State Parks employee and historian of Tennessee folklore may cringe at the description, but there have been state awards, local recognition, and coming soon, a National Heritage Fellowship - the nation's highest honor in folk and traditional arts.
The banjo-playin', trail-buildin' park manager for the Cumberland Trail State Scenic Trail, which runs through the Chattanooga area, is receiving the spotlight he shone on others for 40 years.
For those four decades, and counting, Fulcher worked for the parks system and met with deeply rooted Tennessee families to listen to their history, mostly through music. These families are the keepers of thousands of ballads of Appalachian music - also known as old-time, folk, banjo or traditional music.