Photo Gallery
Silverdale inmate parents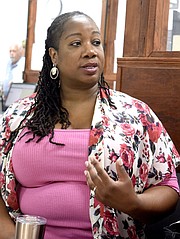 On a recent day, 11 men - all inmates at Silverdale Detention Center - completed a four-week crash course aimed at teaching them how to be better dads.
The program, called 24/7 Dad, is the National Fatherhood Initiative's flagship curriculum that "trains fathers to be involved, responsible, and committed twenty-four hours a day, seven days a week," according to the initiative's website. It teaches men five characteristics of what the initiative calls the "24/7 dad": self-awareness, caring for self, fathering skills, parenting skills and relationship skills.
Locally, the program is presented by Baby University, a partnership among the city of Chattanooga, Signal Centers and BlueCross BlueShield of Tennessee that provides support and resources to pregnant mothers and through their child's toddler years. The local Salvation Army also hosted the workshop for four recently released inmates who live in its halfway house.
On July 12, Robert Smith sat in a Silverdale Detention Center classroom, paying close attention to what workshop leader and Baby University fatherhood specialist Brandon Cooper was saying.
It was an hours-long interactive class covering several topics on how to "walk the talk."
One topic discussed different kinds of dads they could be when it comes to discipline - the joker, the king, the authoritarian, etc. - and why they would or wouldn't want to fall into those categories.
"[Different models] work for some people," Cooper told the men. "You have to know your children. If that works for them, then that's something you should do. But if it doesn't work for them, then there are other styles you can use that'll help them be guided."
For Smith, 31, the workshop has showed him he should be kinder to his five daughters.
"I got to work on my attitude and how I talk to them," he said. "They easy to hurt with just my words. I got to be nice to 'em and not be so mean. 'Cause I grew up rough. I don't want 'em to grow up like me."
Smith has been at Silverdale for about five months on drug charges, he said.
"I think I was being greedy," he said. "I had a good-paying job, but I just wanted extra money but then I got caught. I think God slowed me down for a reason."
He gushed over his daughters, calling them "little Gerber babies" with a smile. And he was excited to be reunited within a month.
It will be "like daddy day care," he said of when he gets to spend time with them.
Derek Jackson, 30, was in a similar situation. He has seven children, he said, and after being there for four months, it was his first time being incarcerated for a significant length of time.
"I've been active in they life since they was born," he said, listing off the different ways in which he was involved with his children, from parent-teacher conferences to athletic activities.
"I was gonna use this time to take this class to see what could help me become a better dad, focus on my kids and turn my life around," he said.
Jackson said he wasn't sure when he'd get to go home because at least one of his charges could mean he has to go to the federal system. And knowing it may be a long time before he gets to see his family makes him feel like a terrible person, he said. But he's still looking forward to that day and hopes to go to technical school when he's out.
Cooper, who is a young father himself, said he wanted to start the 24/7 Dad program "because it's a necessity."
"Many of us are not informed in our community about how to be a nurturing father," he said.
Even self care and knowing how to successfully co-parent isn't always something that comes naturally, Cooper said.
"You try to push some things aside when you're dealing with crises, so you want to make sure they still have an understanding that they need to provide themselves with [self care] so that they can be there for their children," he said.
In other areas of the country, the 24/7 Dad program has had success, studies have shown.
In Iowa, for example, "the men who completed the training increased their knowledge of fathering skills and become less traditional in their perception of male roles," according to a 2012 Iowa State University prisoner re-entry project report.
And in Missouri, men participating in the program experienced "better relationships with the mothers of their children" and reported "improved communication, greater ease in problem solving, and reduced conflict," a 2008 University of Missouri study found.
At the end of the day, "if men are spending more time with their children, the children are more likely to succeed," Cooper said.
Contact Rosana Hughes at [email protected] or 423-757-6327 with tips or story ideas. Follow her on Twitter@HughesRosana.