PELHAM, Tenn. - On his sixth day of freedom, Adam Braseel sat in his sister's backyard, taking in a warm August morning under the sprawling boughs of a tree framing the mountains of the Cumberland Plateau.
On Aug. 1, the 36-year-old was released from prison after having served 12 years for a crime he says he didn't commit.
During a hearing in Altamont, Tennessee, he entered a best interest plea - also known as an "Alford" plea - to a charge of aggravated assault in return for prosecutors dropping the first-degree murder charge. It set him free, but now he's labeled a felon, and his name has not been cleared.
It sticks in his craw.
"I was an innocent man for 12 years in the penitentiary with a 51-year life sentence over my head. And I had to take an Alford Plea, which is in my best interest, so I could come home an innocent man with a felony," Braseel said with a disbelieving shake of his head.
"That is unjust," he said. "We still have a fight ahead of us."
WAITING FOR JUSTICE
On Jan. 7, 2006, the then-22-year-old Braseel was planning a weekend with friends in the Grundy County town of Coalmont.
That same Friday night, 60-year-old Tracy City resident Malcolm Burrows was beaten to death and his sister viciously attacked. Braseel was fingered as a suspect the next day and a year later, in November 2007, he was convicted and sentenced to life for murder, robbery and aggravated assault.
In the years since, he fought through multiple appeals, one generating a ruling by Circuit Court Judge Justin Angel in 2015 that overturned his conviction and released him from prison.
But less than a year later, the Tennessee Court of Appeals reversed Angel's ruling, reinstated the convictions and sent Braseel back to prison, leading to the most recent court action. It began in February with Braseel's filing of a petition for a new trial based on new evidence in the case after the release of fingerprint evidence found in Burrows' car at the crime scene in 2006 but never linked to anyone.
That fingerprint wasn't identified until 2017 when the TBI matched it to another man, Kermit Bryson, who in 2008 shot and killed Grundy County deputy Shane Tate, then took his own life later the same day. In the petition, Braseel contended he and Bryson resembled each other, the cars they drove at the time were similar and that a wallet was found on Burrows by an investigator who never testified at Braseel's 2007 trial, while the state contended the motive was a robbery because the wallet was said not to have been found.
The hearing on that petition was held on June 26 with defense testimony about the new evidence and then resumed Aug. 1 with more testimony expected from both sides, that is, until last week's plea deal was struck and Braseel was freed.
And while he is no longer in prison, he says there's more work to be done.
"I deserve to be exonerated," Braseel said Wednesday. "My name needs to be cleared of all charges for us to receive complete justice."
Braseel said he didn't feel regret about the plea until he sat behind a shed on his sister's property last weekend and opened his Bible.
"Then I did regret it," he said. "I realized we had allowed them to take advantage of us, and we had to compromise so that I could come home an innocent man with a felony."
The justice system had failed. Judge Angel told him so on a visit to Braseel's home last week.
"On behalf of the 12th Judicial District and the state of Tennessee, I felt it was incumbent upon me as the presiding judge, as the president of the 12th Judicial Bar Association, to look him in the eyes and to apologize to him for the injustice that was caused in his case," Angel said in a telephone interview Thursday. Angel said he also wanted to "encourage him to remain positive and to use his new platform to help others and to help me in improving the justice system."
Angel was elected to the bench in 2014, replacing Judge Buddy Perry, who had presided over the case until his retirement that same year.
"When I inherited the case in 2014, I began looking at it in 2015 based on the petition for post-conviction relief that was filed," Angel said. "The job of the court at that time and throughout the case was not to determine guilt or innocence, but instead my job was to determine whether he received a fair and constitutional trial. It was obvious to me in 2015 that he did not receive a proper trial, based upon my findings."
For Braseel, the best interest plea to a felony assault charge ended 12 years of wrongful incarceration for a crime he didn't commit and allowed him time to help with his ailing mother, resume a life with the rest of his family, and renew his campaign to clear his name and helps others in the same situation.
But a plea deal was the last thing he wanted to do. He'd feel like he was selling out and justice for every other innocent man behind bars could be compromised.
At the Aug. 1 hearing on his petition for a new trial, Braseel felt trapped between his steadfast demand for acquittal and the balance of a 51-year sentence that could have potentially left him in prison until he was 75 years old. The courtroom gallery was filled to bursting with family and supporters chanting "No deal, no deal, no deal " and after 12 years of uncertainty, Braseel felt torn between true justice and walking free that day.
During plea negotiations between his attorneys, Alex Little and Zack Lawson, and Assistant District Attorney Steve Strain and District Attorney General Mike Taylor, Braseel shot down the first two state plea offers of convictions for second-degree murder and manslaughter.
The third offer on Aug. 1, made in the wake of some previously unheard TBI testimony on Bryson's fingerprint and its location on the inside of the door handle of Burrow's car, dropped to aggravated assault, Little recounted of actions that day. Braseel talked with his family, friends from prison, other exonorees and his lawyers during the hours-long break in chambers to consider options.
"It was hard to process," Braseel said. "I couldn't wrap my mind around everything that was going on at the time.
"Then I'd called another guy in there - Jason Strong - he'd been exonerated," Braseel said of friends made in his legal fight. "He offered some wise words. In the situation I was in and all the uncertainties everybody asked me, 'Would you be able to do more to help at home?'"
Despite his reservations, Braseel took the plea deal and walked out of the Grundy County Courthouse a free man - a free man on a mission to fully vindicate himself and help others like himself in their battles for justice.
Braseel's attorney said he's ready for the next step.
"I'm extremely satisfied that Adam is out of jail and has his freedom back," Little said Thursday of Braseel's release, "but I'm certainly not satisfied the state insisted on naming him a felon.
"We're going to do everything we can to get the remaining assault charge removed from his record, as well," Little said.
"We're going to file a petition for exoneration from the governor," he said. "Under state law, the governor can issue a pardon or an exoneration. We think we'll present facts that will lead him to do so."
Little said he "expected to win the hearing, and I think the real question was how the district attorney would respond. Given every action they had taken to date, we expected them to re-charge him even in light of this evidence."
Little lays the blame for Braseel's situation squarely at the feet of the district attorney's office.
"I think this case really should demonstrate the power that prosecutors have, and it was entirely dependent on the decision they made that Adam's been in jail since that fingerprint was discovered," Little said.
"It think it's not a decision that the people in that judicial district should ignore," he said. "That they have a district attorney's office who, in the face of really substantial evidence of another man's guilt, were willing to keep not only an innocent man in jail for a lengthy period of time but to not even inform him and his lawyers of evidence that might exonerate him.
"I think that's incredibly troubling, and I think the voters of that district [should consider that] when they consider whether or not they want the people in that office working for them," Little said.
Strain deferred comment to Taylor, who did not respond to calls requesting comment.
Photo Gallery
Braseel freed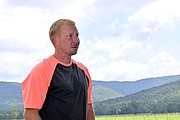 THE TALLY AND LOOKING AHEAD
Braseel's list of losses over those dozen years tally birthdays, the latest movies, changing seasons, new technologies, holidays, friends, his mother's declining health.
And a wife. They had been married 18 months when he was arrested in 2006. And when she's mentioned, Braseel's strong, determined demeanor slips. They're no longer together.
"She's an incredible person. She's got her story to tell, too," he said, his voice unstable. "It's been hard on me, but it's been harder on her.
"In the beginning of our marriage, we were best friends, we did everything together," he added.
After his conviction, they grew apart. "Even though she knew I was completely innocent, she had to deal with knowing that I had 51 years hanging over my head," he said.
Because of the felony on his record, Braseel said he's not sure about a job. He was working at UPS before his ordeal began, he said. He hopes he can find something just as good when he clears his record. Until then, he's going to "help mom, and do some of the yard work and things around the house that need to be done."
"I'm just going to say God will provide," he said.
Now, with a life of freedom in the offing, Braseel has his sights set on a new purpose, and alongside his campaign to clear his name, he wants to be a voice of support and a beacon for hope for others as he tried to be in prison.
During his legal fight, Braseel has gained hundreds of supporters, and with them a network of friends bent on justice system reform and freeing innocent people from injustice, he said.
Braseel said he has developed a deeper faith in God and has sought to inspire other people to make better life choices.
"Even though I was innocent in prison, there was a lot of good that came from it," he said. "I met some people in there that are some of the best people I've ever met in my life.
"They were guilty, but they weren't the same people they were when they made those mistakes," he said.
"We stereotype people in prison, but the truth be told, there are actually innocent men in prison. There are some bad people in there, but those bad people need good people to influence them to make better choices," he said.
"I had the opportunity to make a difference in prison, to make a difference in other people's lives," he said, his now trademark smile gleaming.
"I never want to forget what it felt like to be in my situation, because there's others like me, truly innocent, still in there," he said. "I don't want to forget what I learned. There are a lot of people in there that need my help."
Christina Braseel, one of his three sisters, has been at her brother's side for the entire 12 years, campaigning for support and his release.
"Of course, we're grateful," she said, "but, we won't be happy until his name is cleared."
Christina Braseel "set out on a crusade to free my brother 12 years ago," she said, "but I'm not going anywhere.
"We still have to do our part for others who have been wrongfully convicted," she said.
"There's another family that I actually have to look to for support who understand me," she said, referring to the dozens of supporters who turn out for hearings, demonstrations and now celebrations as her brother's case plodded along to freedom.
She also credits, specifically, David K. "DK" Sale, an investigative writer and documentary maker who raised some of the first questions about the case, and who has since worked steadily to clear the murky waters surrounding it.
"It's because of him," she said. "We would not be here together if not for him and his team."
Now the Braseels can join forces.
"I look so forward to working side by side with my brother fighting for justice in this broken system," Christina Braseel said.
As he sat in his favorite spot, filling his eyes with the pastoral setting he could see as a free man, Adam Braseel thought about his 75th birthday in 2058. That would be about the year when, had his convictions been upheld, he would have become eligible for parole under a life sentence in Tennessee.
"I hope I'm capitalizing on the things that I've taken for granted my whole life," he said. "I hope I'm still striving to do things for others, making a difference for others, as so many have made a difference for me."
Contact Ben Benton at bbenton@timesfreepress.com or 423-757-6569. Follow him on Twitter @BenBenton or at www.facebook.com/benbenton1.