Editor's note: This is the second story in a three-part series taking a look at Hamilton County's school facilities. Read part one here.
Daniel Rodriguez, a freshman at Chattanooga High Center for Creative Arts, held his arm up for nearly 30 minutes, waiting to be called on.
He was one of about 150 people filling the auditorium at Lookout Valley Middle/High School on Dec. 4 to hear about Hamilton County Schools' preliminary facilities report - a report unveiled in July, which has identified more than $1.36 billion in capital needs across 74 district schools and made sweeping recommendations to renovate, rebuild and close facilities across the county.
Assessors with MGT Consulting, which prepared the report, walked every school and evaluated the physical conditions of the buildings and grounds, the suitability of existing classrooms and resources for the education programs the building is meant to provide, and the technology readiness of each building, according to Dan Schmidt, director of MGT's Education Consulting Group.
Among those ranked among the poor or unsatisfactory facilities in the report were 21 schools, including Rodriguez' school.
That night in the Lookout Valley auditorium, Rodriguez waited patiently with his little brother to share his piece. The adults talked over each other, often raising their voices or interrupting others as they questioned Schmidt.
When his turn came, Rodriguez asked: "Did you walk through [Chattanooga High School Center for Creative Arts] yourself? Did you know that Barger Academy is the only elementary school dedicated to performing arts in the district?"
His classmate, Madelyn Little, had her own concerns.
"It has been a home for years, it has been a place where we were meant to go to school," Little said.
The students are among dozens of people who have spoken out in recent weeks.
Teachers, parents and community members say they are concerned about how the recommendation to uproot students in neighborhood schools and move them into larger facilities can impact a child's education, but most of all they are concerned about who is being consulted and providing input to those who make these decisions.
ABOUT THIS SERIES
In July 2019, MGT Consulting Group unveiled a preliminary facilities report to the Hamilton County Commission and Board of Education that identified $1.36 billion in deferred maintenance across 74 school facilities. The report recommended an $855 million plan to renovate and rebuild facilities.The Times Free Press toured more than a dozen schools in December. Reporters and photographers talked with principals, school leaders and veteran teachers who know what takes place within the wall of these schools. We visited classrooms, playgrounds, sports facilities, cafeterias, even bathrooms.We also attended three of five community forums hosted by MGT across the district to gather input and feedback from the community about its initial recommendation. The following stories shares what we found and what we heard.- Search by school: What the Hamilton County Schools' preliminary facilities report could mean for your school- Tell us what you think: What do you think are the biggest issues with Hamilton County Schools facilities?
'You simply cannot replace these facilities'
Colleen Laliberte's husband, Ray Laliberte, has taught at Chattanooga High School Center for Creative Arts for more than 30 years. He has been at the school since it became a magnet school in 1997, after it received a $1 million federal grant through the Magnet School Assistance Program to establish the range of spaces the facility has to run a successful fine arts school, including three dance studios, two orchestra band rooms, multiple visual arts labs, a piano lab, a black box theater and other facilities the school offers in addition to the typical classrooms found in a high school.
She spoke passionately at the facilities meeting at Lookout Valley about how community members, families and staff at the school have raised hundreds of thousands of dollars over the years for the school. She wanted to know why would MGT recommend moving the school to the building that currently houses Dalewood Middle School.
"You simply cannot replace these facilities at Dalewood Middle School. You can't just say, 'We're just going to move you across town to Dalewood," she said. "You have to do the research into this school that is an inspiration in this community and across the country."
Over two nights on Dec. 4 and 5, faculty from Barger Academy along with CCA staff and parents attended meetings at Lookout Valley and Dalewood and questioned the report, asking if assessors really analyzed how rooms were being used, what programs were provided and whether the $855 million renovation plan included the types of renovations needed to replicate CCA's facilities at Dalewood.
Schmidt's short answer was no.
The full cost has not been factored into the $855 million estimated plan, he said. It would have to be calculated and included in any building or renovation decisions made by the district and Hamilton County Schools in the future.
Photo Gallery
Chattanooga Center for Creative Arts facilities
'The reality is this is an enormous decision'
The report recommends closing both Lookout Valley and Lookout Mountain elementary schools and sending the combined 450 students to a newly renovated K-12 building at Lookout Valley Middle/High School.
Despite calling Lookout Mountain a beautiful campus, Schmidt said it isn't suitable for 21st century technology and both elementary schools are underutilized.
Many parents, both on the mountain and in the valley, say they are not comfortable sending their elementary-aged children to school with high-schoolers.
Others worry about the estimated 900-student population the K-12 school would serve, asking whether it is simply too large.
Chyela Rowe, the Arts in Healthcare Program coordinator at CHI Memorial, asked Schmidt if MGT has done research into what closing schools and uprooting students does to students success.
"The reality is this is an enormous decision that impacts the entire lives of these families," Rowe said. "Do you have data on the social-emotional impact of these type of changes?"
Schmidt said that MGT has been doing this type of work all over the country for more than 40 years but does not have data on the impact on academic achievement or student well-being from districts where large-scale changes have been made.
Some predict that, were Lookout Mountain to close, parents would turn to local private or independent schools.
About 5,500 students zoned for a Hamilton County public school already attend a private or parochial school, but closing historical neighborhood schools or changing the programs offered at popular magnets could drive more families out of the public school system, some argue.
April Goebeler and her husband, Nick Goebeler, are worried about the effect that larger schools could have, especially on magnet programs that tout small class sizes like at Chattanooga School for the Arts and Sciences.
Both their daughters attended preschool at The Bright School, and now the oldest is in first grade at CSAS, but April Goebeler said they could have chosen alternative options, as well.
"I feel really good about our choice and the education they are getting at CSAS," she said. "You can't double the size of a school without changing something, though."
Photo Gallery
Lookout Valley public meeting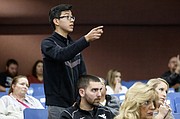 Where are the elected officials?
Though a smattering of senior school district leaders attended some the five community forums held Dec. 3-5 - including Chief of Staff Nakia Towns Edwards, then-Chief of Schools Justin Robertson and Director of Facilities Justin Witt - Superintendent Bryan Johnson only attended one.
All nine school board members attended at least one meeting, though.
Community members saw it as a lack of participation and were left wondering how and why the recommendations were made in the first place.
At the base of Lookout Mountain, former county commissioner for District 6, Joe Graham, is urging residents to call out elected officials and the school district for their lack of participation in the community meetings.
"We are here fighting for our schools," Graham said at the Dec. 4 community forum in Lookout Valley.
He called on the dozens of meeting attendees that stayed well past the two-hour meeting's scheduled time to look around at who was in attendance.
"What you're saying here today is important, but most of the decision makers for our school system have already left before the discussion even started," Graham said. "Wake up, we need to elect different people to run our school system."
But Johnson said MGT set the calendar for meetings, and on some nights, like Dec. 3, he was tied up in a meeting with Tennessee Education Commissioner Penny Schwinn, who was in town for a State Partnership Network advisory board meeting, but he did attend the meeting in Lookout Valley.
Board member Tiffanie Robinson, of District 4, also attended at least two meetings. At Lookout Valley, she addressed the crowd and pointed out that at least four school board members and a commissioner were in attendance.
"I wanted to let you know that you do have elected officials here and we are listening," she told the crowd. "And we are here because we want to hear your feedback. We don't know the answers yet, that's why we're having these meetings."
Smith, of District 3, said his counterpart, County Commissioner Greg Martin, also attended the Dec. 3 meeting at Hixson High, but there was poor turnout from the community. He said the board needs to have a bigger role in the next set of meetings.
"We need to have a bigger role with how this how information is rolled out to the community," Smith told the Times Free Press. "At this point when it's all said and done, the board will be the ones making those final recommendations and presenting it the county commission and the taxpayers."
A sign appeared recently on Browns Ferry Road near Interstate 24 that read "Don't let Jenny Hill & David Sharpe close our schools."
Graham, the incumbent, was defeated by David Sharpe in 2018 when Hill was also elected to the school board.
Graham argues neighborhood schools reflect and define their communities.
Others agree.
'What happens to the neighborhood?'
Along with changes to Lookout Valley and Lookout Mountain schools, the report also calls for relocating CSAS and Chattanooga School for the Liberal Arts to a new facility at Brainerd High School, dispersing Brainerd's mostly black student population to nearby schools like Tyner Academy and East Ridge, and moving CCA to Dalewood Middle School to create a "magnet corridor."
Dalewood Middle students would also be rezoned and bused out of their communities to schools like Orchard Knob Elementary and Tyner Middle School.
But Normal Park Museum Magnet, a zoned magnet school with "strong neighborhood ties," according to MGT officials, would be rebuilt so as to not remove it from the primary neighborhood.
That rankled Nicole McCamish during the Dec. 4 meeting, who asked why schools serving mostly minority students from low-income communities would be forced out of their schools while suburban, middle-class white schools remain.
Schmidt said a school's academic performance was not taken into account when conducting the audit and building the recommendation, but many of the more than 100 attendees at the Dec. 5 forum at Dalewood Middle School asked if the impact closing a school could have on a neighborhood was taken into consideration.
"Have you done any research into moving them from one neighborhood to another?" asked local activist Marie Mott. "Have you looked at, what if those will further segregate our inner city schools that are already segregated? What is your research into the history of closing schools in this community?"
Schmidt said those conversations were part of the purpose of the community forums.
"The history of segregation and the dynamics of closing schools is something we need to hear from you," he said.
Photo Gallery
Dalewood public meeting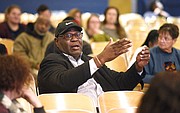 Others say it's that type of community input that is lacking in the report.
MGT and the school district circulated a survey, walking participants through the report and asking a variety of questions.
But board member Jenny Hill and others, like Smith, have acknowledged that the level of community feedback at the first round of community meetings was not "up to the standards set by Hamilton County," she said.
Hill said she shares the "same frustration that the community feels" that more community members were not able to share their thoughts or have their questions answered about the facilities process.
Chris Ramsey, former president of the Brainerd High School Alumni Association, has urged his neighbors and community members to take the survey - and to provide solutions.
No one wants to pay more money, but no one wants their school to be closed, either, he said.
"Hamilton County cannot continue to operate with the number of schools that we have. With the cost of deferred maintenance that we have, that's not realistic," Ramsey said. "If you have in your mindset just to continue with business as usual, that's not going to work. Let's make sure to come up with some alternative solutions that we can put back into the equation."
Some of those solutions are already being discussed, whether casually at community forums like the one at Dalewood or among school leaders.
Sending Dalewood students to Brainerd and making it a K-12 school is one idea. Moving CSLA into a vacant building near the Northgate Mall is another, as is rebuilding Barger Academy on its current site.
But MGT's final recommendations are still up in the air, officials said.
Contact Meghan Mangrum at mmangrum@timesfreepress.com or 423-757-6592. Follow her on Twitter @memangrum.