Editor's note: This is the third story in a three-part series taking a look at Hamilton County school facilities. Read part one here. Read part two here.
Barger Academy of Fine Arts students were expecting a new floor in the school's dance studio - really just a classroom outfitted with floor-to-ceiling mirrors and a plastic dance pad.
But within 24 hours of the release of a preliminary facilities report to Hamilton County Schools leaders and the Hamilton County Commission in July, the private funder who had planned to donate the new flooring backed out. The report recommended closing the school.
"I don't blame them," Barger Principal Roxanne Anthony said.. "It's a big investment when the future is unknown."
Nearly a year after the Hamilton County school board hired MGT Consulting Group to audit all school facilities - something not all school board members agreed was necessary - the report is in: $1.36 billion in backlogged maintenance across 74 school buildings.
But the 10-year capital plan the board charged Superintendent Bryan Johnson and his team with creating remains months, and perhaps even a year, away. Board member Jenny Hill, of District 6, is calling for a new community input process after MGT's "disappointing" take on community forums held earlier this month.
'When the water is low in the jungle'
Sandy Smith, a retired educator and long-time public education advocate and activist, sat in the front row of the Lookout Valley Middle/High School auditorium on Dec. 4 listening intently to Dan Schmidt, director of MGT's Education Consulting Group, as he tried to navigate the contentious crowd during the third community forum to discuss MGT's preliminary facilities plan earlier this month.
Smith waited patiently to share her thoughts as others debated how to fund improvements to the district's failing facilities.
"No one likes change," Smith said. "The most disheartening thing here tonight is not just that no one wants change, but that no one wants to pay for it."
Later, as she was leaving the meeting, Smith smiled halfheartedly when asked what she thought about the process so far.
"There's an old African proverb: 'When the water is low in the jungle, all the animals start looking at each other,'" Smith said. "We all have a vision, and when it comes to closing schools, we want to save ours first. No one's thinking about what's best for everyone."
Hill was one of at least three school board members in the audience that night.
She described the forums as disappointing, but she also acknowledged that MGT has done what the school district asked it to do.
"The work that MGT is doing is simply a report, it doesn't represent any formal plan for our facilities moving forward. At this point, it's 100% focused on our buildings and the suitability of our buildings for their programs," Hill said. "I am disappointed with what MGT considers community engagement. It certainly doesn't reflect the standard of engagement that we have set and expect in Hamilton County."
Photo Gallery
Barger Academy facilities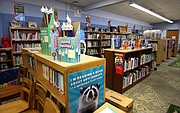 Building public support
Hill shared a proposal to create a citizen's panel, modeled after the 1999 facilities review chaired by architect Kurt Stagmaier, with her colleagues at the school board's annual retreat on Dec. 6-7.
A citizen's panel, she said, could explore funding streams and efforts that have worked in the past; it could look into mistakes made and how the district's facilities got into such bad shape, while helping restore trust and building support for the work by removing the politics.
"I believe to build public trust, the plan needs to include a lot of community voices," Hill said. "The common thread that I see is that people value community voice. People want to be heard. People want to be a part of the conversation and there is a friction between the desire for small schools and limiting the financial impact to taxpayers."
Board member Steve Highlander, of District 9, agreed.
He also said the forums have, so far, been disappointing. But he was wary of a citizen-appointed panel, especially one in which members were appointed by school board members and county commissioners.
"I think a citizen panel won't bring broad public support or perspective," Highlander said.
Hill doesn't know if the board or the commission will buy into her citizen's panel idea. The process could take another 12-18 months to formulate and adopt an official 10-year capital plan for the district, she cautions.
"This is me as an individual school board member advocating for this," Hill said. "If the community doesn't believe in it, then it won't be supported, but also if the county commission doesn't believe in the plan and doesn't see it as a legitimate plan, then, understandably, they won't support it."
"This is ultimately a conversation about right-sizing our school system. We as a community have to determine the balance for what works best for Hamilton County students and Hamilton County taxpayers," she added.
Board member Tiffanie Robinson, of District 4, approved of Hill's idea, but argues that even if the district gets community support for a potential 10-year plan, there's still an even larger hurdle down the road: funding.
"I feel like the bigger problem that we have to solve is how do we get the funding to get this stuff done?" Robinson said.
And she is wary that there will be public support or appetite for another jab at increasing public funding after a contentious budget season and a 5-4 commission vote that shot down a request for a property tax rate increase for public schools this summer.
"I think the community is exhausted from having ideation sessions when nothing is happening. It's all emotional" Robinson said. "We also don't have a commitment of funding for all of these things; that I think is the big elephant in the room."
Hamilton County residents also recognize that change is on the horizon.
At another one of MGT's community forums, Chris Ramsey, former president of the Brainerd High School Alumni Association, urged his neighbors to join in and brainstorm possible solutions.
"Hamilton County cannot continue to operate with the number of schools that we have. With the cost of deferred maintenance that we have, that's not realistic," Ramsey said. "If you have in your mindset just to continue with business as usual, that's not going to work. Let's make sure to come up with some alternative solutions that we can put back into the equation."
ABOUT THIS SERIES
In July 2019, MGT Consulting Group unveiled a preliminary facilities report to the Hamilton County Commission and Board of Education that identified $1.36 billion in deferred maintenance across 74 school facilities. The report recommended an $855 million plan to renovate and rebuild facilities.The Times Free Press toured more than a dozen schools in December. Reporters and photographers talked with principals, school leaders and veteran teachers who know what takes place within the wall of these schools. We visited classrooms, playgrounds, sports facilities, cafeterias, even bathrooms.We also attended three of five community forums hosted by MGT across the district to gather input and feedback from the community about its initial recommendation. The following stories shares what we found and what we heard. Search by school: What the Hamilton County Schools' preliminary facilities report could mean for your school Tell us what you think: What do you think are the biggest issues with Hamilton County Schools facilities
What's next?
In recent weeks, rezoning requests and talks on funding infrastructure have held up county commission meetings.
"I'm all for growth and I'm always for planning," said Commissioner Sabrena Smedley, of District 7, during a presentation about a potential new development in Ooltewah at the commission's Dec. 11 meeting. "We had a joint meeting with the Department of Education the other evening and they talked about their five-year plan, and you know, we need to plan. I need to be able to answer the constituents in my district: What are we doing about schools? What are we doing about roads? What are we doing in the shorter term while we wait for the long-term fixes. I don't have any answers to that yet."
Mayor Jim Coppinger, who requested the initial budget that would have required a 34-cent property tax rate increase, said the county has "a lot of growing pains."
"One of the things we've got to fix is to have a better education system because people are moving to these areas because they perceive that is where their young people will get the best education," Coppinger said. "But when you start talking about 'We need more schools. We are going to add to the roads, add to the infrastructure' - all of this costs money. We've got some hard choices to make to move this county forward."
Johnson was noticeably absent from all but one of the community forums due to schedule conflicts, but all nine school board members attended at least one of the five meetings. Johnson said the executive director for each learning community was also present.
But Johnson said he anticipates "lots of facilities talk" in the coming months, both with his board and other local elected officials.
The district will be tackling rezoning in the southeastern part of the county as the new Harrison Elementary and East Hamilton Middle schools open in 2021, Johnson said. And this spring, he hopes to present the board with a multiyear strategic budget that includes input from the community and takeaways from the final MGT report.
Regardless of what the final report from MGT says and what the recommendations are, school board Chairman Joe Wingate, of District 7, urges his fellow board members to come up with a plan.
"At the end of the day, MGT is going to leave us with cold, sterile data, and we're going to have to figure out a way to do something that works and gets more of the community on board," Wingate said.
The next round of community meetings is scheduled for Jan. 28-29. The final MGT facilities report is scheduled to be presented at a school board work session on March 3, two weeks before Johnson intends to present a proposed 2021-2023 strategic plan to the board.
School board member Joe Smith, of District 3, like Hill, anticipates that the process will not end with MGT's final report.
"At this point, when its all said and done, the [school] board will be the ones making those final recommendations and presenting it the county commission and the taxpayers," he said. "We have to be wise and move slow and get good feedback from the community."
Contact Meghan Mangrum at mmangrum@timesfreepress.com or 423-757-6592. Follow her on Twitter @memangrum.