Photo Gallery
Future Ready Institutes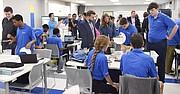 As the Chattanooga Area Chamber of Commerce rolls out its five-year strategy for economic and talent development this fall, it's not alone in its efforts to prepare new generations for the jobs of the future.
Hamilton County Schools, one of the Chamber's partners and a founder of Chattanooga 2.0, has rolled out 28 industry-themed institutes embedded in local high schools in the past two years aimed specifically at preparing high school students for a variety of in-demand industries.
The brainchild of Superintendent Bryan Johnson, the Future Ready Institutes initiative was announced in March 2018 and now enrolls more than 2,000 students in 9th and 10th grades at 28 institutes across 13 high schools.
"We know that in order for the community to thrive, it has to be intentional with education," Johnson said at the time of the launch. "How can you do that when you're not engaging business and industry in what they really need, asking what are the jobs of tomorrow and the vacancies of today and what are the real-world problems we can use today?"
Career themes vary from health care to information technology to advanced manufacturing and engineering. Seven of the institutes have an official, branded partner with a local business or organization.
Branded partners like Erlanger, See Rock City Inc. and EPB commit at least $250,000 over the course of three years to partner with an institute and promise other opportunities like job shadowing, field trips, guest speakers and mentors for students enrolled in each institute.
Get a job
With unemployment at historic lows, the Chattanooga Area Chamber of Commerce anticipates talent shortfalls in many industries. Based on 2022 projections, the local employee population would be equipped to fill:* Health care and medical: 81% of jobs* Business occupations: 75% of jobs* Engineering production: 39% of jobs* Software and IT: 24% of jobs
Recently, at The Howard School, Cempa Community Care hosted a "medical vision day" and invited local health care practitioners to network with students from the school's Erlanger Institute of Healthcare and Innovation.
Students from Tyner Academy's EPB Institute of Technology and Networking have also recently visited EPB's operations center and its power control facility and met with EPB officials such as Assistant Vice President of EPB's Electric System Ryan Keel and IT Support Manager Todd Edwards to learn about career paths at the utility.
BlueCross BlueShield, which already partners with Hamilton County Schools to host exceptional education students for internships through the Project Search program, also partners with two institutes. It has established technology academies and even retrofitted a classroom, or learning lab, at Red Bank High School and soon at Soddy-Daisy High School. Unum, the University of Tennessee at Chattanooga and Bryan College are also major partners and donors of the initiative.
In recent years, school districts have sought to establish these career academy-type programs in an effort to increase student performance and reach students who might be more successful in hands-on settings. Hamilton County Schools first partnered with Volkswagen in 2016 to launch the Mechatronics Akademie and later established a nationally-recognized apprenticeship program at Gestamp.
As students head into their junior and senior years of high school, they will have the opportunity to begin to earn credit toward degrees and even earn credentials while in high school, enabling them to enter the workforce in Hamilton County directly after high school. Hamilton County employers should expect to see them enter the workforce in the next five years.
The Future Ready Institutes in Hamilton County Schools
Brainerd High— Institute of Aviation— Institute of Entrepreneurship— Institute of Law, First Responders and Forensic ScienceCentral High— Institute of Advanced Manufacturing and Mechatronics— Institute of Architecture and Engineering DesignEast Hamilton School— Bryan College Institute of Leadership, Business, and Marketing— Institute of Innovate EngineeringEast Ridge High— Institute of Engineering and Design— Institute of Building Construction— Institute of LeadershipHixson High— Institute of Integrative Agricultural Sciences and Natural Resources— Institute of Health Careers and Medical Advancement— Institute of Business Leaders and OwnersThe Howard School— Erlanger Institute of Healthcare and Innovation— See Rock City Inc. Institute of Hospitality and Tourism Management— Institute of Robotics and Welding— Institute of Architecture and ConstructionLookout Valley Middle/High— Institute of Technology and Multimedia— Institute of Automotive Maintenance and ManufacturingOoltewah High— Institute of Architecture and Engineering Design— Institute of Advanced Manufacturing and Mechatronics— Institutes of International Baccalaureate StudiesRed Bank High— BlueCross Technology AcademySequoyah High— Institute of Industrial ManufacturingSignal Mountain Middle/High— Institutes of International Baccalaureate StudiesSoddy-Daisy High— Institute of Media and Entrepreneurship— BlueCross Technology AcademyTyner Academy— EPB Institute of Technology and Networking— UTC Institute of Teaching and Learning— Institute of Health Services