Photo Gallery
TVA shut down Paradise, Bull Run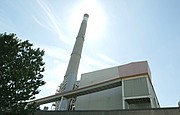 The Tennessee Valley Authority will shutter two more of its coal power plants over the next four years as the federal utility shifts away from what was once its primary source of power to more nuclear, natural gas and renewable sources amid a stagnant or declining market for power.
By a 5-2 vote, the TVA board decided Thursday to shut down the final coal unit at its Paradise Fossil Plant in western Kentucky by 2020 and shutter the Bull Run Steam Plant near Oak Ridge by 2023.
TVA Director Kenny Allen, a retired Armstrong Coal Co. executive from Kentucky, unsuccessfully tried to get TVA to postpone the decision on the Paradise plant until the May meeting. His motion gained the support of TVA Director A.D. Frazier, a retired Georgia businessman, but other members of the board said TVA studies clearly indicated the aging plants were more costly to maintain than to shut down.
"The decision to retire these facilities impacts a lot of families," Allen said during the TVA quarterly board meeting Thursday in Chattanooga. "I also am concerned about the reliability of TVA's power without these units. Other types of fuel supplies like natural gas and renewable power are not as resilient."
TVA Chairman Richard Howorth said the board recognized the local impact of the plant closings and the requests from local residents and politicians all the way up to President Donald Trump, who urged the utility to keep the coal plants open. But TVA estimates the shutdown of the aging facilities, which would have required an estimated $1.3 billion in equipment and maintenance investments over an extended life of the plants, will save TVA $320 million.
"It is chiefly an economic decision and it must be because, at the end of the day, the rates that the public has to pay [are] determined by what we do," Howorth said after the meeting.
The Kentucky governor and legislature had asked TVA to delay any vote until TVA's board is at full membership. TVA's board currently has seven members and two vacancies.
Terry Carmack, state director in Kentucky for Senate Majority Leader Mitch McConnell, said "there is a groundswell of support" for saving the Unit 3 coal plant at Paradise, noting that 350 people rallied in support of keeping the coal plant open last Saturday.
"In our state, coal represents an affordable and reliable source of energy and coal gives America a clear advantage on the world stage," Carmack told the board this week. "America is finally [getting close to being] a net exporter of energy for the first time in 65 years, so now is not the time for the U.S. to move away from this reliable resource."
But studies by TVA's staff over the past year said Paradise and Bull Run are among the coal-fired units with "relatively high projected future maintenance costs and environmental compliance expenditures, a high forced-outage rate and poor generation fit" for TVA's future power demands.
"TVA has more than enough capacity to meet the load without Paradise and Bull Run," TVA President Bill Johnson said.
After the closing of the U.S. Enrichment Corp. facility in Paducah, Kentucky, and the addition of more nuclear power, natural gas and solar generation, the large baseload coal plants like Paradise and Bull Run that take hours or days to fire up are no longer needed, Johnson said.
"The only way these plants are able to do their intended function is if our base load power demand would double, but I think our load is likely to continue to decline," Johnson said. "These plants are relatively old and both have outlived their design life. We can retire these plants without any impact on the reliability or resilience of our system."
Johnson said the plant sites could be sold or used for other uses, such as what Google did at the shuttered Widows Creek plant in Alabama, where it is now building a $600 million data center.
The closing of the two plants will cost 167 jobs at Paradise and about 100 jobs at Bull Run, plus hundreds of other coal supply and related jobs in support of the plants. But Johnson said 40 percent of the TVA plant employees whose jobs will be displaced are eligible for retirement and Johnson said those wanting to stay could be offered jobs elsewhere in the utility, similar to what TVA was able to do when it previously shut down the other two older units at Paradise. Many workers also will be needed to run the plants until they shut down and then to help with the cleanup of the plants after their closing.
The potential of shutting down more of TVA's coal generation provoked a Twitter response Monday from Trump, who promised during his 2016 campaign to work to revive America's coal industry.
"Coal is an important part of our electricity generation mix and TVA should give serious consideration to all factors before voting to close viable power plants, like Paradise #3 in Kentucky," he tweeted.
Mary Anne Hitt, senior director of Sierra Club's Beyond Coal campaign, said she was pleased "the board ignored the political games" and agreed to the staff recommendation to shutter the plants.
"TVA made the right decision to ignore the political posturing and close these dirty, expensive, and unnecessary coal units," she said. "Now they're paving the way for cleaner, more affordable energy in Tennessee and Kentucky."
TVA has already shut down 32 of the 59 coal-fired units it once operated, cutting the share of its power generated by burning coal from nearly two-thirds of TVA's generation in the 1980s to less than 20 percent in fiscal 2018 - the lowest it's been in more than 60 years.
Johnson said shutting down Paradise and Bull Run will cut the share of coal-generated power for TVA from about 18 percent today to 17 percent a decade from now.
"We are certainly not turning our back on coal," Johnson said.
The assessment done by TVA staff concluded that the Paradise and Bull Run plants do "not fit current and likely future portfolio needs" since natural gas remains relatively cheap, energy efficient appliances and furnaces are reducing electricity demand, and more customers are generating their own power with solar panels or windmills. TVA also added a second unit to its Watts Bar Nuclear Plant in Tennessee two years ago and is expanding its generating capacity at its oldest nuclear plant, the three-reactor Browns Ferry Nuclear Plant in Alabama.
The Bull Run Fossil Plant, located on the Bull Run Creek near Oak Ridge, is the only single-generator coal-fired power plant in the TVA system and went into operation in 1967. The plant has a capacity of generating 881 megawatts of power, or enough to supply about 400,000 homes.
The first two units at the Paradise Fossil Plant went online in 1963 but were retired in 2017. The Unit 3 coal generator at Paradise became operational in 1970 with a capacity of 1,150 megawatts, or enough power to supply about 950,000 homes.
Contact staff writer Dave Flessner at dflessner@timesfreepress.com or at 423-757-6340.