Photo Gallery
Opening Day Oak Lawn Park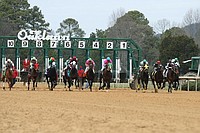 Opening Day of horse racing at Oak Lawn Park.
CINCINNATI - At the far end of the chapel, just below the altar, fallen Officer Nicholas Galinger lay peacefully, honor guard officers standing at each side of the casket.
Throughout the day Thursday, several hundred visitors streamed into Mount Washington Presbyterian Church to pay their respects to a life cut short. The visitation was expected to last five hours, but falling temperatures and sleet forced the service to end early.
"The hardest thing about today is knowing that tomorrow is the last time I'll see my son forever - until heaven, I guess," his father, Barry Galinger, told the Times Free Press in an interview.
Nicholas Galinger, 38, died after being struck by a car late Saturday night on Hamill Road in Hixson while inspecting a manhole cover after recent heavy rains. He will be buried today here in his hometown of Cincinnati.
"It's gonna be tough to deal with this at home when all this is over and it really starts to catch up," Barry Galinger said. "I'm afraid to go to sleep at night. I'm afraid of the nightmares. My wife said I scream in the middle of the night."
"I've always been a 'fix-it' dad. And I I can't fix this."
Barry Galinger said he and his wife, Gretchen, of Georgia, have learned to share their son with Chattanooga.
"On Tuesday night, [my wife] was feeling how big this was," he said. "I said, 'Gretchen, this is bigger than you and I, now. This is a community that is mourning our son and trying to find answers.'"
When they arrived in Chattanooga, he said the community welcomed them with open arms.
A clothing store manager greeted them with a hug and a prayer, he said.
"Everywhere we went where the scene of the accident happened, the neighbors, they came out and they cried with us and prayed," he said.
Nicholas Galinger was the second of five children and a father to two of his own children, Hailey and Ethan Galinger. He'd always wanted to be a policeman, Barry Galinger said, and had just moved to Chattanooga in August 2018 to pursue that dream. He had graduated from the academy in January, just a month before his death. He was also a 1999 graduate of Clermont Northwestern High School in Ohio and Devry University.
"He lost his life because of it, doing what he loved. And that's the most important part of this whole thing," Barry Galinger said.
Police say Janet Hinds, a 54-year-old Hixson resident and Soddy-Daisy postmaster, was driving at a "very high speed in poor weather conditions" just after 11 p.m. on Saturday. She did not stay in her lane and "failed to observe and react to signs posted by Public Works covering exposed manhole covers," according to the report.
Hinds was arrested Monday and faces charges of vehicular homicide, reckless driving, leaving the scene, failure to report an accident, failure to render aid, violation of traffic control device, speeding, drivers to exercise due care and failure to maintain lane.
Photo Gallery
Arkansas Womens SEC Tournament Practice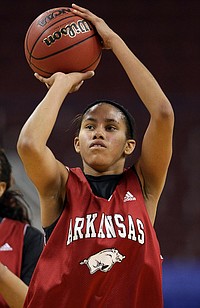 Arkansas Women's SEC Tournament Practice on March 4, 2009.
Her defense attorneys say the incident was an "unavoidable accident." They have since asked the court to reduce her $300,000 bond to $35,000. She has a preliminary hearing next week.
On Wednesday ahead of the funeral, more than a hundred Chattanooga police officers lined sidewalks on both sides of East Brainerd Road as a champagne-colored hearse carrying Galinger's body left for Cincinnati. Several law enforcement agencies in several states participated in the escort.
Drivers who were stopped at one intersection got out of their vehicles to salute the police escort as it passed, some with their hands over their hearts, others wiping away tears. It was a scene echoed on interstates and roadways across several states.
On Thursday, a bus carrying about 40 Chattanooga police officers, many of whom were Nicholas Galinger's academy mates, left for Cincinnati to honor their fallen colleague.
The group departed from the Police Services Center on Amnicola Highway just after 8 a.m.
Before leaving, police Chief David Roddy thanked the community.
"The overwhelming amount of support and friendship and prayers and love that has come to the city of Chattanooga and its police department has been nothing short of amazing," he said. "And as their chief, I thank every single member of this community who has shown support for its police officers."
As sleet began to fall Thursday evening over Cincinnati, Barry Galinger reflected on his children.
When they were growing up, he said, he told them to look for their star in life.
"I said, 'That star, you'll know when you find it because it's the right thing. You'll feel it. You'll know it,'" he said. "And Nicholas searched for that star."
"The night [of] graduation on Jan. 24, he put all his uniform on, all smartly pressed and proud and standing straight, with all the gear on him that looked like it weighed as much as he did. I looked at him, and he looked at me, and I said, 'Son, you found your star.' And he said, 'I did, Dad. Thanks.'"
The funeral for Nicholas Galinger will be at 11 a.m. Friday at Mount Washington Presbyterian Church, 6474 Beechmont Avenue, Cincinnati. The Times Free Press will provide live coverage throughout the morning.
Contact staff writer Rosana Hughes at rhughes@timesfreepress.com or 423-757-6327 with tips or story ideas. Follow her on Twitter @Hughes Rosana.