Photo Gallery
Southeast biodiversity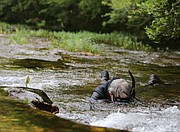 Seventy-six species of fish live in the Conasauga River.
That's more than the Colorado River and Columbia River watersheds - which make up much of the Western United States - combined, despite being less than 1 percent the size.
It's one of the most biodiverse rivers in the temperate world and flows through East Tennessee.
The river is less than 100 miles long, but there are dozens of salamanders, mussels, snails, crayfish and other invertebrate species beneath the surface. It's also home to three federally threatened or endangered fish, six threatened or endangered mussels and 16 state-listed species.
The river, which runs through Southeast Tennessee and Northwest Georgia, is one of several in the Southeast with biodiversity rivaled only in the tropics.
Despite