Photo Gallery
Joe Scruggs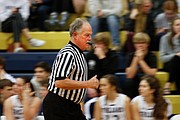 For the past 47 seasons and counting, Joe Scruggs has poured his heart out to his first love.
Scruggs has officiated four TSSAA basketball state tournaments and was named East Tennessee's official of the year in 2003 in a career nearing five decades.
A member of the hall of fame at Brainerd High School, where he was an all-city selection back in 1969, Scruggs remembers a role model he looked up to at a young age.
"When I was a senior I was (football coach) Pete Potter's student aide in the afternoon," Scruggs said. "Every day I would get the mail for him. The mailman was a man by the name of Bill Turner.