Photo Gallery
Mountain Man Rendezvous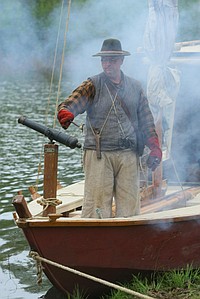 While the Hamilton County Commission on Wednesday did not address a recently released dashcam video that seems to show a questionable roadside body search by sheriff's deputies, members of the public did call for a citizen oversight committee to investigate such issues.
Among them was activist group Chattanooga Moms for Social Justice.
"We saw the dashcam footage and we're appalled and we believe that every individual in our community, regardless of alleged criminal activity, deserves human decency," Mari Smith told commissioners Wednesday. "We expect accountability and we echo the calls of our community for a citizen oversight committee to ensure independent review of actions taken by those with the most power against those with the least."
In the video from a July 10 traffic stop, two white Hamilton County Sheriff's Office deputies can be seen punching, kicking and stripping the pants off of a handcuffed black man on the side of a road. As per department policy, the deputies were placed on paid administrative leave. District Attorney General Neal Pinkston said last week that he has asked the Tennessee Bureau of Investigation to investigate.
While deputies can "strip search" a suspect, under a 2014 policy that type of search is limited to visual inspection. A body-cavity search takes it a step further and involves probing body parts, and the policy states that deputies are not permitted to conduct them at all. A licensed physician or nurse is supposed to do the body cavity examination in a "controlled and private environment" and only with a search warrant or specific written consent.
Sheriff Jim Hammond has defended the men, saying he stands behind his team in "terms of their ability and their training."
So far, commission members have been silent on the issue.
On Wednesday, Hamilton County Democratic Party Chairwoman Khristy Wilkinson called on the county to take more accountability for the issue, saying the commission's silence on the issue was "appalling."
"I want to know what's being done about it," Wilkinson told commissioners. "I would like to know why those [deputies] are continuing to be paid even though they violated the law in conducting that search. I'd also like to know why the sheriff left the meeting and decided not to stay and be held accountable for the actions of his staff." Hammond had been at the commission meeting earlier but left when comments on the video began.
District 6 Commissioner David Sharpe responded that some commissioners were looking into the incident, though he would not specify who else had requested information.
"You are not alone in those concerns, either," he said. "The information that you've requested has also been requested officially to be gathered from the sheriff's department. Several commissioners are currently waiting to receive that information and to explore it further. I think there are many folks who have some questions that need to be answered and I have every intention of getting to the bottom of it."
Sharpe explained after the meeting that his requests were for procedures and policies about sheriff's office discipline.
"I'm just trying to gather a better understanding of what that process is supposed to look like, what options are available and if we are indeed doing what we need to be doing in these types of situations," he said. "I don't have any comments regarding what happened, I am just trying to make sure I am as informed as anyone with regard to what's happening."
After the meeting, Sheriff Jim Hammond told the Times Free Press that he left because the Chattanooga Moms for Social Justice group had pulled their request to speak at the meeting. He added that the deputies involved were being paid during the investigation because the law requires it and that he would not support the formation of a new citizen oversight committee.
"That comes up like it does at the city. First of all, we already have such. It's called the Civil Service [Advisory] Board that can deal with issues, we also have the county commission, which is somewhat of an oversight committee, and we have Chancery Court," Hammond said, denouncing calls for an oversight committee. "As a constitutional officer, I'm not going to agree to any kind of citizen review board that just ties up a lot more time. We have enough safeguards in place to make sure we have adequate review of all our cases."
The Civil Service Advisory Board is not an oversight committee, but rather a three-person commission-appointed board that handles appeals about sheriff's office actions, but does not have disciplinary or investigative power.
The calls for an oversight committee come two months after the city of Chattanooga established a similar board. Some city council members are criticizing that process because a former city police sergeant was appointed to it.
Contact Sarah Grace Taylor at staylor@timesfreepress.com or 423-757-6416. Follow her on Twitter @sarahgtaylor.
NOTE TO VIEWERS: The content in this video may be disturbing to some.