Photo Gallery
Coke bottling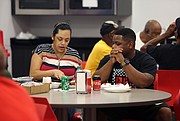 As CEO of Coca-Cola Bottling Co. United, John Sherman heads the oldest and one of the biggest bottlers of Coca-Cola that supplies Coke products in the hometown of the world's biggest soft drink company in Atlanta.
But even Sherman says he doesn't know the secret formula of the syrup used in making the Coca-Cola drink that has filled billions of bottles, cans and other containers since it was first bottled in Chattanooga 120 years ago this week.
While the recipe remains secret and locked in a bank vault in Atlanta, Sherman told workers at the Chattanooga Coca-Cola bottling operations Monday that he believes they are the real vital ingredient in Coke's global success.
"I actually know the secret formula and that is the people - those who work in this enterprise today and the ones in the past who we stand on the shoulders of those before them," Sherman said during a celebration Monday of the 120th anniversary of the bottling of Coca-Cola at Coke United's 3-year-old distribution complex along Highway 153. "Chattanooga Coca-Cola, its employees and this community have an indelible and enviable place in history as the first bottler of one of the world's most iconic brands. Inside every bottle of Coca-Cola throughout the world, there's a little bit of Chattanooga."
Coca-Cola began in 1886 when Atlanta pharmacist Dr. John S. Pemberton created a flavored syrup in a three-legged brass kettle in his backyard. The drink originally could only be sold at soda fountains where soda water and the syrup were combined to create the unique Coke flavor that is still used today.
In the summer of 1899, Chattanooga businessmen Benjamin F. Thomas and Joseph B. Whitehead ventured down to Atlanta to meet with Asa Candler, who had purchased the Coca-Cola Company seven years earlier, and the pair pitched the idea of bottling Coke.
Candler thought the idea was doomed to fail, but he agreed to give the bottling rights to the Chattanooga entrepreneurs for $1.
With the support of colleague John T. Lupton, Thomas and Whitehead opened the world's first Coca-Cola Bottling Company at 17 Market Street in downtown Chattanooga where Patten Parkway now stands. As the business continued to thrive, the plant was moved to 201 Broad Street, and finally in 1970, to its current location at 4000 Amnicola Highway, where the company now produces about 36 million cases of drinks a year.
Coca-Cola United in Birmingham, Alabama, the second biggest privately held Coke bottler with annual sales of nearly $3 billion, bought the Chattanooga Coca-Cola Bottling Co. in 1926. But Chattanooga remained the home of some of the other biggest Coke bottlers around the globe, including John T. Lupton, Summerfield Johnston, J. Frank Harrison, Carl Navarre and others who lived in Chattanooga and owned bottling operations around the world.
The Chattanooga-based Tennessee Valley division of Coca-Cola United now employs about 700 employees at its production and distribution facilities in Chattanooga and Cleveland, Tennessee and its routes across Southeast Tennessee and Northwest Georgia, according to division director Darren Hodges.
Under Sherman's leadership for the past four years, the family-owned Coke United has grown its staff and size by more than three and half times by acquiring many of the bottling operations spun off by the Coca-Cola Co., which has focused on the more profitable syrup production and developing other products.
To mark Chattanooga's historic role in Coke's development, Sherman and Hodges presented commemorative nickel Cokes to Chattanooga Mayor Andy Berke and Hamilton County Mayor Jim Coppinger Monday morning. Employees of Coca-Cola United also hosted a community cookout Monday for their neighbors on Shepherd Road, where the Coke bottling company opened a $67 million distribution center n 2016.
But for all the focus on history and the past, Coke officials insist the company is looking to the future with more focus on healthier and more sustainable products.
"Today, we sell over 750 unique products with over half of the them being no-calorie or low-calorie products," Sherman said. "We're obviously evolving with our consumers and as they demand more variety, it's our responsibility to make sure we meet all of those demands for liquid refreshment."
Coke is also working to make its containers more sustainable by promoting more recycling of the plastic bottles and cans from which most people drink the soft drink. Last year, Coke launched an ambitious sustainable packaging initiative, billed as "A World Without Waste," with a goal to collect and recycle the equivalent of every bottle or can it sells around the world by 2030.
Shannon Sellman, public affairs director for the East region of the Coca-Cola Co., said the company is eager to promote curbside recycling programs in more cities like Chattanooga and to encourage all consumers to recycle all of their Coke packages. The company and some of its partners are working to make sure more homes have and use recycling carts.
"We want that packaging back so that wee can turn into future bottles and cans," Sellman said. "One of the good things about our product packages are that they are 100% recyclable and we want to re-use these products."
Currently, only about 30 percent of the plastic bottles and cans used as Coke containers across the United States are recycled and more needs to be done to promote consumer awareness and participation in recycling programs, Sellman said.
Contact Dave Flessner at dflessner@timesfrepress.com or at 757-6340.