Photo Gallery
Student mental health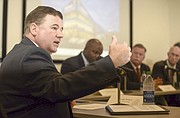 Student mental health is one of the most important issues facing Hamilton County and should be considered during this budget season, local leaders said Monday.
Some of the most significant allocations in Hamilton County Schools' Superintendent Bryan Johnson's requested $443 million budget are the social-emotional supports, such as the addition of 14 school counselors, 10 social workers and 5 behavior specialists, leaders said.
Law enforcement and medical officials agreed that mental health is one of the top issues facing children and young adults and the schoolhouse is one of the best places for those issues to be identified and for students to be supported.
"I need to know that not only we are teaching them what we need to be teaching them but they are going to be productive citizens, so I don't have to deal with them and they end up in my jails," said Hamilton County Sheriff Jim Hammond. "It's very expensive to invest in education, but it's expensive to not invest in education, too."
Members of the Children's Cabinet
› Jim Coppinger, mayor of Hamilton County, co-chairman› Bryan Johnson, superintendent of Hamilton County Schools, co-chairman› Joe Smith, board member of Hamilton County Board of Education› Becky Barnes, administrator of Chattanooga-Hamilton County Department of Health› Lesley Scearce, president of the United Way of Greater Chattanooga› Jim Hammond, sheriff of Hamilton County Sheriff's Department› Robert Philyaw, judge of the Hamilton County Juvenile Court› Sheryl Fletcher, manager of health services for Hamilton County Schools› Shawn Kurrelmeier-Lee, chief reading officer for Read 20› Betsy McCright, executive director of Chattanooga Housing Authority› David Roddy, chief of Chattanooga Police Department› Lurone Jennings, director of Chattanooga's Youth and Family Development Centers› Ariel Ford, director of Chattanooga's Office of Early Learning› Valerie Radu, director of Family Justice Center› Sarah Morgan, president of Benwood Foundation› Molly Blankenship, vice president of talent initiatives at Chattanooga Area Chamber of Commerce and interim executive director of Chattanooga 2.0› Stacy Johnson, CEO/executive director of La Paz
A roundtable featuring members of the new Children's Cabinet, formed through Chattanooga's partnership with the The Harvard Graduate School of Education's Education Redesign Lab and its By All Means consortium, discussed how the proposed FY 2020 Hamilton County budget addresses issues, such as mental health affecting children in the community and funds organizations such as the school district, the sheriff's office and the juvenile court.
Discipline and mental health, whether depression, anxiety or other issues, are growing concerns for educators and community members alike.
The moderator of the roundtable, consultant Tom Griscom, noted that Tennessee Education Commissioner Penny Schwinn recently said that the biggest thing she had heard on her listening tours across the state was the "growing concern for how we can support our children."
Don Mueller, vice president and CEO of Children's Hospital at Erlanger, said that as a health-care provider in Hamilton County, teen suicide was his biggest concern.
"Mental health doesn't start in the hospital," he said. "It has gotten so bad that I met two weeks ago with every CEO of every children's hospital in Tennessee because we had identified mental health as our greatest concern."
Suicide rates have steadily increased across the state in the last decade, but Mueller said that by the time a child ends up in the hospital, in reality the system has already failed.
"This suicide issue is real, this behavioral health issue is real. We have a situation where more than 30% of our high school students have been significantly depressed to the point that it does not go away. .You have 8.3% that say they've tried," Mueller said.
He agreed with Hammond that identifying and supporting mental health and emotional needs should start at school.
"When kids are in school, they're not showing up in our emergency room for suicide. The reality is school is the place where kids are. With the resources, we can identify kids and get them the help they need," Mueller added.
The roundtable came as discussions about Johnson's proposed budget, and his request for an additional $34 million for operating costs, picks up steam as the Hamilton County Commission nears its June 26 vote.
Some in the community have argued that Johnson's budget, which includes more than 350 additional positions and proposes counselors, social workers, truancy officers and more, oversteps public schools' role in society.
But the community leaders gathered Monday said the resources were needed somewhere.
Other anticipated Children's Cabinet participants
› Hamilton County Education Association› Hamilton County Parks and Recreation› Signal Centers› Hamilton County Commission› Chattanooga City Council› Chattanooga Public Library› University of Tennessee at Chattanooga› Chattanooga State Community College› YMCA of Metropolitan Chattanooga› The Bethlehem Center› Boys and Girls Club of Chattanooga› Urban League of Greater Chattanooga› Chattanooga Neighborhood Enterprise
"We have a mandate to educate our children, that entails so much more than it did 50 years ago," said Rob Philyaw, judge of Hamilton County's Juvenile Court. "The bottom line is if we can't control behavior in the schoolhouse then we know we can't teach them. If we can't teach them then we know we can't keep them in school and I end up, and the sheriff ends up, getting them."
Philyaw added leaders know that kids are only in school a fraction of the time, but they do spend 8 hours a day, 5 days a week in school.
"The schools only have these children a fraction of that time, and that's true, but at the same time the schools have the most opportunity to be impactful in these areas," he added.
Mueller said kids need to be reached in schools to make a difference.
"It's a good investment to invest in kids and to invest in kids early," he said. "I believe the school budget helps identify areas that will help children."
Contact Meghan Mangrum at mmangrum@timesfreepress.com or 423-757-6592. Follow on Twitter @memangrum.