Photo Gallery
Brainerd Together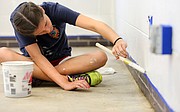 Flaking paint, broken blinds, scuffed floors, old chalkboards, smudged windows, rotting lockers.
These are the things that Brainerd High School students left behind when summer break began.
The school was built in 1959, and some alumni say not much has changed in the years since then. The old chalkboard with "R.I.P. Michael Jackson" still etched in chalk on the corners confirmed that.
BRAINERD TOGETHER PARTNERS
Brainerd High School Alumni AssociationUnumRegions BankSoutheastern SalvageSouth East Total ServiceNew Blue ConstructionWaldrop ConstructionEconomy HondaChattanooga Bar AssociationChattanooga Bar FoundationCBL PropertiesEast Chattanooga Lumber and Supply Co.The Feed Table & TavernChattanooga Metropolitan AirportT.U. Parks Construction Co.Interior AlchemyACE HardwareChattanooga Fire DepartmentSherwin WilliamsChattanooga Area Chamber of CommerceLansing Building ProductsWard's ConstructionElemi ArchitectsTom Bible LawMount Canaan Baptist ChurchParker's Direct FlooringFood CityKey Bonding CompanyHuddle HouseNewk's EaterySilverdale Baptist ChurchHHM Certified Public AccountantsBBQ Rowe and CateringRelevant Church
So did the out-of-date science labs that were left unused during the 2018-19 school year.
And the darkened stage in the auditorium, lacking its floodlights that hadn't been replaced.
After all, the school hasn't had a theater teacher in decades.
But when students return in August they'll see fresh coats of paint; new flooring, windows and blinds; new lockers lining the shiny hallways; a firefighter-themed classroom; a renovated weight room and a brand new mock trial room; flight simulators in the renovated aviation classroom; new locker rooms for the football and basketball teams and a press box with a real floor.
If enough funds are raised through an ongoing GoFundMe fundraiser, the theater will even have new flood lights to light the stage.
Most of all, Principal Chris James said, they'll see a community that has come together to show it cares about them and their futures.
For the past week, dozens of volunteers have been putting in time - sometimes 10 hours a day - to renovate the school.
During the coming weeks, contractors and corporate partners will put the finishing touches on the school they have adopted thanks to the work of the Brainerd Together committee, which formed this spring to unite the community and rally around the underserved, high-needs school.
'Nothing since 1960'
Sherry Smith graduated from Brainerd in 1986. Since graduating, she stayed in Chattanooga and sent both her daughters to Brainerd. Now she works at the school as a permanent substitute teacher and sometimes in the front office.
The building and its condition haven't changed since 1960, she said.
"Same windows, same walls," Smith said. "This will really be the first time it has had a complete makeover."
Students complain that it's cold in the winter because the windows need to be replaced, Smith said. And she knows it affects their morale.
"They always compare themselves to East Hamilton or Ooltewah, especially when they go to those schools for ball games and see their locker rooms and equipment and everything they don't have," Smith said.
Research shows that school climate, including physical learning environments and the conditions of buildings, affects not only students' health and safety but their academic success.
Hamilton County Schools has touted a deferred maintenance problem for more than a decade, with costs seemingly piling up in the district's buildings. The average age of a school in the county is more than 40 years old, Superintendent Bryan Johnson said.
Brainerd is 60 years old.
As James pulled old chalkboards off the walls last week, he found clean walls underneath - untouched from when the school was built decades ago.
As of May 2009 the district was spending only 37 cents per square foot on maintenance costs at Brainerd, according to a Hamilton County Department of Education internal facilities review. The average it was spending at the time across the district was 63 cents per square foot.
Johnson acknowledged school maintenance is something that falls on the shoulders of the school district and Hamilton County, but he has said that deferred maintenance needs have been ignored for years.
He said new high schools can cost upward of $50 million and the "bones of Brainerd" are good. The district is now undergoing a $500,000 facilities audit, but district officials predict the audit will find more than a half-million dollars in deferred maintenance - and currently the district only budgets about $3 million a year for capital maintenance.
Regardless, students and families complain about the county's aging, rundown buildings.
"It definitely affects morale," said Colton Stephens, a math teacher at Brainerd who spent the week painting his classroom alongside Chattanooga firefighters. "I think our students know they are put last a lot and it makes them feel like they don't matter. We don't show them as a community that we care about them."
Stephens said a school building that doesn't support student success is Brainerd's biggest hurdle.
"If we don't have the facilities to support students, how do we get them to take pride in their school?" he said.
'A need in my community'
The lack of improvements has not been lost on students.
It wasn't lost on Brainerd alumni and community members either.
In July 2018, the Brainerd High Alumni Association launched a beautification project, during which generations of Brainerd graduates joined University of Tennessee at Chattanooga students and other community organizations to spruce up the school.
Alumni hoped renovations and community support would inspire students to take pride in their school, said Eric McKenzie, incoming president of the alumni association and community engagement specialist at Brainerd.
"If we don't have pride in [the school] as a community, the kids won't take pride in it either," McKenzie said. "If you don't have the atmosphere for them to be successful, then they won't be motivated to be successful."
After last year's projects, a seed was planted, McKenzie said, and the idea started snowballing as folks came forward asking how they could help.
Jill Levine, who was chief of the Opportunity Zone at the time - the learning community that consists of Brainerd and 11 other high-needs schools in the district - proposed a big project that would unite dozens of community members and school supporters. Levine had led a similar revitalization of Normal Park Museum Magnet in 2008 and knew what could be done. She tapped Alison Lebovitz, community member and board member of local education nonprofit UnifiEd, to help lead the charge.
Lebovitz said they had really developed a playbook for large community renovation projects at Normal Park, and she and Levine thought about how they could do it at another school.
"We use Normal Park as the inspiration, like we know this could happen," Lebovitz said. "We said we don't want this to be a one-time, one-dimensional project if this can inspire other schools in our community."
They wanted the project to be true to each school's unique community - "its soul." And Brainerd Together was born.
Since the initiative was launched in February, dozens of community members have signed on. Last week, nearly 200 volunteers filled the hallways at the school, scraping chipped paint, priming and painting walls, moving furniture, packing up trash and laying flooring.
Dozens of corporate partners have stepped up, as well.
"Unum, BlueCross BlueShield, Regions Banks employees have done the bulk of the work," Smith said. But organizations such as the Chattanooga Fire Department, the Chattanooga Municipal Airport and the Chattanooga Bar Association have adopted particular rooms, as well.
The fire department is building desks for Stephens' classroom, which is part of Brainerd's Future Ready Institute of Law, First Responders and Forensic Science.
The airport hired a contractor to completely redesign the school's aviation classroom, also part of one of Brainerd's Future Ready Institutes, and the school's mock trial classroom will be turned into a realistic model courtroom.
After touring the school this spring, Michael Mathis - president of Regions Bank Chattanooga and grandson of Brainerd's first principal, Dr. George Mathis - said it was disappointing to see the state of the school. It was clear that the district couldn't afford to renovate the building, so the bank wanted to step in.
"It sounds cliche, but our children are truly the future of our community. I think we've looked at each other and wondered, 'Who is going to do it' for far too long," Mathis said. "Now, we are working together more today than ever before."
Martina Alford, an IT assets management and logistics coordinator at BlueCross, took the week off to serve as one of the logistics leads on the project. She spent every day at the school, walking the halls, moving supplies and checking off tasks in rooms. Her employer paid her to be there for two of the days.
Alford joked that she isn't even from Chattanooga. Her children don't go to Brainerd and she doesn't live near the school. But she wanted to give back, Alford said, because she saw a need in the community.
"I first came here on a mentoring day, and I've been involved in the school since," she said. "I just saw a need in the community and wanted to help."
'Nothing gets better until Brainerd gets better'
When asked last week about some of the new renovations and state-of-the-art equipment being installed at the school, James said the project is really about Aug. 7 - the first day students will be back at the school.
"When they come back into the school, when the kids walk into this building and see this major change and see that this is really and truly a big change," James said. " The significance of this is to change the trajectory of our school. This is our game-changer."
Since James took over leadership of the school in February 2018, the former Knox County educator has been working to improve the school's dismal student test scores and discipline issues, but also the morale of his students and the opinion they and the community have of Brainerd.
Lebovitz said the project coordinators want students to come back and still feel like Brainerd is their school. She said James has wanted the project "to be about Panther pride."
"I'm trying to instill pride in them," he said. "As we are trying to increase academics and enhance school spirit, this is a step in that direction. They put in so much work and they deserve this."
James reiterated something he has previously told the Times Free Press.
"Chattanooga is not going to get better until Brainerd gets better," he said. "It's sowing a seed this week that is going to grow. Chattanooga is putting its money where its mouth is."
Smith agrees that the refreshed school building will have an impact on the mindset of students and help James as he pushes for progress and success.
"This is really going to be uplifting for the students," Smith said. "this is going to build up their morale. Especially when [James] says something is going to happen and then it does. That's how you earn their trust. He told [the students] when they left that this was going to happen and it did."
Smith's colleague, Stephanie Muhammed, agrees with James and says she hopes the renovations will instill a sense of pride in students.
"Hopefully they'll see a new attitude, new equipment, a new school coming in here. This is just going to be really important to the children," she said. "They'll see that we are taking pride in Brainerd and that we are taking pride in the children of Brainerd."
Contact Meghan Mangrum at mmangrum@timesfreepress.com or 423-757-6592. Follow her on Twitter @memangrum.