Photo Gallery
Diverse approach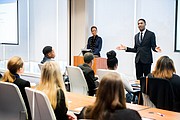 Eric Barton admits he didn't know much about the jobs at BlueCross BlueShield of Tennessee when he decided last fall to visit the health insurance company as part of a university "diversity externship" program.
But after spending half the day at the company's Cameron Hill headquarters last fall - and coming back for a second externship event in February - the University of Tennessee at Chattanooga senior, who is majoring in both engineering and psychology, says he is eager to work at BlueCross if the right opportunity presents itself.
By the numbers
› $28,000: Median income of black households in Hamilton County, or only half the $56,00 median income for white households in the country in 2017.› $35,000: median income of women in Tennessee, which is only 81 percent as much as the median for men in Tennessee› 14 percent: The share of women on the boards of publicly traded companies in Chattanooga› 4 percent: The share of people of color on boards of publicly traded companies in Chattanooga› 15 percent: The share of women in the Tennessee Legislature, or only about half of the average 28 percent share that women have in other state legislatures across the United States.Source: U.S. Bureau of Census, Security and Exchange Commission filings, Institute for Women's Policy.
"Growing up in Memphis, I had heard and thought I knew about BlueCross, but coming on their campus and talking with the folks here it opened my eyes to so many new things and opportunities here," Barton said, urging other minority students to consider all of the options available at the Chattanooga-based health insurer.
The externship program at BlueCross is the first for UTC, although the college is looking for ways to expand both its traditional internship programs and other career orientation activities, especially to promote more workforce diversity.
But the initiative is among several BlueCross is making to help recruit, train and promote more diversity in its workforce at its 4,500-employee Chattanooga campus.
"We started a much more active diversity effort more than 20 years ago when our CEO at the time, Tom Kinser, made it a real priority and made sure we entered this era that was being ushered in known as diversity," says Ron Harris, who was chosen two decades ago to head the initiative at BlueCross. "It was not just a flavor of the month for us, but it has been a long-term strategy to try to be inclusive and promote cultural competency. We talk about diversity and inclusion a lot here, and not just for race and gender but also for LGBT sexual orientation, for the disabled and for veterans to make sure we do what we can to look like the customers we serve."
In 2018, more than 20 percent of BlueCross' statewide staff of 6,000 employees across Tennessee are people of color and more than 70 percent are female workers, including more than 60 percent of managers who are female. For its efforts, Forbes magazine named BlueCross in Tennessee as the third best employer for diversity in America for 2019, behind only the packaging company Ball in Colorado and the Nielsen professional services company in New York.
Over the past five years, other area employers, including Unum, the Tennessee Valley Authority, Shaw Industries, the Tennessee Valley Federal Credit Union and the city of Chattanooga, have added diversity managers to their organizations similar to the role Harris plays.
Wade Hinton, the former city attorney in Chattanooga, joined Unum in a new role as vice president of diversity and inclusion in August 2018 to help build on the company's efforts to promote employee resource groups and minority recruitment and inclusion programs already in place at Unum.
"Although my role is new, the work isn't," Hinton said, noting that Unum has been recognized by the Human Rights Campaign Foundation for LGBTQ equality and scored in the latest Disability Equality Index compiled by the American Association of People with Disabilities.
Unum has established five employee resource groups, which have been employee-driven organizations within the company to encourage inclusion and focus on women's professional development, race and ethnicity, ability, veterans and LGBTQ plus issues and concerns. Such groups provide programming, networking, support and advocacy for their respective interests, Hinton said.
Hinton and other advocates for diversity in the workplace insist that improving the complexion and leadership of organizations to better resemble the community is more than just the right thing to do for a business.
"We serve about 36 million customers and their family members at Unum and we want to make sure we both understand and meet the needs of that diverse customer base and that we remain a highly competitive company that attracts a variety of talent," Hinton said. "We know that high performers and talent want to work in a diverse workplace and that businesses with more diversity tend to perform better because they have the ideas and input from many more people. Great minds don't all think alike."
Dr. Carol Berz, a Chattanooga City Council member and chair of the Chattanooga Mayor's Council for Women, said studies show that companies with more diverse boards, management and staffs tend to outperfom other companies with less diversity in their industries.
The importance of diversity was embraced as one of the top five goals for Chattanooga in one of the biggest communitywide visioning programs over the past year. From among more than 5,000 people involved in discussions, survey responses and brainstorming sessions, the initiative known as Velocity 2040 identified diversifying leadership in business and government as one of Chattanooga's biggest needs.
Rebecca Ryan, a futurist and consultant for Velocity 2040, said changing technology, demographics and markets will require new approaches to education and work and Chattanooga will need the skills of all individuals to achieve its potential.
"You can't look at any measure of this community, whether it is race, age, ethnicity or gender, and not realize that it is changing and our leaders need to reflect that," Ryan said. "When I come back in 2040, the leadership of this community ought to look like the United Nations, because talent doesn't know race or gender and leadership has no sexual orientation. Talent comes from all people."
To build a more diverse and cooperative leadership approach in Chattanooga, Ryan said, "some healing of the brokenness" felt by many who have felt left out of community decisions and economic opportunities will be needed.
Chattanooga Mayor Andy Berke said the city is making progress to include more women and people of color in management, decision-making and key supplier roles. The city monitors its hiring, promotion and supplier contracts and works to promote more diversity through a variety of programs, including its own office of cultural diversity.But Berke concedes minorities and women still face obstacles "every day that are keeping too many of them from reaching their full potential.
"It is no secret that these challenges are more pronounced in the South than in other parts of the world - and in some respects may be getting worse," Berke told the Mayor's Council for Women in a statewide Women's Policy Conference in February.
A study by Avalanche Consulting for the Velocity 2040 initiative found that the median income of black households in Hamilton County is only half that for white households and whites and males still disproportionately control most business boards and top jobs in the county. Even though women outnumber men and four of every 10 persons in Hamilton County is a person of color, over 86 percent of the directors of Chattanooga's publicly traded companies are men and more than 95 percent of those board members are white.
Chattanooga is the only major city in Tennessee to have never elected a female mayor and one of the few Southern cities with a substantial minority population to have never had a black or Hispanic mayor or county executive. Across Tennessee, 15.2 percent of the state's legislators are now women, down from nearly 19 percent in 2010 and only about half of the 28 percent national average, according to the Institute for Women's Policy.
The median income of women workers in Tennessee is still only 81 percent of the typical male worker in the state, according to census figures.
"Women tend to be over-represented in traditional female, lower-paying jobs and underrepresented in higher-paying jobs," says Elye Shaw, a senior research associate for the Institute for Women's Policy. "Women have been making great progress in post-secondary education and now outnumber men in most colleges. However, women still earn less than men with the same education levels so we still have a lot of work to do to bring more equity to the workplace."