Photo Gallery
Penny Schwinn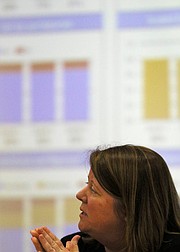 On her first trip to Hamilton County, new Tennessee Education Commissioner Penny Schwinn recognized and affirmed her commitment to the work that the school district and the state are doing to improve some of Hamilton County's highest-needs schools.
Formerly the academic chief for Texas schools, Schwinn was the last cabinet member appointed by Gov. Bill Lee and took her post on Feb. 1. One of her biggest charges in Hamilton County is navigating the State Partnership Network, which is bound by an agreement between the district and the state to improve schools that consistently are among the state's lowest performers.
Advisory Board Members
› Valoria Armstrong, president of Tennessee American Water Co.› Wayne Brown, Woodmore community member and member of the Tennessee Parent/Teacher Association (PTA)› Ardena Garth, attorney and president of Chattanooga Endeavors› Patricia McKoy, retired Hamilton County educator, former Public Education Fund Leadership Fellow› Ernest L. Reid Jr., pastor of Second Missionary Baptist Church› Gerald Webb, partner at Speek, Webb, Turner & Newkirk and alumnus of Woodmore Elementary School, Dalewood Middle School and Brainerd High School› Dakasha Winton, chief government relations officer at BlueCross BlueShield of Tennessee and first vice chairwoman of the board for the nonprofit Park Center in Nashville
At a meeting with the advisory board formed to guide that work, Schwinn said she is committed - and has high expectations - for the work within the network.
"We know that we have a shared commitment to our students. Every single one of the children in every single one of our schools come to us with real assets This can really serve as a model of what we can do across the state of Tennessee, when you have a really strong, bold community come together," Schwinn said. "This is our moment in time to recommit and redefine expectations."
Some of the goals for the network - which is made up of Brainerd High, Dalewood Middle, Orchard Knob Elementary, Orchard Knob Middle and Woodmore Elementary - include getting more students on track, or on grade-level, in reading and math; improving graduation rates; increasing attendance; and recruiting and retaining high-quality teachers.
But Schwinn said some of the original goals to "increase" or "improve" were vague in the memorandum approved by the state and the district last year, and she hopes the advisory board can solidify more specific goals this spring.
Schwinn also complimented Superintendent Bryan Johnson and his leadership, something she said was fundamental to ensuring success.
The network itself came out of conversations about whether the state would take over the district's priority schools, add them to the Achievement School District, or leave them in the hands of the school district as they continued to under-perform despite funding and supports from the state.
Instead, under former Education Commissioner Candice McQueen, the department and the state entered into the agreement, which included the formation of an advisory board, appointing former Ooltewah High School principal Robin Copp as a liaison between the state and the district and working closely with Jill Levine, chief of the Opportunity Zone, to address the needs in the schools.
Levine said she was excited by the commissioner's commitment to the work.
"It's clear her heart is with all kids," she said.
Levine accompanied Schwinn on several of her school visits Thursday, including stops at Clifton Hills Elementary School, East Ridge Elementary School and Chattanooga School for the Arts and Sciences. She said that in every classroom she visited, Schwinn would immediately sit down on the floor and talk with students.
Schwinn reflected on her visits during the advisory board meeting Thursday night.
"We saw three very different schools today, and that's a sign of what public schools should be," she said.
The new commissioner's administration kept her on a strict schedule Thursday, allowing only a few brief minutes of access to reporters after her stop at CSAS and then at the advisory board meeting.
Schwinn's schedule Friday includes stops at Hixson High School, Dalewood Middle School and Orchard Knob Middle School, as well as a teacher advisory council meeting. After Thursday night's advisory board meeting, Schwinn was slated to attend a Teach for America alumni event, having begun her education career as a Teach for America corps member.
Schwinn says some of her goals in her first year at the helm of Tennessee's schools are developing a new strategic plan for the department, as well as finding a new testing company to administer the state's troubled TNReady testing program.
The advisory board will meet publicly again in June to lay down solid goals for success that will grow out of conversations among the board, Schwinn and Johnson, officials said.
For now, advisory board Chairman Gerald Webb said he is pleased with the start to the new relationship.
"It feels good to know that we have a commissioner to reach out to and a commissioner that's dedicated to making sure we can get the work done," he said.
Contact staff writer Meghan Mangrum at mmangrum@timesfreepress.com or 423-757-6592. Follow her on Twitter @memangrum.