Photo Gallery
Taylor vs. Pavlik Undercard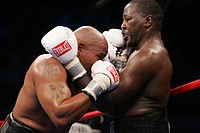 The city of Chattanooga has posted a sign on the Shuford's barbecue restaurant on Signal Mountain Road, calling it a "dangerous" structure after a mudslide leveled the business next door.
Madison Davis, daughter of Shuford's business owner Jeff Davis, said Wednesday that the sign was posted on Tuesday at the eatery that has operated for 33 years at the foot of Signal Mountain.
Shuford's had stopped serving take-out orders on Wednesday, but the eatery may resume those, according to the restaurant.
Davis said that the Shuford's restaurant at 11320 Dayton Pike in Soddy-Daisy will remain open.