Photo Gallery
'32' documentary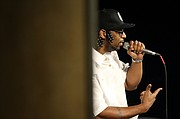 The Chattanooga city councilwoman asked everyone in the room Thursday to stand up if they'd ever been a slave before. Near the front stage of The Camphouse, four men rose in response to Demetrus Coonrod's question.
"The ones who are standing up are all black," Coonrod, the District 9 councilwoman, told the room. She began talking about the criminal justice system, how it ensnares poor people of color inside jails and prisons, how it marks them for life, leaving them without the resources to find good housing or employment upon their release.
"How many people shop at Victoria's Secret?" Coonrod asked the room. "Guess who makes that lingerie? People in the penal institution. How many people work for the fire department? The attire they wear - guess who makes that? People in the prison."
Coonrod's comments were some among many in a wide-ranging conversation Thursday about how the justice system holds people of color in an economic bind as roughly 80 people gathered to hear two local filmmakers, Jamaal Hicks and Maurice McDowell Jr., of Pimpoholic Films and Lil Mo Films, respectively, discuss their new documentary, "32."
The hourlong documentary, available for purchase at 32documentarydvd.com, focuses on a 2013 federal drug conspiracy case against 32 black men, some of whom had minimal criminal records. When they were indicted, then-Chattanooga Police Department Chief Bobby Dodd referred to them as "the worst of the worst," and the accused said they spent years fighting inhumane jail conditions and aggressive prosecutors who wanted them to plead guilty to lesser charges in exchange for their testimony.
But, Hicks and McDowell said Thursday, drug- and gun-related violence continued in Chattanooga, drug use is consistent across all races, and many of the accused are multi-dimensional human beings who didn't embody the "worst of the worst" title.
They were musicians, they had families, or they had spent their lives struggling to break out of the poverty and violence that dominated their environments. In 2013, though, they were facing federal conspiracy charges that could hold them responsible for the behaviors of their friends and associates, no matter how involved they were in the alleged drug trade. And they all pleaded guilty, with many still serving time after getting 10- and nearly 15-year sentences.
"Frank White [one of the defendants] was the most difficult for me. He was a local rapper, just trying to make his way," McDowell said during a panel with Hicks. "White had been making moves to where he was about to get a record deal that could change his family's whole dynamic. But then he got stuck [with this case]. You do the crime you do the time. But 10 years? You truly knock the wind out of the man."
Thursday also included a panel discussion with Coonrod, Hamilton County District Attorney General Neal Pinkston, Assistant Federal Public Defender Jackson Whetsel, Chattanooga police officer Lee Mayweather and Joe Jenkins, one of the 32 accused men who has gone on to mentor youth, work two jobs and marry since his release from prison in 2018.
The discussion ranged from the justice system's shift toward holding people in jails with poor conditions, to the way those conditions encourage guilty pleas, to the role that prosecutors and others play. At one point, Coonrod said Pinkston and his state proseutors helped "enslave" people, a reference to the portion of the 13th Amendment that says slavery is outlawed except for when a person serves time in a penal instutition for their crime.
That sparked a discussion about what Pinkston's office is doing to help people erase old criminal charges or get their driver's licenses back. Pinkston said describing their work as "enslaving" was hyperbolic and that prosecutors seek justice based on the facts and evidence of the law. If the facts aren't there, he said, prosecutors dismiss the case. A community organizer in Pinkston's office, Shawanna Kendrick, added that she's attending community events, directing people to job fairs and working to meet the community halfway wherever she can.
"We're going to have restoration day: Voter rights restoration, expungement, civil rights restoration. We're talking about child support, because we know that's an issue too," Kendrick said.
Another audience member, Ezzard Robinson, a community organizer, asked Pinkston about his large case against the Athens Park Bloods, in which 54 people are charged with committing crimes on the group's behalf. Three of those people possibly face the death penalty, if convicted, of the 2016 killing of state's witness Bianca Horton, but several others face tough conspiracy charges for the "totality" of the gang's alleged activity.
Pinkston said he couldn't comment on that case, since it's ongoing, but encouraged people to wait to form their opinions until they've heard all of the evidence.
Contact Zack Peterson at zpeterson@timesfreepress.com or 423-757-6347. Follow him on Twitter @zackpeterson918.