Photo Gallery
Baylor baseball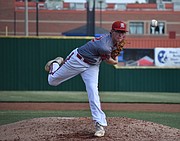 LEBANON, Tenn. - Tattooing the baseball, Baylor picked up right where it left off in last year's Spring Fling.
The Red Raiders' Division II-AA state title defense began with a trio of sophomores leading a 10-0 five-inning victory over Ensworth at Wilson Central High School on Tuesday.
Danny Corona flashed his sweet stroke and quick hands, lining RBI doubles to both outfield gaps in the second and fourth innings to help back a lights-out Jay Dill on the hill.
While Baylor (25-6) has outscored its opposition 41-13 in its last four Fling games, a youthful but poised group accepts no guarantees.
"We didn't come into the state tournament thinking it would be easy, because nothing is guaranteed in baseball," said Corona, who went 3-for-3 and scored twice.