Photo Gallery
Slim & Husky's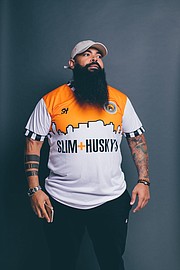 "Pizza Rules Everything Around Me," or P.R.E.A.M., is the motto of a Nashville-based pizza joint planning to open a location in Chattanooga next year.
Slim & Husky's Pizza Beeria co-founders and owners E.J. Reed, Clint Gray and Derrick Moore announced their expansion into the Chattanooga area at Urban League of Greater Chattanooga's sixth annual "Entrepreneur Power Luncheon" on Tuesday, giving an opening date of spring or summer 2020.
Slim & Husky's Pizza Beeria is a fast casual and gourmet pizza joint that serves eight signature artisan pizzas, custom-built pizzas and cinnamon rolls made with locally sourced ingredients, according to the company's website.
The Slim & Husky's signature "P.R.E.A.M." pizza includes a white sauce, house cheese blend, spinach, pepperoni, pulled Italian sausage, mushrooms and red onions for $10. Custom-built pizzas are $15 and they also serve local craft beers and wine.
Reed, Gray and Moore said they use pizza as a vehicle to engage and change communities that are considered "food deserts" or are lacking in investment. The Nashville natives and childhood friends said the name - Slim and Husky's - came from Reed, who always wore the slim fit growing up, and Gray and Moore who had to shop in the "husky" clothing section.
While they have not picked out a location yet for the new Chattanooga restaurant, the co-founders said they will be scouting spots later this summer.
The Nashville business owners gave the keynote at the Urban League luncheon, describing how the three, black men started an eco-friendly moving company, The Green Truck Moving & Storage Company in 2010, not knowing anything about the moving industry, and grew it from three men and one truck to 50 employees, nine trucks and $2 million in revenue.
After selling that company, they decided they wanted to get into the restaurant business next.
"Movers eat a lot of pizza," Gray joked at the luncheon.
The trio opened their first Slim & Husky's location in north Nashville in 2017 in an area that was "rapidly gentrifying" and hadn't seen a lot of investment compared to other areas of the city. They now have four locations with their most recent one opening in Atlanta.
"When you put opportunities back in areas that need it, you start to develop and these seeds start growing into fruit," Gray said.
The pizza chain also plans to open additional locations in downtown Nashville and metro Atlanta and expand into Memphis, Tennessee; Birmingham, Alabama; Austin, Texas; and Louisville, Kentucky within the next year.
"We are always conscious about growing and building and investing in our community," Moore said. "We go into these communities, take a chance and we walk out with equity. When you take a chance, nine times out of ten you win."
According to their website, Betty Marshall serves as the CEO and has more than 25 years in the hospitality industry.
Moore said that the only way for a community to grow is for the city, businesses and neighborhoods to come together.
"When you unify those minds, you have the power to grow, the power to move forward," Moore said. "We knew that, and we exemplify that with Slim & Husky's."
For more information, visit slimandhuskys.com.
Contact staff writer Allison Shirk Collins at ashirk@timesfreepress.com, @AllisonSCollins or 423-757-6651.