Photo Gallery
TVA top executives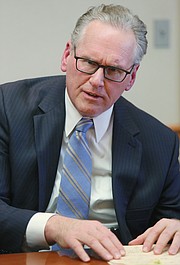 The Tennessee Valley Authority paid Jeff Lyash, its new CEO, a recruitment and relocation incentive of nearly $1.8 million to join the federal utility in April and awarded him other performance pay, incentives and pension benefits.
Those benefits increased Lyash's total compensation to a record $8.12 million in his first six months on the job, provided he stays for at least the next five years, according to regulatory filings released Friday by TVA.
Lyash, a 57-year-old engineer who previously was Ontario's highest-paid government employee as head of Ontario Power Generation, became America's highest-paid federal employee in April when he was hired as TVA's new CEO.
Lyash was paid a base annual salary of $920,000 when he joined TVA, which is more than twice the $400,000-a-year salary of the president of the United States, and he is eligible for millions of dollars more in performance pay if TVA meets or exceeds its financial, safety, economic development and reliability targets. As a former federal employee at the U.S. Nuclear Regulatory Commission, Lyash also gets more in pension benefits, which accounted for most of his total compensation package in his first year at TVA.
Lyash succeeded Bill Johnson, a 65-year-old attorney and utility executive who left TVA in April after six years to head the even bigger Pacific Gas & Electric, California's biggest electric utility which filed for bankruptcy last year. In fiscal 2019, when Johnson was at TVA for just over half the year, he received total compensation of more than $6.9 million from TVA. Previously in his last full year at TVA in fiscal 2018, Johnson received a compensation package valued at $8.1 million.
Top pay at TVA
According to TVA's annual report filed today with the U.S. Securities and Exchange Commission, total salaries, deferred pay, performance incentives and pension value changes paid to TVA's top executives in fiscal 2019 were: * Jeff Lyash, president and CEO since April, total compensation of $8.16 million, including $5.97 million in the change in pension value for future payout. * Bill Johnson, president and CEO until April, total compensation of $6.9 million, including over $2.1 million in pension payments for the departing CEO. * John Thomas, chief financial officer, total compensation of $3.6 million, including nearly $1.1 million change in pension value * Mike Skaggs, executive vice president and chief operating officer, total compensation of $4.4 million. including more than $2 million change in pension value * Sherry A. Quirk, executive vice president and general counsel, total compensation of $2.46 million, including $401,540 change in pension value * Timothy Rausch, senior vice president and chief nuclear officer, total compensation of $1.54 million, including $72,784 in change in pension value Source: TVA Executive Compensation Report in 10K filing with the U.S. Securities and Exchange Commission.
At PG&E, Johnson is being paid a base salary of $2.5 million, but he could make as much as $110 million if the company's share prices return to their 2017 peak. Johnson insists those estimates are unrealistic and that he didn't join the company for the money.
Despite the record high pay levels at TVA for its top leaders, surveys by pay consultants indicate CEO compensation at TVA still ranks among the bottom 25% of what comparable investor-owned utilities pay their top leaders.
Under its Congressional authorizing legislation, the TVA board is directed to pay competitive wages and salaries to its workers and executives. TVA officials said its compensation levels help ensure that the agency attracts qualified and skilled personnel to run America's biggest government-owned utility, which serves nearly 10 million people in seven Southeastern states.
In fiscal 2019, TVA earned a record high net income of more than $1.4 billion, allowing the utility to pay down its debt to the lowest level in 30 years and to freeze further wholesale rate increases. Local power companies that agree to 20-year contracts with TVA are even getting a 3.1% reduction in what they pay for electricity.
Under Johnson and Lyash over the past six years, TVA exceeded its goals for cutting costs, debt, power outages and worker accidents while exceeding goals, in most years, for economic development in its 7-state region.
"Our strong performance results directly impact our ratepayers, so our overachievement over the past six years has allowed us to put forward a plan where we have said over the next 10 years we don't expect any rate increases," said Sue Collins, TVA's senior vice president and chief human resources officer. "We need to get the talent required to achieve these results, so we benchmark ourselves against the market and a broad peer group and target at the 50 percentile [in pay], which is a reasonable competitive position in order to draw the talent in the door we need to be successful. We also put in incentive programs that are based upon achieving results and performance to drive the type of performance we need."
TVA employs the consulting firm of Willis Towers Watson Energy Services to survey 37 other electric utilities for employee compensation levels.
"We compete in the market," Collins said. "We're not overpaying in the market, but we need to be competitive for the talent that delivers this type of results."
But U.S. Rep. Tim Burchett, a Knoxville Republican and former Knox County mayor, earlier this year called the pay given Johnson "the picture of arrogance of TVA" and urged the agency's board to open up its committee meetings over issues of pay and TVA activities.
"The hardworking people at TVA get a slap in the face when they see that kind of thing," he said. "That's why they need to have those meetings open."
Burchett and two other Tennessee members of the U.S. Congress - Steve Cohen, D-Tenn., and Scott DesJarlais, R-Tenn. - introduced legislation in January known as the Tennessee Valley Authority Transparency Act of 2019 to require TVA to open up more of its board committee meetings, but the legislation has not moved out of committee.
In its regulatory filings Friday, TVA said the CEO compensation given to Lyash and Johnson was 112 times as much as the median compensation for the typical TVA full-time employee, which TVA said equaled $134,749 in fiscal 2019.
The CEO-to-employee ratio required each year by the SEC is nearly double what it was for TVA the previous year because TVA had two CEOs in fiscal 2019 and incurred overlapping and several one-time expenses.
TVA spokesman Jim Hopson said that inflated the comparison number in fiscal 2019.
"This was a very unusual year because of these changes," Hopson said.
Contact Dave Flessner at dflessner@timesfreepress.com or 423-757-6340.