Photo Gallery
TVA top executives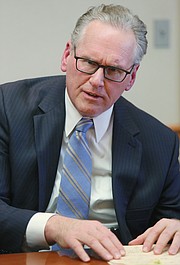 The Tennessee Valley Authority paid Jeff Lyash, its new CEO, a recruitment and relocation incentive of nearly $1.8 million to join the federal utility in April and awarded him other performance pay, incentives and pension benefits.
Those benefits increased Lyash's total compensation to a record $8.12 million in his first six months on the job, provided he stays for at least the next five years, according to regulatory filings released Friday by TVA.
Lyash, a 57-year-old engineer who previously was Ontario's highest-paid government employee as head of Ontario Power Generation, became America's highest-paid federal employee in April when he was hired as TVA's new CEO.
Lyash was paid a base annual salary of $920,000 when he joined TVA, which is more than twice the $400,000-a-year salary of the president of the United States, and he is eligible for millions of dollars more in performance pay if TVA meets or exceeds its financial, safety, economic development and reliability targets.