Photo Gallery
CGLA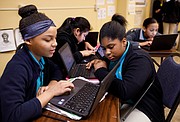 Hamilton County's nationally known charter school, Chattanooga Girls Leadership Academy, has been named Tennessee's Charter School of the Year by the Tennessee Charter School Center.
The all-girls public charter school, which celebrated its tenth anniversary earlier this year, was awarded a 2019 State Charter Champion Award at the annual Tennessee Charter Schools Conference last week.
The school was selected based on its STEAM (science, technology, engineering, arts and mathematics) curriculum and the creative programming and curriculum it provides to students, according to a news release.
"CGLA is an ecosystem of exemplary educators and fearless students, all of whom are purposefully teaching and learning," said Elaine Swafford, executive director of the school, in a statement. "Our faculty takes education beyond the traditional classroom by designing experiences that spark critical thinking and develop problem-solving skills. No question, the faculty focuses on student engagement that leads to academic success."
Gov. Bill Lee was also honored at the same conference. Lee was presented with the 2019 National Champion for Charters Award, "a recognition bestowed annually on local, state, and federal policymakers who are making a difference for students by supporting high-quality public charter schools," according to a news release.
"There are some outstanding leaders supporting public charter schools across Tennessee and we are proud to recognize the thoughtful and innovative investments they are making in our state's students and families," said Maya Bugg, CEO of the Tennessee Charter School Center, in a statement.
CGLA has been recognized nationally and selected as one of four schools in the nation to receive a School Innovation and Change Award from the National Principals Leadership Institute in 2017. In 2018, it was selected as one of 15 schools in Tennessee to receive some of the first STEM School designations and was named 2018 Nonprofit of the Year by the Chattanooga Area Chamber of Commerce.
This year, CGLA was designated a Reward School by the Tennessee Department of Education and earned a Level 5 TVAAS score for student and academic growth for the 2018-2019 school year.
"Students enroll at CGLA because they are seeking their best future," said Maryo Beck, CGLA principal, in a statement. "They are eager, and we have a responsibility to prepare them to address the challenges of a dynamic world."
The school was founded in 2009 and faced early challenges and was even at one time named a priority school by the state due to low student academic performance. Swafford took over leadership of the school in 2012 and has since worked to improve the trajectory of the school.
The school is among four charter schools in Hamilton County and predominantly serves students of color from economically disadvantaged households in the Highland Park and surrounding Chattanooga communities.
Nikki Varnell, a social studies teacher at CGLA, also was recognized by the Tennessee Charter School Center as one of the finalists for the 2019 Teacher of the Year award.
Contact Meghan Mangrum at mmangrum@timesfreepress.com or 423-757-6592. Follow her on Twitter @memangrum.