Mark Dragoo has been synonymous with the Arts & Sciences high school boys' basketball program.
Leading the Patriots since 1989, Dragoo has amassed 558 wins, 15 regular-season district championships, 10 district-tournament championships, two region championships, 10 sectional appearances and four state-tournament appearances.
The CSAS gymnasium is filled with character and has been a gathering place for many in the community throughout the years. Dragoo's legacy was cemented Tuesday night as the school dedicated the gym floor in his honor just before a home-opening 60-31 win over Rockwood in which Jerome Foster hit six 3-pointers and freshman Louis Bell blocked half a dozen shots.
"This was a night to honor every player who has played here for me," said Dragoo, who shared the special event with his 86-year-old dad and seven grandchildren. "It's a very humbling honor. This is the most historic gym in Chattanooga that is still being used, with City and Riverside here, then us. That's amazing to think I was honored in that way."
Dragoo previously announced that this will be his final season as the Patriots' head coach. His impressive feats also include a 77-game district win streak from 2005 to 2012 and state-runner-up finishes in 1991 and 2007. The way Dragoo has treated others has been a staple mark in his career. Recently he helped a former basketball player who was in a tough spot pay off his rent to avoid an eviction.
Photo Gallery
CSAS gym floor dedicated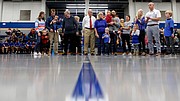 "When you put others above yourself and treat people like family, the attention they are going to pay for basketball takes care of itself," said Dragoo's son, Zach, a Patriots assistant who will take over the coaching reins from his father next season. "Everyone who has played for him has learned to do the hard right instead of the easy wrong."
Dragoo, who began his high school coaching career at Brainerd Baptist from 1981 to 1989, also has served as the CSAS athletic director the past 30 years and has had a major hand in coaching and starting other sports as well as helping make sure student-athletes graduate.
Tuesday night's packed gym included Phillip Moss, who was a senior starter on the 1991 CSAS team that lost 51-47 in the Class A state championship game to Nashville Martin Luther King.
"My best memory of Coach Dragoo is the love and the family," Moss said. "I remember he looked every senior in the eye after the state championship game we lost and said, 'Don't stop; keep going.' He made me a better man today."
Former Best of Preps standout Todd Landsen also was impacted significantly by Dragoo.
"It was always bigger than basketball to him. His goal was to teach us how to become strong men," said Landsen, who helped the Patriots to district-tournament titles in 2015 and 2016. "He has poured his heart into this school. Outside of basketball I feel like CSAS itself wouldn't be who it is today without his leadership."
From the long road trips to scout future opponents, the celebrations and hugs after qualifying for the state tournament to the countless lives he has impacted, Dragoo's name now literally is linked with CSAS basketball.
"For him to sit back and see the floor, I hope he is going to see his legacy," Zach Dragoo said.
Contact Patrick MacCoon at pmaccoon@timesfreepress.com. Follow him on Twitter @PMacCoon.