Photo Gallery
Guns in churches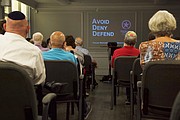 The group is nearly silent as they stand in the church, shifting their weight from hip to hip in nervous anticipation. Outside, the mid-August heat of Tennessee has pushed well above 90 degrees. Yet everyone in the group wears long pants, sweatshirts, gloves and face masks.
The ones near the entrance doors push magazines into the modified Glock pistols, then pull the slides to chamber a round.
Two at a time, they get called from the room, away from the group and toward a threat to the church - active shooters, hostage situations, suspicious people. The group members know little about the situations they are entering. It is on them to make split-second decisions about how to respond.
The trainers throughout the church yell phrases to remind the teams of lessons learned earlier in the day.
"See gun, go gun."
"Contact mode. What does that mean?"
"Here we go! ... Check your muscles!"
All of the scenarios are simulations. The assailants are wearing pads and shooting blanks. The teams being trained are essentially shooting pellets.
Gun violence in the 21st century has made no exception for houses of worship. Hatred does not recognize the sacredness of prayer halls or sanctuaries. Bullets are not stopping at the threshold of God's places. Houses of faith are targets of violence, from Charleston, South Carolina, to the Tree of Life synagogue to Christchurch, New Zealand.
For some faith leaders, bad guys carrying guns means good guys in churches should start carrying guns. This is the point of the training at Thompson Station Church in Thompson Station, Tennessee, near Nashville. The people gathered on this mid-August day are there to prepare for the worst.
For other faith leaders, the threat of violence is not a call to arms as much as it is a call to enhancing security. There are ways to ensure their people can pray in peace that do not involve packing heat in their pews.
However, all houses of worship are coming to terms with the reality of faith in 2019 - thinking about security is no longer optional.
'As real as you can get'
Ken Alexandrow stood in the center of the group gathered at Thompson Station Church directing the teams over a handheld radio. He is the founder of Agape Tactical, the hands-on security training program being used.
The group spent the morning listening to presentations and walking through demonstrations of how to respond to emergencies. The afternoon is dedicated to live practice.
The opportunity to simulate emergencies in real time is what separates Agape Tactical from other training companies, Alexandrow said. Most groups hear a presentation, but very little of that is retained, he said.
MORE INFO
Agape Tactical: www.agapetactical.com.CRASE training: Contact the Hamilton County Sheriff's Office at 423-209-7000.
Making the participants respond to simulated situations allows them to learn how their bodies will respond under high tension, Alexandrow said. In moments of extreme stress, people will drop to their lowest level of training, he said.
"No man or woman will rise to the occasion under stress," Alexandrow said. "That's the biggest misnomer. That's the biggest lie people tell themselves. They'll say, 'Oh, when it happens, this is what I'll do.' That's a lie."
All of the situations have happened in churches, Alexandrow said. There is a suspicious package. In another area, a gunshot wound victim or a man attempting to barge into the pastor's office.
The participants have to decide how best to engage the scenario. Do they draw their weapons? Do they fire? Or can the situation be resolved without force? For example, if a suspicious person is walking around the outside of the church, how do they engage? What questions do they ask?
When the scenarios are completed, the entire group is debriefed. The participants could see how they would react to the situations and what their emotional state would be, said Dawn Bradley, Agape Tactical director of women's training.
"The true value of this training, is it is as real as you can get without actually being real," Bradley said.
The Agape Tactical training for a group this size - around 50 people - costs $2,500. Alexandrow's instructors are former military, SWAT and law enforcement personnel. Most people think churches are soft targets, meaning they are not armed or prepared to handle threats, Alexandrow said. For around a decade, his mission has been to change that.
Just having a permit to carry a firearm is not enough, though, Alexandrow said. People need to be prepared. Agape Tactical runs several trainings, including firearm and shooting range instruction. The hands-on, simulated training is the company's most advanced. The teams Alexandrow oversees train multiple times a year.
"We will never change the loving, warming feel and look of a church and make it a paramilitary organization," he said. " Something's got to give. If you're going to be safer you're going to inconvenience people. You can't make it safer and make it more convenient."
Alexandrow also advises security teams do not openly carry their firearms in church. They should not be obvious for anyone looking to do harm to the church. Concealed is better for security and so parents do not have to explain to children why they are seeing guns at church, Alexandrow said.
Not all churches have to arm themselves, and Agape Tactical will work with churches that want to enhance security without creating armed teams, Alexandrow said.
How common are church shootings?
Carrying firearms in houses of worship is a modern development. However, violence against people of faith in the United States has a long history. Many of those acts were state sponsored, or at least the authorities provided an approval by silence when acts of violence were conducted.
For example, throughout the 19th and 20th centuries, Catholic immigrants were attacked and seen as traitors because of their perceived loyalty only to the pope. In the 19th century, members of the Church of Jesus Christ of Latter-day Saints were tarred and feathered and run out of towns. During the Civil Rights movement and even today, black churches have been targets of bombings and attacks.
But the idea of church members reaching for guns is new, said Darryl Hart, Hillsdale College associate professor of history. Even at the height of violence against blacks in the Jim Crow era, members of the black community did not arm themselves. In many ways, doing so could have made things worse, Hart said.
Even during times of war, houses of worship were largely considered off limits, Hart said.
"The phenomenon of church shootings are largely a product of the era of the mass shooting phenomena," he said.
As the number of mass shootings each year in the United States increases, shootings at houses of worship have, as well. Most shootings at churches are not mass shootings, defined by multiple victims, said Dallas Drake, senior researcher at the Center for Homicide Research. Instead, church shootings often involve one or two people.
The center's research is one of the best sources for measuring the scope of the problem. The center has gathered and published data on church shootings between 1982 and 2005 and recently submitted data from between 2006 and 2016 for publication in the journal Homicide Studies, Drake said.
Between 2006 and 2016, there were 15 mass shootings, Drake said. However, the total number of shootings at churches per year quadrupled in the past few years, he said.
"It's clear that in 2018 and 2019, it continued upwards," Drake said. "There's a lot of incidents. That's why we're collecting them, because there's so many. We just want to make sure we don't miss any."
Among those shootings in the uptick is the 2017 shooting at Burnette Chapel Church of Christ in Antioch, Tennessee, in which one person was killed and seven others injured, leading churches throughout the region to bolster security.
Drake said a little over half of the shootings occurred before or after church events. Of the non-mass shootings, two-thirds occurred outside the churches, and around 40% of the shooters were involved with the churches.
The idea that church shooters are outsiders coming to threaten a house of worship does fit the majority of cases, Drake said, but the data shows that almost half are people the church members know.
But the quadrupled number of shootings in recent years still pales in comparison to gun violence in America overall. Church shootings make up a tiny fraction of the gun homicides and shootings in America, Drake said.
In total, church shootings average out to about 23 a year. While there is no definitive count on the number of churches in the United States, research puts the number at more than 330,000. Calculated with the annual number of shootings, there are 0.000066 shootings per church, Drake said.
The likelihood of a shooting at a particular church barely registers as a decimal.
Security at the door
If putting guns in the hands of church members is one end on the spectrum of responses to church threats, there are plenty of other options that do not involve arming the congregation.
For example, police departments often allow off-duty officers to be hired by local houses of worship to be posted outside. The officers and their vehicles act as deterrents. A potential attacker is less likely to do so if they see a consistent police presence at a church, mosque or synagogue.
The Hamilton County Sheriff's Office has four deputies now working with four churches, said Carole Miller, director of human resources. Similar data from the Chattanooga Police Department was not available at the time of publication.
Silverdale Baptist Church and Ridgedale Baptist Church are two area churches that hire off-duty officers. During the week, Ridgedale's campus houses prayer groups and community events, along with its Sunday services.
Doug Plumlee, Ridgedale's senior pastor, said the church has hired law enforcement personnel for Sundays since he started as a pastor several years ago. Recently, the church increased those security measures.
"We require it for any large meeting we have," Plumlee said. "If anybody uses our facility outside of our church, if they rent it for something, they're required to have (a) security officer here."
Several years ago, Ridgedale's leaders worked with local law enforcement to do a vulnerability assessment and host active shooter training, Plumlee said. Members of the Hamilton County Sheriff's Office surveyed the entire campus to give advice on how to make the building more safe.
Often that sort of advice involves installing security cameras, removing items throughout churches that would be easy to hide behind or conceal items in and limiting the number of church entrances. The church also created a seven-member security team.
Historically, church buildings have opened several entrances to make the buildings more accessible. More and more, churches are being advised to lock those seldom-used doors and filter people through one or two entrances. This way church greeters and security teams can monitor who is coming in and what they are carrying, for example.
Increasing security also involves monitoring people in parking lots. Church volunteers there are often trained not just to control traffic and advise people on where to park. They are asked to monitor people who may look suspicious and radio for help if necessary.
State law allows Tennessee residents to carry a concealed firearm with a permit. While church security teams may defer holding firearms to the hired law enforcement officers, people in the pews may be holding firearms during the service.
Plumlee said he does not ask who in his church has a gun.
"They tell me at every conference I've been to, they say, 'Pastor stay out of that. You don't need to be a part of that,'" he said. " I know we got some people who are carrying here at the church. I don't know who they are. I don't want to know who they are. And that's what I've been advised by every security person I've talked to."
In the first week of August, the Church of Jesus Christ of Latter-day Saints updated its rules handbook to read, "With the exception of current law enforcement officers, the carrying of lethal weapons on Church property, concealed or otherwise, is prohibited."
Local LDS church leaders will be working with members in the coming months to ensure compliance with the new rule, said a spokesperson from the church's Utah headquarters. However, the new guideline made explicit what many churches were already practicing, the spokesperson said.
Have a plan, not just hope
Along with vulnerability assessments, the sheriff's office offers Civilian Response to Active Shooter Events (CRASE) training. Over several hours on Aug. 28, Lt. Eric Merkle and Sgt. Jamie Fields led such a training at Mizpah Congregation on McCallie Avenue.
The training centers on three possible responses to an active shooter - avoid, deny, defend. People should have a plan to respond, so in the event of an attack, they know how to respond, Merkle said. There is strength in numbers in responding to a shooter. Even if people are not armed with guns, they can successfully take down a threat, he said.
"Hope is not a source of action," Merkle said multiple times to the crowd.
Like locking doors and posting greeters, most things that houses of worship can do to increase security go unnoticed, Merkle said.
"Most churches want to maintain the reverent air of worship of God," he said. "And so, obviously, they don't want everything to look as if they're trying to make it Fort Knox," Merkle said. "And so there's always some sort of trade-off between what might be a very best practice and a very good practice in order to maintain, you know, their welcoming atmosphere."
Alan Richelson, president of Mizpah, said the steps the congregation has taken to increase security have allowed members to again focus on the services rather than worrying.
"Most of our congregants feel safe, but especially after Pittsburgh [we] know that we are in the bullseye," Richelson said.
In September, Mizpah and the two other Jewish congregations in Chattanooga each received a $1,500 security grant from the Jewish Federation of Greater Chattanooga. The money at Mizpah will go to further improvements and paying the recurring cost of a security guard, Richelson said. Paying for security is an additional strain on what are typically tight budgets at houses of worship.
An increasing number of churches are requesting help from the sheriff's office, Merkle said. He began doing assessments part time in 2013, but the position has grown into a full-time job.
Places where gun violence would have otherwise been unthinkable are no longer off limits, including schools and churches, Merkle said.
For security teams who do hold guns, they need to comply with law enforcement personnel as soon as they arrive at an incident, Merkle said.
"They need to understand that we may have little information on who the perpetrator is and how to separate them from the good guys," Merkle said. "So when law enforcement arrives, if it's possible they need to have empty hands really. Compliance matters."
Law enforcement does not take a position on whether houses of worship should arm themselves. However, Merkle cautioned people at Mizpah that there are five factors to consider in whether someone is equipped to respond to a shooter. They need to be the right person with the right training and the right equipment at the right time, Merkle said.
"And the fifth thing is they need to understand that there are consequences of taking a life. Not just the physical consequences, but the emotional and the mental consequences," he said. "Those are the things that they need to discuss amongst their church's leadership and the church membership. I don't recommend carrying or not carrying or having a team or not having a team at a church because I think that's something that each church should consider individually."
From the reporter
I became a journalist to help people see people as people. But highlighting the human side of every policy decision, and how it is affecting your community, takes time as well as support from readers. If you believe in telling the stories of people in your community, please subscribe to the Times Free Press today. Contact me at wmassey@timesfreepress.com or 423-757-6249. Find me on Twitter at @News4Mass.