Photo Gallery
Atlas Cross Sport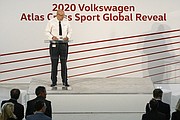 Volkswagen on Friday took the wraps off its newest tool in its SUV offensive in America with the unveiling of a five-seater that's expected to help sharply boost production at the Chattanooga plant.
"The name of the game is SUVs," said Scott Keogh, Volkswagen Group of America's chief executive, just before a new Atlas Cross Sport rolled off the assembly line inside the factory amid hollering and clapping by a large group of workers.
The Atlas Cross Sport, which has two rows of seats instead of the three inside the larger seven-seat Atlas SUV on which it's based, isn't seen by VW officials as a niche vehicle but rather a key volume seller.
Tom du Plessis, who heads VW operations in Chattanooga, said that while the plant is to assemble about 107,000 vehicles this year, that number is expected to jump to 185,000 in 2020. That includes the updated Passat sedan, the popular Atlas SUV and now the Cross Sport SUV.
"What we're effectively doing is increasing volume in the SUV market," said du Plessis.
"It's exactly what Americans are looking for." - VW official Scott Keogh on new Atlas Cross Sport
Tennessee Gov. Bill Lee said after the reveal of the SUV that he had the chance to sit inside the vehicle, terming it "beautiful."
"I think it will be a good seller and that's good for us," he said.
U.S. Rep. Chuck Fleischmann, R-Tenn., recalled that when the VW plant was announced more than a decade ago, a Times Free Press headline exclaimed that "It's Chattanooga."
"I knew it was going to be a game-changer," he said.
The Cross Sport features a coupe-like design as well as advanced connectivity and driver-assistance systems, according to the automaker.
Overall, the Cross Sport is 2.8 inches shorter and 2.3 inches lower than the current Atlas. The vehicle is 78.3 inches wide, but it rides on the same 117.3-inch wheelbase as the existing Atlas, which VW said is the reason for the vehicle's generous interior space.
The Cross Sport has 111.8 cubic feet of passenger space, with 40.3 cubic feet of luggage space behind the second-row seats and 77.8 cubic feet with the second row folded, according to VW.
Volkswagen officials said the Cross Sport's profile is racier than the Atlas, with a steeply raked rear pillar and rear hatch. Also, new lights and a sculpted rear bumper give the rear end a presence, according to the automaker.
Keogh said that Cross Sport pricing is expected to hit the $30,000 range. He said the five-seat Cross Sport sits in "a huge segment" that VW can tap into, challenging the Jeep Grand Cherokee and the Ford Edge.
"It's exactly what Americans are looking for," the VW official said.
He said that 54 percent of U.S. light vehicle market sales today are SUVs.
"It's our job to meet that marketplace," Keogh said. Atlas sales so far in 2019 are up 40 percent through September over last year, according to VW. Keogh said that 84 percent of Atlas buyers had never bought a VW.
BY THE NUMBERS
* $340 million: VW investment in city for Cross Sport* 4,000: Chattanooga VW workers after production ramp-up* $30,000: Price range for Cross SportSource: Volkswagen
The Cross Sport also will be available in sportier R-Line trims, which have more heavily sculpted bumpers with chrome and piano black treatments around the lower front air scoops as well as available 21-inch aluminum-alloy wheels.
Inside, the Cross Sport receives upgrades over the existing Atlas. A new steering wheel with more intuitive controls, available stitching accents on the door inserts and seats, and high-tech features, including available wireless mobile charging.
The Cross Sport is available with a suite of advanced driver-assistance features. The base S model has standard forward collision warning with autonomous braking (front assist), blind spot monitoring, and rear traffic alert. Further up the trim lines, features such as adaptive cruise control with a stop and go feature and park distance control become standard, according to VW.
The Cross Sport will be available with two powertrains: a 276-horsepower V6 and a 235-hp four-cylinder turbocharged and direct-injection TSI engine. Both engines are mated to an eight-speed automatic transmission, the company said.
Hamilton County Mayor Jim Coppinger called the Cross Sport "pretty and at a good price point."
"It's a great opportunity for the plant to grow," he said.
The plant is hiring about 350 more employees as production of the new SUV ramps up. That would put the plant at about 4,000 employees. That's before work starts on a new all-electric SUV on which production is to begin in 2022. Some 1,000 workers are to be hired coupled with a $800 million investment in that facility, according to VW.
State Rep. Patsy Hazlewood, R-Signal Mountain, said she believes the city and state are seeing "great returns on the investment" made to attract Volkswagen to the Scenic City.
VW is the most richly incentivized company ever in Tennessee, having received more than $850 million in federal, state and local perks since landing in the Volunteer State in 2008.
The Cross Sport is the result of $340 million in additional investment by Volkswagen in the facility. Volkswagen has now plowed more than $2.6 billion in the area, with work on the $800 million electric vehicle plant expected to start by year's end.
Contact Mike Pare at mpare@timesfreepress.com or 423-757-6318. Follow him on Twitter @MikePareTFP.