Photo Gallery
Steep slopes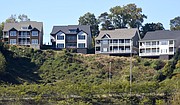 Chattanooga planners are proposing an array of new rules to limit land erosion and damage amid the area's solid growth, saying they're trying to balance protection with private property rights.
Planners said a new report, undertaken over the course of the year, showed that Chattanooga's existing regulations related to building on so-called steep slopes and in floodplains are outdated and lacking.
Compared to cities such as Nashville; Knoxville; Asheville, North Carolina; Huntsville, Alabama, and others, Chattanooga has just two out of 22 similar zoning and subdivision regulations.
"That was a stunning thing for us," said Bryan Shults, the Chattanooga-Hamilton County Regional Planning Agency's director of development services.
But the homebuilders' association in the Chattanooga area said many of its members view the proposals as an over-reach and "the most damaging regulatory changes to the building and construction industry in decades."
Doug Fisher, the Home Builders Association of Greater Chattanooga's executive officer, said the new report is part of a trend toward "anti-growth."
He said the new regulations would increase costs to the point that "the average wage earner can't afford to build a home. It's the straw that broke the camel's back."
The report was driven by complaints the Chattanooga City Council heard about a year ago from residents worried about building taking place on slopes and floodplains. Neighborhoods such as North Chattanooga and St. Elmo especially voiced concerns over stormwater runoff, erosion control measures and aging infrastructure.
The "Natural Resources Assessment" report by the Regional Planning Agency calls for a new city ordinance with 10 measures as well as a variety of other "tools" that regulators could use.
Emily Wood, RPA principal planner, said passage of an ordinance by the city council is something with which "everyone would have to comply."
"The council can adopt some of [the measures] or all of them," she said.
The report calls for limits on clearing, grading or land disturbance permitted on a site during construction. For example, it said, for sites with slopes of 15% to 25%, disturbance could be limited to no more than 50%. For sites greater than 25%, such disturbance could be put at no more than 25%.
"There's no regulation on how much can be clear cut now," Shults said.
The ordinance, for example, could define a slope as "moderate" if there's a 15% to 25% variation, or "very steep" at 25% or greater.
Also, the report calls for requiring a percentage of existing tree canopy on a development site be retained and protected during construction for sensitive natural resource sites.
In addition, standards could be adopted limiting impervious surfaces, the report said. For residential areas, the amount of driveway and building footprint could be limited compared to the total land area, it said.
For non-residential, minimizing parking space stall dimensions, requiring compact car spaces, using porous surfaces and encouraging parking decks are measures that could be put into place, the report said.
A special permit process could be set up related to the building of non-residential facilities such as hospitals, nursing homes and offices that may occur in slope or flood-prone areas, the report said. The aim would be to avoid accessibility issues or safety concerns, it said.
Meanwhile, new standards could include requiring compensatory storage to offset fill in floodplains.
Also, in lots that contain steep slopes, soil conditions and floodplains could be identified on the subdivision plats and undergo evaluation by geotechnical engineers, the report said.
Jim Johnson, founder of Chattanoogans for Responsible Development, said the RPA did a lot of research and produced a balanced report.
"They've done a really good job balancing the needs of the city as a whole while not putting an onerous burden on property owners and developers," he said.
Johnson, who served on an advisory panel during the study period, said he especially liked the proposal that requires retaining a percentage of existing tree canopy on development sites during construction.
"If you look at certain parts of North Chattanooga and St. Elmo, vast quantities of trees have been torn down," he said.
Fisher said, however, there needs to be careful vetting of the report's proposals and no rush. He said the regulations would affect 70 percent of undeveloped property in the city.
He worried about plans that call for a public hearing before the city council on Nov. 5, having a draft ordinance in December and potential adoption by the panel in March 2020.
"To our knowledge, no property owner who would be affected has been notified," Fisher said. "These folks are suggesting widespread, far-reaching proposals that affect landowners who don't know what's going on. There's not enough public notice."
Also, he's concerned that there's no economic impact study of the proposed regulations.
"What's this going to cost taxpayers? What impact will this have on tax rolls?" Fisher asked, wondering if the standards could put people out of work.
Fisher's group is planning a "town hall meeting" on Monday at the association's 3221 Harrison Pike offices at 5 p.m. He said interested parties should RSVP.
Johnson, meanwhile, cited the Joni Mitchell song "Big Yellow Taxi" and its line that says, "'They paved paradise and put up a parking lot.'"
"What could take hours or days to destroy will last for generations," he said.
WHAT'S NEXT
Natural Resources Assessment public hearing at Chattanooga City Council Assembly Room, 1001 Lindsay St., on Nov. 5 at 6 p.m.
Contact Mike Pare at mpare@timesfreepress.com or 423-757-6318. Follow him on Twitter @MikePareTFP.