Photo Gallery
Charles H. Coolidge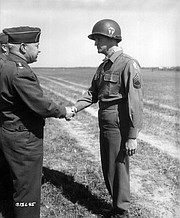 To many in the Chattanooga area and thousands of others around the nation, the name Coolidge is synonymous with bravery.
Seventy-five years ago this weekend, a Signal Mountain man fought for four days in northeast France while leading 27 infantrymen against the German military.
Scampering from foxhole to foxhole, taking cover in the rolling hills and the thick forest, Charles H. Coolidge will forever be remembered for what he did over the course of those days in October 1944.
But if it were up to him, he'd be remembered for the father and husband he is, the hardworking son he is, a businessman contributing to the city and town that raised him and for being an ordinary man who did extraordinary things when he was called upon to do so.
"He's never done things so he can see his name in the paper," said Coolidge's oldest son, retired Lt. Gen. Charles H. Coolidge Jr. "His real legacy will be the hundreds of thousands of lives he touched who benefited in some way. Buildings and parks and highways, those are all things."
Influencing other people and living a life of honor, Charles Coolidge Jr. said, will be his father's legacy.
MEDALS BY THE NUMBERS
Total Medals of Honor awarded: 3,524 Medals awarded to members of the U.S. Army: 2,455 Medals awarded to members of the U.S. Navy: 749 Medals awarded to members of the U.S. Marine Corps: 300 Medals awarded to members of the U.S. Air Force: 19 Medal awarded to a member of the U.S. Coast Guard: 1 Source: National Medal of Honor Museum
From Signal Mountain to the battlefield
Coolidge, 98, is only one of two living World War II Medal of Honor recipients.
And, although it is difficult to confirm, Coolidge said in 2010 that he spent more time on the front lines than any living American.
He was born and raised in Signal Mountain and worked as a printer for the family business before he was drafted into the military 1942.
For more than 14 months during the Nazi invasion, he served in Europe, starting with a treacherous boat ride from North Africa to Italy.
After months of firefights, the technical sergeant led a section of heavy machine guns with a platoon of fewer than 30 men to take a position near Hill 623 east of Belmont sur Buttant, France, a crucial position near the German border.
It was Oct. 24, 1944, and 23-year-old Coolidge was by far the most seasoned and experienced soldier in the group. By that time, he had seen months of action while most of the men he was in charge of were fresh-faced and green.
He and his unit were setting up two machine guns when they heard the Germans coming.
Coolidge looked to his friend, George Ferguson, from the Bronx, who spoke German.
"George, call to them and ask them if they want to give up," Coolidge said.
The Germans weren't more than 40 feet away when one of them pointed his rifle at Ferguson.
That's when Coolidge raised his rifle and shot, hitting the German who was pointing his rifle at Ferguson.
Shots rang out across the hills, Ferguson was hit in the left arm and the battle began.
For four days, with little ammunition, Coolidge and his men survived six counterattacks from the Germans, who were trying to make it up the hill. On the fourth morning, Oct. 27, the Germans brought up two tanks for the seventh counterattack.
"The situation was desperate," Staff Sgt. Clarence B. Hawkins, a leader of a squad of the riflemen, later said. "Sergeant Coolidge saw there was at least a company of Germans and something had to be done. He stepped in front of us and walked right at the Germans, yelling to them to surrender. You'd think he had an Army behind him."
Coolidge had already told his men that there was a possibility the Germans would bring a tank through a bank barely wide enough to accommodate one. That morning, as the unit heard the two tanks rumbling up the hill, Coolidge and his men readied their defense.
When the first tank got about 50 feet away from Coolidge, who remained at the front of the unit, a turret of the tank opened up and, in perfect English, the German troops' leader asked, "Do you guys want to give up?"
Coolidge looked him square in the face and said, "I'm sorry, Mac. You've got to come and get me."
With no other reason to keep the conversation going, the German closed the turret and fired an 85 mm gun at Coolidge five times at point-blank range. Coolidge was able to dodge every shot, ducking between and behind trees.
At one point, the shrapnel from a shot cut the leather on the top of his boot, but it didn't break the skin.
Coolidge got hold of a bazooka to return fire, but as Charles Coolidge Jr. explained, the battery in the ignition system was taken out so his father couldn't get it to work. Thankfully, the seasoned soldier always carried "a case of grenades" with him during battle.
Coolidge pitched as many grenades as he could to hold off the Germans from taking the hill. As his men retreated safely, Coolidge made sure he was the last one on the hill.
"My dad was in combat for 14 months at that point," Charles Coolidge Jr. said. "He knew how they played. He took them out."
From later reports as the Allies inched closer to victory, it was reported that Coolidge and his men killed 26 Germans and injured up to 60 others.
Ferguson survived the attack, and he and Coolidge stayed in touch after the war.
President Franklin D. Roosevelt died in April 1945. Around that time, Coolidge had been notified that he would be receiving the Medal of Honor. With uncertainty in the White House, and with a mission still to be accomplished, Coolidge passed up on the trip to fly home.
Instead, he was one of only a handful of service members to receive their Medal of Honor on the battlefield.
The award was presented by Gen. Frederick Haislip when Coolidge's unit was still engaged in stamping out the final resistance of the Nazis.
Coming back home
Despite all the awards, accolades, dedications and praise, Coolidge prefers to stay out of the spotlight.
His oldest son describes him as a humble man who never let his experiences get in the way of his positive attitude.
Faith has played a tremendous role in his life.
"He was very serious about his Christianity as we were growing up," Charles Coolidge Jr. said. "He lives by example. If his faith said such and such, he did exactly that, no compromise. He was all integrity."
Charles Coolidge Jr. believes his father's upbringing - how positive his parents were - played a role in how he became a confident young man.
His confidence eventually gave way to American war heroism. Even so, Coolidge would deflect the praise and instead pay tribute to his men.
"I think he would tell you that it wasn't him, it was his men," Charles Coolidge Jr. said.
Coolidge has battled multiple sclerosis for more than 50 years and lives a quiet life on Signal Mountain. Charles Coolidge Jr. and his son, Brad Coolidge, are helping keep Coolidge's legacy alive every day.
Charles Coolidge Jr. himself has a distinguished service medal from the U.S. Air Force. Brad Coolidge also served in the U.S. Air Force and spent time mapping out the exact locations in France and other parts of Europe where his grandfather walked, marched and fought.
"I got an appreciation for surviving in that area how they did," Brad Coolidge said.
Charles Coolidge Jr. said his father's legacy can teach younger and future generations that attitude is important.
"He truly is the most positive person I've ever met," he said. "He would want to be remembered as someone who tried to do the right thing at all times. He would tell you he's nothing more than a citizen soldier. All he wants to do is influence others to do the right thing."
Seventy five years later, Chattanooga and the nation are still finding ways to honor a hero.
Part of U.S. Highway 27 is named for Coolidge, and a permanent marker was recently placed on Signal Mountain to honor its hometown hero him. And the city's largest public space - Coolidge Park on the North Shore on the Tennessee River - is named after him.
Coolidge was also the first Medal of Honor recipient of 12 memorialized on the U.S. Postal Service's Medal of Honor stamps.
In February, the Charles H. Coolidge National Medal of Honor Heritage Center is scheduled to open next door to the Tennessee Aquarium. It will pay tribute to the country's 3,500 Medal of Honor recipients.
That same hero would say he's just another citizen, a relentless optimist even when the world was coming apart, always striving to do the right thing.
Contact Patrick Filbin at pfilbin@timesfreepress.com or 423-757-6476. Follow him on Twitter @PatrickFilbin.