Photo Gallery
Bryan College tuition reduction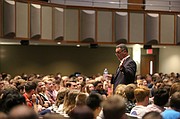 Bryan College is making an effort to become one of the most affordable private schools in Tennessee. The small Christian liberal arts college in Dayton, Tennessee, will reduce tuition by about 40% starting next year, university officials announced Wednesday.
The move, school leaders say, will improve the college's affordability and make it an option for more students.
"College affordability is an essential challenge facing all of you," Provost and Vice President of Academics Douglas Mann told Bryan students Wednesday. "Tuition at Bryan is currently $27,900 per year. This causes many students to take on additional debt and makes it nearly impossible for other students to make ends meet. To address those challenges, Bryan College is adjusting its scholarships and tuition for the 2019-20 year by nearly 40%."
The