Photo Gallery
Rural clinic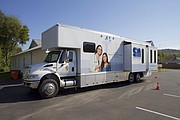 Steve Brown eased himself onto the table, careful not to irritate his back, an uncomfortable pain he has lived with for years. Leaning forward slightly, the 52-year-old gazed over the top of his black-frame glasses at a sight that had become unfamiliar in the past decade: a doctor.
For 12 years, Brown worked in a textile factory, a good-paying job, he said. When he was a younger man, the stiffness in his back and minor pains in his body at the end of a shift would be gone by the next morning. As he got older, he stopped recovering.
Around seven years ago, his back pain stopped him from working. He is still working on getting disability benefits, Brown said.