Photo Gallery
Rural clinic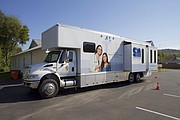 Steve Brown eased himself onto the table, careful not to irritate his back, an uncomfortable pain he has lived with for years. Leaning forward slightly, the 52-year-old gazed over the top of his black-frame glasses at a sight that had become unfamiliar in the past decade: a doctor.
For 12 years, Brown worked in a textile factory, a good-paying job, he said. When he was a younger man, the stiffness in his back and minor pains in his body at the end of a shift would be gone by the next morning. As he got older, he stopped recovering.
Around seven years ago, his back pain stopped him from working. He is still working on getting disability benefits, Brown said. With the loss of his job came a loss of medical insurance.
"I knew it wouldn't do any good to set up appointments with doctors without health insurance, so I [resigned] myself to the fact that I would just have to go without medical care," Brown said.
Then, a few months into 2019, Brown learned about a clinic that would not only come to his area but ignore his insurance status.
"A lot of people will look down on you because you don't have insurance," Brown said. "But here they treat you like a person."
Medical services in Meigs County
Along with the St. Mary's Legacy Clinic, Meigs County residents can receive a variety of health services at the local health department. These services include primary care, family planning, STD testing and prenatal care, among other services. For more information, visit https://www.tn.gov/health/health-program-areas/localdepartments/lrhd/local-services.html.
In early September, Brown was one of dozens of patients at St. Mary's Legacy Clinic, a mobile health initiative by the Diocese of Knoxville to bring consistent health care to underserved areas. Each month, the 40-foot-long custom RV sets up in parking lots in six towns throughout eastern Tennessee. On the first Thursday of the month, the RV is parked near the entrance of Decatur United Methodist Church in Meigs County.
With its two exam rooms and nurses station, the clinic offers medical evaluations, some prescriptions, laboratory work and referrals to specialty services at low or no cost. Sister Mariana Koonce, a nun who is also a doctor, said the clinic is often the only option for people in the area to manage chronic diseases.
"We're kind of a family doctor's office on wheels," Koonce said.
Members of the Decatur United Methodist Church and the Meigs County Health Council worked together to bring the clinic to Decatur, Koonce said. The county has a large population of uninsured people, and each month's clinic draws people from neighboring Rhea, White and Bradley counties.
Meigs County ranks 90th of Tennessee's 95 counties in health outcomes, according to County Health Rankings. Around 15 percent of adults in the county are uninsured, and life expectancy in the county is nearly four years below the state average.
Many of the clinic's patients are experiencing persistent pain and chronic diseases, such as hypertension, chronic obstructive pulmonary disease and diabetes, said John Harris, a doctor who has worked with the clinic for three years.
"Most of the patients that we see have not had access to medical care in years," Harris said.
The lack of access is not because there are not doctors nearby, either, he said.
"We come here and there are doctors in Decatur," Harris said. "And we go to Athens and there are doctors in Athens. They just can't pay for the doctors and the doctors won't see them if they can't pay for the visit."
People without medical insurance can still visit doctors' offices but will have to pay for the cost of care out of pocket. Those typically high costs often deter those without insurance.
Even people with health insurance may not be able to find a provider near them that accepts their insurance. Not every doctor contracts with every insurance provider, and many do not accept Medicaid - known in Tennessee as TennCare - which covers some low-income children, families and people with disabilities. Medicaid reimbursement is the lowest of all health plans, so providers who see lots of Medicaid patients make significantly less money than those who primarily treat patients with commercial insurance. Since fewer providers take Medicaid, the waiting lists to see them can be much longer.
In rural areas where income levels tend to be lower than urban areas, doctors may choose not to take Medicaid out of necessity - poor reimbursement and low-income patients could mean the difference between staying afloat and being forced to close.
Where does the mobile clinic visit?
Currently, the St. Mary's Legacy Clinic make six stops:Northside Community Center in WashburnDecatur United Methodist Church in DecaturCrab Orchard Care Center in Crab OrchardSt. Mary's Catholic Church in AthensJohn Paul II Catholic Mission in RutledgeSt. Mary Catholic Church in Gatlinburg For more information, visit the clinic's website at https://stmaryclinic.org/
There are five primary care physicians in Meigs County, according to County Health Rankings.
The Methodist church in Decatur had long been wanting to do a health ministry but knew it could not financially start its own program. Then, St. Mary's called about parking the RV in the church parking lot, said the Rev. Will Conner, Decatur UMC pastor.
"Once it got started, it's just kind of been rolling and been a huge blessing to this community and also the church," Conner said. "And it's something the church takes pride in and to be able to host the bus that comes in each month, and the patients that come through."
Having doctors that listen and care is what separates the clinicians at the mobile clinic from other offices, said Pamela Mayfield. The 48-year-old has been without insurance for two years. She was forced to give up some of the medications she was taking at the time because she could not pay the full cost out of pocket, she said.
Mayfield has not returned to work because she has been taking care of her elderly mother, practically a full-time job, since early 2019. Finding the mobile clinic was a blessing, she said.
"The fact that there are doctors willing to see you and give you help it blows my mind because most doctors are not going to help you [without insurance]," Mayfield said.
Mobile clinics can restore patient trust in the health care system, something that is often lost when patients are marginalized from medical services because they lack insurance, according to an analysis of mobile health clinics in the International Journal for Equity in Health. The convenience of location, kindness of doctors and consistency of care can all work to re-establish trust.
The same analysis found the mobile clinics are regularly challenged by the high costs of running the clinic - from purchasing all the equipment needed for medical care to the costs of transportation and vehicle maintenance. Making up for financial setbacks is difficult since mobile clinics regularly do not charge for care.
The St. Mary's clinic is funded almost entirely through grants and donations, said Brandy Fuesting, the clinic's executive director. Last year, the clinic administered more than $100,000 in free medication and the physicians, nurses and other volunteers logged around 7,000 volunteer hours.
The number of patients the clinic serves has increased each year since it started in 2014, Fuesting said. In 2018, the clinic served 249 people through 663 visits. Everything the clinic does is powered by people who believe in its mission, Fuesting said.
From the reporter
I became a journalist to help people see people as people. But highlighting the human side of every policy decision, and how it is affecting your community, takes time as well as support from readers. If you believe in telling the stories of people in your community, please subscribe to the Times Free Press today. Contact me at wmassey@timesfreepress.com or 423-757-6249. Find me on Twitter at @News4Mass.