Photo Gallery
Water outage probe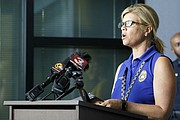 As local politicians begin to question the cause of last week's massive water main break and locals file a class-action lawsuit against Tennessee American Water, the company at the center of the controversy is maintaining its streak of silence.
Former city planner, public works commissioner and mayor of Chattanooga Ron Littlefield was extremely critical of the water company Tuesday, saying that its negligence is responsible for the leak that left 35,000 connections with little or no water for up to three days.
"Over the years, [the company] has been consistently difficult to work with," Littlefield, who championed a failed plan in 2010 to interconnect East Side, Hixson and Tennessee American water infrastructure, said. "They told us, when the plan came up about a decade ago, 'Oh, don't worry. We've got it,' and yet, this weekend, they proved that they never had it under control."
Councilwoman Carol Berz, who was new to the council at the time of the interconnectivity plan, addressed at Tuesday's council planning meeting a study done on the water system, but was unable to get further details.
"I just think we need to know what came of this study," Berz said. "Someone called it outdated, but I don't believe any of this kind of research can really be outdated. ... it might help us figure out where to go from here or what happened last week."
Littlefield said that Tennessee American not only refused the plan to establish redundancies with other local utilities - who, according to Littlefield, agreed to the arrangements - but also refused to provide information to the city for any other planning.
"They wouldn't tell us where all of their infrastructure was and they said it was about homeland security, which, is weird when you're talking to the government," Littlefield said. "There are old pipes and I think it might be that they didn't even do a proper inventory for themselves. They definitely didn't do the maintenance required to prevent an event like this, and that negligence is how this happened."
Littlefield - who believes that the company's nearby maintenance work was at least a contributing factor to Thursday's leak, despite the company saying there was no obvious cause - said that the company should be "fully responsible" for all of the costs incurred by those affected by the outage, including the city.
Berz told the Times Free Press Tuesday it was too soon to speculate on where the funds should come from, since there have not been many details provided about the incident.
"The city really did an excellent job responding, and I'm not being critical of our staff," Berz said. "It's going to take a while to figure out the damage, and then we'll need to be informed before any decisions are made."
The office of Mayor Andy Berke was unable to provide a specific cost estimate for the leak's financial impact on the city, but said the city is following the regular protocol for emergency response expenses.
"We are currently working through the process that is normal practice when the Emergency Operations Center is activated," Communications Director Richel Albright said in an email Tuesday. "When the EOC has been activated, all the responding agencies account for our expenses and time, which then gets assessed as to how they will be accounted for."
While no city official would comment on whether the city is considering a lawsuit or seeking any kind of monetary reimbursement from the company, it was confirmed by council members that any potential litigation would begin with the mayor's office.
"I expect Tennessee American Water to give me a full debriefing as soon as possible on the state of their system, what caused the break, and what plans they have to prevent an incident like this from happening at this magnitude again," Berke said. "As we learn more, that information will help shape any actions taken by the city in the future."
Berke recognized the impact of the event, but added that he was pleased with the city's response, which included emergency services and the distribution of nearly 1,000,000 water bottles to those without drinkable water.
"As I've stated previously, my top priority throughout this entire event was getting service fully restored as quickly as possible while doing whatever we could to protect the health and safety of Chattanoogans," Berke said Tuesday. "This was a major disruption to tens of thousands of people across our community, and I am grateful this didn't extend even further into the week."
Local law firm Davis & Hoss filed a class-action lawsuit against Tennessee American late Tuesday in Hamilton County Circuit Court on behalf of local residents and businesses affected by the outage.
The lawsuit asks for compensation of any wage losses or business or economic losses as a result of the water company's "conduct, acts, or omissions." It also asks for the company to pay any court or attorney fees.
"In its simplest form, a water company is a monopoly, a good monopoly granted by the government with the responsibility to have water flowing. They failed to do that," Attorney Lee Davis said late Tuesday. "The crux of the lawsuit is that this was a preventable problem that could have been prevented but affected all of these people due to negligence."
Davis said that, despite the common misconception, those affected are not required to formally join in the suit to be compensated and that he will share updates when available.
After consistently telling press during the outage that the cause and impact of the leak would not be explored until after water service was completely restored, which happened Monday, Tennessee American has stopped commenting on the event altogether.
Asked about the cause, cost of repairs, plans to prevent similar events and thoughts on interconnectivity and accusations of negligence Tuesday, company spokeswoman Daphne Kirksey declined to comment on any of the issues.
In response to the lawsuit, Kirksey told the Times Free Press the company "is aware of the complaint," adding "we do not comment on pending litigation."
Contact Sarah Grace Taylor at staylor@timesfreepress.com or 423-757-6416. Follow her on Twitter @sarahgtaylor.
Photo Gallery
Water main break