Photo Gallery
Digital fabrication education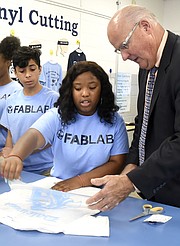 Walter Rice has created a lot of things in Dalewood Middle School's Volkswagen eLab.
The eighth grader has worked with his classmates to program tabletop robots, design and build electric race cars and print and sell Dalewood school spirit apparel and accessories.
His favorite project was a solar-paneled boat he made using the digital fabrication lab's 3-D printer, CNC router and other supplies.
"Anything that you can think of that you want to build or create, we have the tools here in the eLab to make it," Rice said.
Digital fabrication labs, or "fab labs" as Hamilton County school leaders call them, typically include state-of-the-art technology and tools like 3-D printers, vinyl or laser cutters, routers that can trace designs and cut wood and more.
Hamilton County was recognized Wednesday as a world leader in digital fabrication education - the county has the highest concentration of such labs not only in the region, but in the world.
HAMILTON COUNTY FAB LAB LOCATIONS
— STEM School Chattanooga— Brainerd High School— Brown Middle School— Chattanooga School for the Arts & Sciences— Chattanooga High Center for Creative Arts— Dalewood Middle School— East Hamilton School— Hixson High School— Hixson Middle School— The Howard School— Hunter Middle School— Normal Park Museum Magnet— Ooltewah Middle School— Orchard Knob Middle School— Red Bank High School— Sale Creek Middle/High School— Soddy-Daisy Middle School
And the number might soon increase if the school board approves a $5.7 million budget amendment at Thursday's school board meeting.
Superintendent Bryan Johnson announced Wednesday that the district hopes to add five more fab labs to the 17 already scattered across its 76 schools.
"This makes us the world leader in education in digital fabrication labs," said Jill Levine, chief of innovation and choice for Hamilton County Schools. "We know when we teach in ways that make kids want to learn, they want to learn more. It's our goal to expand these opportunities. We want to provide this type of innovative learning, problem-solving, collaboration, creation for more kids in Hamilton County and ideally provide this for every student in Hamilton County."
Chattanooga's foray into digital fabrication labs started as a collaborative effort between the school district, the state of Tennessee, the Public Education Foundation and Volkswagen. Since 2017, Volkswagen and the state have committed $1 million to establish 16 labs in schools across the district.
Those labs recently went through the process of becoming nationally-recognized, certified fab labs and joined the International Fab Lab Network, made up of more than 2,000 centers in 100 countries, according to Sherry Lassiter, president and CEO of The Fab Foundation and program manager for the Massachusetts Institute of Technology's fab lab, the Center for Bits and Atoms.
Lassiter said in order to join the network, a lab must comply with the main tenets of the network's work: sharing its tools and processes, serving as a public benefit, serving the community to create social impact, and not working in isolation but allowing the labs to be accessible to the community at large.
Less than half of such labs are located in public K-12 schools, she said. Typically they are found at universities, community colleges and vocational schools or in community centers.
The work that has already been happening here in Hamilton County, to build curriculum around the labs and incorporate work done in both the lab and other academic classes and connect with the broader community, is particularly unique, Lassiter said.
"The young people who learn in these spaces are really getting the cross disciplinary skills that are really essential to work in 21st century jobs, so it's very exciting that these labs exist," Lassiter said. "Today, we face a very competitive global economy. it's all based on rapidly developing technology.
"Yet, we are still educating students to do automated manufacturing and work skills that are related. These are skills that are easily replaced by machines, but not in Chattanooga. Chattanooga is doing it differently. We really are piloting a new form of education," she added.
Volkswagen's Vice President of Human Resources Burkhard Ulrich echoed Lassiter and emphasized the influence that Hamilton County's labs can have on students.
"We are creating a strong foundation for the future success for students in any type of career," he said. "No one pursues a career without being passionate about it. In digital fab labs like we see here today, passion can be ignited. Students see how science and engineering and mathematics are connected to their lives and they are inspired and empowered to create their own inventions."
Since the labs were launched, schools have used them in different ways during the school day, and the community and the Public Education Foundation have leveraged them through bigger partnerships. The foundation has hosted the Chattanooga Fabrication Institute for educators across the country for two years in a row, students use the labs to build electric cars through the Chattanooga Green Prix program and students have even worked on projects such as creating devices to help disabled children.
Dalewood Principal Arielle Garcia Hayes said the real-world skills and connections students are able to build in the lab have had a huge impact on Dalewood, which has historically been one of the district's lowest-performing schools.
"Having this VW eLab has brought us so much growth and positive impact and innovation, [allowing] for my students to compete with the rest of their peers across the nation, making them future ready," she said. "We cannot do this work without our students."
State Sen. Bo Watson, R-Hixson, one of the state-level supporters of the labs, said that the global recognition of Hamilton County's fab labs was a small part of the narrative that is being written across the state.
"While it's true that Hamilton County is a leader in that narrative, those of us who have lived in Tennessee all of our life, particularly those of us who have lived in Hamilton County all of our life, probably never imagined the day that people from Massachusetts and Boston would come here to see what we're doing in education reform and education innovation," Watson joked.
It is likely that the board will approve the $5.75 million budget amendment on its agenda tomorrow. Johnson and board members praised the proposal at an agenda session Monday. The amendment will allocate the funds toward teacher bonuses, a football stadium for Sale Creek Middle/High School and use $750,000 to establish the five new digital fabrication labs for next school year.
Contact Meghan Mangrum at mmangrum@timesfreepress.com or 423-757- 6592. Follow her on Twitter @memangrum.