CHATSWORTH, Ga. - Charles Pritchett sat in his driveway on Monday morning to rest his aching back. Around the 80-year-old, friends and family worked a series of chainsaws to cut the fallen trees. Nearby, Pritchett's wife Emma and the couple's niece picked through what remained of the kitchen cabinets.
Less than 12 hours earlier, the Pritchetts were in their bed when at least one tornado ripped through Murray County, killing seven people and leveling dozens of homes, including theirs.
By mid-morning, Pritchett's shock of losing the family home of more than 50 years, the home he raised children in, had given way to the numbness of having to repeat the same story to friends, family and reporters. After something like this, there are only so many times you can say what happened and only so many times you can say how you feel, Pritchett said.
"I am thinking about nothing," he said. "I'm just going to try and get some of the stuff straightened up and get some of the boys to clean this. ... There's nothing else you can do."
Photo Gallery
2011 Soup Sunday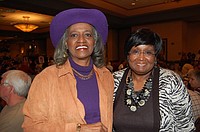 With soups from 24 restaurants to choose from, it was impossible to leave hungry from the Feb. 20 Soup Sunday at Embassy Suites.
One of the seven storm victims was a twin daughter of Chatsworth resident Tracy Zambrano, whose world was shattered in a matter of moments.
"The tornado blew away the trailer," a broken Zambrano said. "My daughters were in there. The older one was holding on to her younger twin, and tried to save her life and she did. She's in the hospital."
The eldest of the 20-year-old twins, Deanna, kept her younger, twin sister, Breanna, from being killed, but couldn't save herself, Zambrano said. The surviving twin is in critical condition at Erlanger hospital, she said.
The deadly overnight storms also injured at least 23 people and two others were still unaccounted for late Monday, as local crews begin the slow process of cleaning up. The seven people killed all lived north of Chatsworth in neighborhoods near Deer Park Drive and Ridgeview Circle. A large pasture separates the two areas.
"I think there were two of them," Murray County Sole Commissioner Greg Hogan said Monday after a helicopter flight over the damaged area. "The two tornadoes were about a mile apart."
Hogan, who said the identities of those killed had not been released as of late Monday, said the storm's destructive path on the ground was about 6.5 miles long.
"It wiped some of the places out. People lost everything," Hogan said, "barns, houses, chicken houses."
Hogan said there were probably going to be more people with injuries than the initially reported 23, but he noted that many Murray County folks nursed their own injuries.
"A lot of people didn't go to the hospital; they're just bruised up and skinned up," he said.
The National Weather Service office in Peachtree City, Georgia, was unable to provide much data on Murray County's storm.
Forecaster Katie Martin said three survey teams had been sent to different locations statewide but assessments might take some time to collect storm data.
"They're going to the hot spots [in Georgia]," Martin said Monday. "This will probably be a multi-day assessment," she said.
Georgia Gov. Brian Kemp declared a state of emergency over the storms just before noon Monday, the Associated Press reported.
For the Pritchett family, there was the immediate need to move fallen trees from the roadway so people could come, such as, and hopefully sometime soon, the insurance assessor. Then the family got to work on cleaning what was left of the house, including the oak tree Charles planted about seven years ago that was now smashed against the side of the house and the back of the family car.
Just north of the home, 10-foot-long sheets of metal roofing hung around tree trunks, the pieces nearly wrapped in knots from the storm's winds.
Severe thunderstorms and a tornado hammered the Tennessee Valley on Sunday night into Monday morning, killing at least 10 in Georgia and Tennessee. In Chatsworth, Georgia, the tornado moved northwest, knocking down homes and ripping the roof off Northwest Elementary School. The steel beams that held the school's parking lot lights were bent at 90-degree angles and the lot was covered in a sea of quarter-inch-thick broken glass.
A few more miles north, Jordan Ray's home was flattened in a neighborhood that was otherwise untouched. The 24-year-old was sheltering in the bathroom with his wife when the storm hit.
"The next thing you know, we were getting picked up and slammed down," Ray said.
Neighbors rushed to the scene to dig them out. The couple emerged from the bathroom, which was the only part of the home left with standing walls and a roof. Everything else had caved in or been carried away by the storm. The couple was only sore from the event, with no other injuries, Ray said.
"The big man upstairs definitely had a hand over us," he said, standing in his driveway.
Neighbors welcomed Ray and his wife into their homes to sleep the rest of the rainy Sunday night, and neighbors returned in the Monday sun to help the couple clean. Among the wreckage they found some family keepsakes, including the Army service flag Ray received after his father died about six years ago.
At least three county schools were damaged by the storms, according to Murray County Schools spokesman Michael Tuck.
"We had pretty significant damage to one of our elementary schools, Northwest Elementary, which is our northernmost school. There was a lot of roof damage," Tuck said. "Then there was some damage to Bagley Middle and, to a lesser extent, damage to the exterior of Woodlawn Elementary School."
Tuck said Northwest Elementary was the most heavily damaged of the three.
But Bagley Middle School wasn't so damaged it couldn't serve as a place for storm victims to shelter, Tuck said.
"I understand that there was 200 or more that sought refuge at Bagley overnight," Tuck said.
Hogan said most of those who sheltered at Bagley overnight came from a nearby apartment building that lost its roof to the storm.
Contact Wyatt Massey at wmassey@timesfreepress.com or 423-757-6249. Follow him on Twitter @news4mass.
Contact Ben Benton at bbenton@timesfreepress.com or 423-757-6569. Follow him on Twitter @BenBenton or at www.facebook.com/benbenton1.