Two people were arrested at an Ooltewah mobile home park late Thursday, a day after the Hamilton County Sheriff's Office began investigating management for allegedly hoarding donated supplies intended for residents after an EF3 tornado left one dead and dozens displaced late on Easter Sunday.
Steven West, 64, and Kimberly West, 49, have both been charged with theft over $60,000 and criminal conspiracy to commit theft over $60,000. Their bonds were set to $10,000 each. They are expected to appear in court on April 28.
They were taken into custody at their residence at the Auburn Hills mobile home park around 5:30 p.m. Thursday.
Photo Gallery
Ooltewah mobile home park managers arrested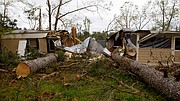 Chief Deputy Austin Garrett told the Chattanooga Times Free Press late Thursday that the two arrests had been made at the property.
"During these traumatic events which have affected so many in our community, the HCSO wants to assure the public we take all allegations of victimization extremely serious," Garrett wrote in a news release.
(READ MORE: Diapers, toilet paper, 162 cases of bottled water: What mobile home managers allegedly stole from Ooltewah tornado relief donations)
"We encourage members of the community to report any instances of victimization. Our personnel continue to serve those in the affected areas and we will remain in the weeks to come with dedicated personnel to provide any support necessary to ensure the safety and security of those affected."
After a man who refused to identify himself told Times Free Press reporters to leave the property or he would make them do so on Thursday morning, Kim West said she was cooperating with law enforcement and has "been accused of so much already," so she would not comment on allegations.
According to court documents obtained by the Times Free Press, detectives saw 54 totes marked Red Cross in the Wests' residence through the window of the front door, which had been screwed shut. Donated supplies came from local businesses and churches, according to court documents.
A complaint came into the sheriff's department about handling of donated goods from a resident, although it is unclear when.
In the past week, the Times Free Press spoke to more than half a dozen neighbors at the park, all of whom expressed concern about how management was handling recovery from the tornado. None of the neighbors would agree to include their names in this story out of fear over their immigration status or retaliation from the management.
One neighbor, a single mother whose home was badly damaged by the storm, told the newspaper that management has stifled response and aid for neighbors out of self-interest.
"All of the people who work here were telling people not to call the cops for help, not to get outside help, or they would risk being deported," she said. "I don't know how many people here don't have their papers or whatever, but we're all, or I guess mostly, Spanish-speaking, so she knew what she was saying."
While the resident said she has her citizenship and didn't fear law enforcement, she was worried about being reprimanded by management if she reached out for help.
"They told us we can't get help and they scared everyone to make sure that's how it went. That's kind of crazy if you think about it," she added. "They are pretending to look out for our interest by keeping us from the police, and from help, but that's just not true."
Days after the storm, neighbors were helping each other clear brush, and some residents stayed with others whose homes were in better condition after the storm. Then, as churches and volunteers began to donate supplies, they began to wonder.
"Look, it's like they don't care whether we live or die, as long as they can collect their lot [rent] next month," the resident said, tearing up. "There are going to be fears about that for some of us, you know? And they know that, so they used that to try and keep people out of the neighborhood, for who knows what reason, and let people sit in the dark, with trees in our roofs, for nights and nights."
Neighbors were already shaken because one of the residents, 46-year-old Jose Arzate, died in the park after the tornado sent a tree through his mobile home.
Residents said the property managers eventually began allowing donations and some volunteers on the property. But according to a complaint to the sheriff's office, they withheld supplies ranging from hand sanitizer to diapers.
None of the residents who spoke to the Times Free Press said they received any supplies from management whatsoever, and one family didn't even know there were supplies available.
Both Chattanooga police and fire departments told the Times Free Press that representatives of the property had interfered with storm cleanup last week, including an incident in which an unidentified landlord told the fire department to refrain from removing a tree from a trailer in the park.
County emergency management officials told the Times Free Press last week that 16 families were rescued from the park on April 16, four days after the storm hit.
Garrett said law enforcement will be at the park after the investigation is complete to monitor safety and resources for the community.
The Times Free Press was barred from entering the park by representatives of management last week, days after the storm.
Contact Sarah Grace Taylor at staylor@timesfreepress.com or 423-757-6416. Follow her on Twitter @_sarahgtaylor.
Contact Rosana Hughes at rhughes@timesfreepress.com or 423-757-6327 with tips or story ideas. Follow her on Twitter @Hughes Rosana.