The Easter night tornadoes that ripped through parts of Chattanooga could end up being one of the costliest ever for Chattanooga's electric utility in its 81-year history.
EPB President David Wade said Friday that rebuilding much of the utility's electric system is likely to cost $28 million or more due to the extensive damages from the April 12-13 storms that brought seven tornadoes and winds of up to 145 miles an hour through parts of Chattanooga. Those storms knocked out power anywhere from a few hours to nine days for 62,000 homes and businesses in EPB's territory and cut off power for thousands more in parts of North Georgia and Marion and Bradley counties.
More than a third of EPB's customers lost power after the storm, but Wade said the losses would have been even more without EPB's smart grid. EPB used its fiber optic network connections and intelliruptors to detect faults quicker and reroute power during the tornadoes to avoid extended outages to an estimated 44,000 homes and businesses.
"Without the smart grid we estimate there would have been about 106,000 customers without power," Wade said. "The devastation from this storm focused on some of the most densely populated parts of our community and consequently heavy concentrations of infrastructure were destroyed."
In the hardest hit areas of the EPB's 600-square-mile service territory, the utility has had to replace 709 of its transformers and string 126 miles of replacement wire along 65 miles of territory where power lines were knocked down during the storms.
Wade said the April 12-13 storms will likely end up being even more costly than the 2011 tornadoes that cost EPB $25 million in damages and left 61,000 customers without power.
BY THE NUMBERS
* $28 million - Estimated storm damage * 60,000 - Number of customers who lost power * 812 - Number of new power poles replaced * 709 - Number of transformers replaced * 125 - Number of miles of new wires installed * 55,000 - Number of meals served to EPB and contract employees who worked on the power restoration * 1,355 - Number of hotel rooms booked for mutual aid utility crews brought to Chattanooga from seven states. Source: EPB
Photo Gallery
Bearden vs. Mount Ida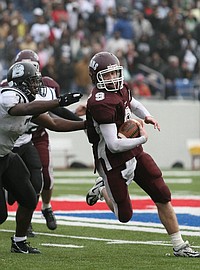 EPB hopes to recover much of the cost of the storm repairs now that the Federal Emergency Management Agency has declared the storm a federal emergency and provides federal funds for the public costs of the recovery. The Tennessee Emergency Management Agency estimates the storm caused from $200 to $300 million in damages in Hamilton, Bradley, Marion and Polk counties and TEMA asked for an emergency declaration to provide federal aid for the affected counties.
EPB, which normally has about a 70-person staff of linemen on duty, boosted that number to as many as 1,500 workers at one point during the past week by employing mutual aid utilities and contractors from seven states. A small army of repair trucks were deployed each day from the Hamilton Place Mall shopping center, which has been shut down since last month due to the coronavirus.
"The damage was so severe that it was actually a challenge to clear out piles of debris and to find a place where we could set each pole," Wade said, noting that EPB had to replace 809 power poles due to the storm. "It was a tremendous effort to rebuild our devastated lines and we still have crews out now putting up some of the ancillary equipment that wasn't required for service to be restored."
About 450 homes were too damaged for safe power restoration, requiring the removal of electric connections until repairs are made or the home rebuilt.
As of Friday, EPB still has about 4,000 of its fiber optic customers out of service for either internet, telephone or video connections and the utility has about 400 workers still on the job working to restore telecommunications links for EPB Fiber Optics. Wade expects to reconnect all of its fiber optic customers within the next week.
"We have to built back our electric system first and then beyond that we have to come back in and put the fiber cable back up and splice all of that cable," Wade said. "One fiber optic has 432 individual fibers on it and it's a very tedious process to splice each of those fibers and to make sure they are connected at the right juncture."
EPB said it took about three months to initially build the EPB fiber network for the storm-damaged area, but EPB is now rebuilding that in about a week's time.
EPB Chairman Warren Logan applauded the work of EPB's staff in responding to the storm damages.
"It is still a work in progress, but I don't think there is any community that has outperformed EPB in the speed and depth of this restoration effort," he said.
Contact Dave Flessner at dflessner@timesfreepress.com or at 757-6340