Outdoor learning models have existed since the late 19th century, but until recently they were rarely a hot topic.
This school year there's renewed interest in the subject because of the COVID-19 pandemic, and two campuses in Hamilton County that have been offering outdoor learning for years have seen significant increases in enrollment.
Ivy Academy
Located in Soddy-Daisy alongside the North Chickamauga Creek Gorge is Ivy Academy, a tuition-free, public charter school that is part of Hamilton County Schools. The school is open to county sixth through twelfth graders on a first-come, first-served basis.
Going on its 11th year, Ivy is known for having indoor and outdoor classrooms.
Photo Gallery
Outdoor learning in Hamilton County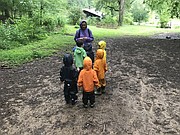 The outdoor classrooms consist of about 24,000 square feet of various covered and uncovered learning spaces. Such spaces include an environmental course, a pollinator classroom located close to a contained beehive and a floating classroom.
Yes, a floating classroom. It's a small boat - donated by state Rep. Mike Carter, R-Ooltewah - redesigned as a mini-classroom.
According to Angie Markum, Ivy's director of development, outdoor learning has always been one of Ivy's hallmarks.
"Research has shown that outdoor learning increases academic performance and improves social-emotional health in school-age children, and may decrease the need for some medications," Markum said in a news release. "Studies are showing that being outdoors combined with other current COVID-19 safety measures lowers the risk for coronavirus transmissions over being indoors, in addition to positive effects on children's physical, emotional and mental health and behavior."
Ivy senior Allyson Wilkey once attended a zoned public school within the school district. Wilkey, who has been enrolled at Ivy since sixth grade, said she likes the outdoor curriculum and that learning outdoors helps her pay attention.
Sixth-grader Ava Rickman is new to the school this year. She also said that she enjoys learning outdoors.
Markum told the Times Free Press the campus has seen an increase of those wanting to get into the charter school due to its "growth pattern."
"We have seen an increase in the number of people on our waiting list," she said Monday. "As a charter school, we could only enroll so many students."
Wauhatchie School
On an early morning, you could hear kindergartners make wolf howling sounds as a way to announce snack time. Sometimes you could hear an actual wolf.
Not too far from Lookout Mountain is a private forest school called Wauhatchie School. The campus, which is 100% outdoors, is a nature-based school that promotes nature immersion, holistic growth, the love of learning and compassion for all, officials say.
The school offers full- or half-day classes for pre-kindergartners through third graders, along with outdoor learning for home-school students ages 7 to 14.
Co-founder Jean Lomino told the Times Free Press the school was established in 2015. That year, there were only 12 students enrolled. This year, Wauhatchie saw a jump in enrollment, due to more parents seeking alternative ways of learning as public schools' explored hybrid schedules because of COVID-19.
Last year enrollment was 120 - this year is 150, including home-schooled students.
"[Forest school] started in Europe in the 1950s. They have been doing it for a long time over there, but now it's definitely worldwide and exploding right now because of COVID-19," Lomino said.
She said the school's goal is to have forest schools in place at campuses throughout the Hamilton County Schools district.
In December 2019, Wauhatchie received a Lyndhurst grant to work with area public schools to develop K-12 forest programs.
"We have partnerships with several including Calvin Donaldson, East Ridge Elementary and two more that joined us later, Bess T. Shepherd and Lookout Valley Elementary," Lomino said.
Wauhatchie and Ivy have partnered to have a forest school at the charter campus. The pre-K program started last year and is offered at the campus this school year.
Contact Monique Brand at mbrand@timesfreepress.com or 423-757-6592. Follow her on Twitter and Facebook @MoBrandNews.