Nearly eight months after a tornado ripped through East Brainerd and demolished the Grace Baptist Church & Academy, work has begun to build a new church and school that officials hope is ready in another year and a half and could facilitate nearly doubling the size of the K-12 academy in the future.
"Across this campus, the landscape still shows the devastation of those storms on that Easter Sunday night and it's still a shock to see," Matt Pollock, the head of school at Grace Academy, said at a groundbreaking ceremony Saturday for the new church and school at the corner of Shallowford and Jenkins roads. "But it has become increasingly evident that Grace Baptist will be able to build back a ministry on this corner that will be stronger, safer and with even more opportunity to care for people in need and to teach young people through our academy."
On April 12, 2020, a tornado destroyed 15 of the 17 buildings that made up the church and school on the 17-acre parcel. Hundreds of nearby homes, including many owned by those who are members at Grace Baptist Church, were damaged or destroyed when an EF3 tornado swept through parts of East Brainerd and Ooltewah.
The federal government has declared the tornado-ravaged parts of Chattanooga a disaster area, qualifying many damaged sites for Federal Emergency Management Agency aid and low-interest loans. Adam Love, senior pastor at Grace Baptist Church, said the church is still working with FEMA and its insurance company to help in the storm recovery, and the church is raising additional funds for the new campus.
The total cost of the building reconstruction will top $40 million, with plans for five interconnected buildings and room to expand both the upper and lower school at Grace Baptist Academy while still leaving 27% more green space than in the previous campus.
When it is finished in 2022, the new campus will include a worship center with a 700-seat auditorium, a field house and athletic building with a 1,000-seat tournament gym, a fitness center and new buildings for both the lower and upper school with the capability of being expanded for enrollment of up to 750 students. The campus is also getting a new football and soccer stadium, a softball and baseball field and an amphitheater.
Photo Gallery
Grace Baptist rebuilds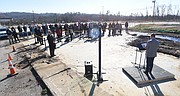 "Over the past eight months, we have watched God take a ravaged part of our city and begin to transform it," Love said. "The Lord is allowing homes to be rebuilt, families to be resettled and communities to start reclaiming their identities again."
But Love said this year has demonstrated that the church is more than a building and the ministry has continued by sharing space for the school at Morris Hill Baptist Church and sharing worship space with First Seventh Day Adventist Church just a few blocks away on Shallowford Road.
"If the buildings are our legacy, then we have failed," Love said. "We saw that buildings can be taken away from us very quickly, but it's the people who are the legacy of Grace."
Construction on the new K-12 school and the church comes just a couple of weeks after the Grace Baptist Academy Children's Center was repaired and reopened for nearly 100 preschool children following the April tornado.
The children's center and a nearby residence were damaged by the tornado but remained structurally sound. The rest of Grace Baptist Academy, though, was gone.
Rardin & Carroll Architects designed the new structures, which will be built by Tyson & Associates Construction Co. The new church and school buildings will replace the demolished structures with more modern, energy-efficient and integrated facilities, Love said.
"God has been good in providing the funds for adding buildings to our church and school as they were needed over the years," Love said. "As a result, all our buildings went up at different times, and many of them had become outdated. Now we will have new, state-of-the-art facilities that will be part of one cohesive, well-planned-out campus."
Grace Baptist Church, which began on its current site in 1963, expects to move into the new church facility in late spring of 2022. The Grace Baptist Academy school, which opened in 1985, is looking to be complete in the fall of 2022.
Contact Dave Flessner at dflessner@timesfreepress.com or at 423-757-6340.