Musicians have for decades embraced technology as a way to counter expensive studio time and to put their art on something tangible, so in some ways they were ahead of the game when the pandemic hit. Home studios have evolved from simple cassette recorders to laptops with software like Pro Tools and Garageband, and talented creatives have used them to make everything from demos to full albums.
In addition, there are several studios in the Chattanooga area either operating out of standalone buildings or in someone's house that are producing music for others.
Several area musicians have taken advantage of the opportunities these advances have provided and have new music out now or out soon. That doesn't mean people aren't recording in traditional studios either. Strung Like a Horse released its first studio album, "Whoa!," last month.
Call Me Spinster is an example of bands taking advantage of both a traditional studio and recording at home.
Photo Gallery
New local music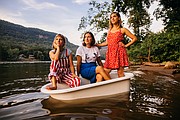 CALL ME SPINSTER
Call Me Spinster recorded about 70% of a self-titled debut at Chase Park Transduction in Athens, Georgia, before COVID-19 forced them to turn a bedroom into a studio, using couch cushions and a mattresses for soundproofing, and learning how to use Reaper software to get the rest of the tracks they needed.
Sisters Amelia Jacobs (vocals, accordion, glockenspiel, guitar), Rachel Graber (trash percussion, mandolin, banjo, ukulele) and Rosalie Graber (bass, glockenspiel, harmonica) will celebrate the release of their five-song EP of pop harmonies "Call Me Spinster" on Dec. 11 at Yellow Racket Records on East Main Street.
They will do an in-store meet-and-greet during the day, and then they will perform on the back patio at 5 and 7 p.m. Like the rest of the music mentioned here, it is available on nearly all streaming services.
They've also released two videos for "Here You Are" and "Two Hearts." The first was shot by Jerri Eduave and the latter by Amelia's husband, Dan Jacobs.
Drew Vandenberg produced the album for Strolling Bones Records.
According to the band, "Two Hearts" was written "after a fight with a loved one and, like many of our songs, [composed] in a bathtub."
"It is about a moment in a relationship when expectations suddenly shift, but faith that the 'seeds and rinds' of what was there in the first place will remain through difficult times," the group explained in an email. "As we worked on the video in the spring of 2020, the song itself took on a new meaning. We, like millions of others, navigated the dreamlike ocean of highs and lows of relationships in quarantine - condensed into a tiny fish tank - finding that the essential components of love and connection can be distilled through stress and hardship rather than broken."
ABBY GIRL AND THE REAL DEAL
Abby Maharij, a Marion County native and University of Tennessee at Chattanooga graduate, now lives in California and fronts a band called Abby Girl and the Real Deal. They just released "Calling Me Home."
"I live in the Los Angeles area now, but grew up in Jasper, Tennessee," says Maharij. "I graduated from UTC in 1989 with a degree in English literature. I was also in the Chattanooga Singers all four years and performed on several overseas tours with them."
Maharij says her band "has become popular in the roots-music scene, having played many large festivals like Viva Las Vegas Rockabilly Weekend, Nashville Boogie and Doheny Blues Festival, among others."
She describes the album as "13 tracks of house-rockin' '50s-'60s R&B, Americana originals and a dreamy version of 'Hurt Me' by Wynona Carr with Big Sandy on backing vocals and D.J. Bonebrake of the band X on vibes."
SUMMER DREGS
Carl Cadwell is known in the local music scene as Summer Dregs, a producer and musician who records for himself and others in his home-based Skypunch Studios. In March he traveled to Queens, New York, to write and record with BROCRISP, a musician and actor with ties to Chattanooga.
The result is "Jungle Savior," a collection of pop/synth tracks essentially recorded virtually.
"We actually met up in early March at his place in NYC to record two songs," Cadwell said. "His place up there is called Rock Rising. He's trying to make the transition from acting to music and other things. We had such a good time. We had plans to meet up three or four more times to do the rest of the album. That week we wrote 'Greenlight' and 'Jungle Savior.'
"Obviously, soon after, the pandemic hit NYC hard, and those plans got scrapped. So I mailed him one of my microphones, and we did sessions remotely via Zoom. He in NYC, me in Chatt. All this during the worst of the pandemic and protests in NYC."
Cadwell said he handled all of the production and mixing from his studio. The album was remixed by Rock Floyd. It features Kessler Cuffman on guitar.
Summer Dregs is also credited as the mixing engineer and for contributing synthesizer sounds for new artist Topknot's new single, "Something Between Us," a track released last week.
Joining him on the track are Tim Cofield and Ivan Garcia, who co-wr0te it and also play on it. Cofield describes the track as "retro '80s beach pop. David Bowie meets Borns meets Tame Impala meets Cut Copy."
JASON LYLES
Jason Lyles has been performing '90s power pop, alternative, Americana and roots rock styles in the Chattanooga/North Georgia music scene since 2003. He said his latest album, "Chameleana," "is my best work, and the one with which I've had the most creative freedom."
"I've been performing mostly acoustic Americana rock music for years, so it was kind of my starting point, and all the songs started on acoustic guitar. However, on this album I didn't want to be locked into an acoustic format. I wanted to let all my colors and influences shine through, hence the chameleon."
It features Hannah Kuhn on cello, Jeff Bridges on drums, Sandra Hyers on backing vocals and tambourine and Gabe Lane on slide guitar. Stephanie Brooks overdubbed strings onto the tracks.
It was mixed by Andrew Preavett at Breaker 17 studio in North Georgia and engineered by William Bowers.
LON ELDRIDGE
Lon Eldridge is a multi-instrumentalist with a distinctive mustache and a penchant for old-timey sounds and lyrics. His fifth album, "The Island," features Eldridge on electric/acoustic/resophonic guitars, lap steel, bass guitar, ukulele and vocals.
Making guest appearances on the record are Tom Morley on five-string fiddle, Elisa Meyer Ferreira on bandolim, Lia Meyer Ferreira on seven-string guitar, Corina Meyer Ferreira on flute, George Norman on mandolin, Sami Arefin on acoustic guitar and Brannon Starnes providing narration/backing vocals.
TERMINAL OVERDRIVE
Terminal Overdrive is a hard-rocking five-piece who just released the album "Something You Believe." They produced the record themselves at Fugitoid Studios in Chattanooga, with guitarist Chris Moree producing it.
The band features Eric Waller on vocals, Marshal Elkins on bass, Jennifer Weaver on keyboard and Chris Campbell on drums.
LENOX HILLS
Four-piece alternative rock band Lenox Hills put out a new song this week called "I Feel It Coming On."
According to an email from the band, the song is "about being young and being able to enjoy having few responsibilities. Everyone in the band has really been searching for that feeling since coronavirus hit the states back in March. 'I Feel It Coming On' really helped get through those tough times by reminding us that things will be normal again someday. We felt it was really important for us to write a 'feel good song' for our first song back because we wanted to help people feel good again."
Founders Luke Mullin (vocals, guitar), Packy Mullin (guitar), Kyle Swenson (drums) and Kameron Dunn (bass) grew up in the same Cleveland, Tennessee, neighborhood and recorded the song at Sound Emporium Studios in Nashville.
Contact Barry Courter at bcourter@timesfreepress.com or 423-757-6354.