Britney Parks was left paralyzed from the waist down after being shot multiple times in April. Unable to work, she didn't know how she'd afford any gifts for her children this Christmas.
"It's been a long eight months. It's been stressful," she said. "Right now, they don't know if I'll walk again. It's just - it's a lot."
So when she found out her family had been picked to be one of the stops on the Forgotten Child Fund's annual Santa Train, she was ecstatic.
"I had butterflies in my heart," she said. "I wanted to cry. I really did."
And then the moment finally arrived.
Photo Gallery
Forgotten Child Fund's annual Santa Train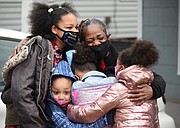 It was Christmas Eve, and Parks' three children - ages 13, 6 and 2 - and other family and friends waited anxiously on the home's front porch in the frigid air.