Britney Parks was left paralyzed from the waist down after being shot multiple times in April. Unable to work, she didn't know how she'd afford any gifts for her children this Christmas.
"It's been a long eight months. It's been stressful," she said. "Right now, they don't know if I'll walk again. It's just - it's a lot."
So when she found out her family had been picked to be one of the stops on the Forgotten Child Fund's annual Santa Train, she was ecstatic.
"I had butterflies in my heart," she said. "I wanted to cry. I really did."
And then the moment finally arrived.
Photo Gallery
Forgotten Child Fund's annual Santa Train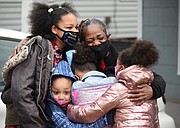 It was Christmas Eve, and Parks' three children - ages 13, 6 and 2 - and other family and friends waited anxiously on the home's front porch in the frigid air. Neighbors also gathered on their porches to watch.
Patiently, but excitedly, they waited.
Then, off in the distance, the distinct sound of fire and police sirens could be heard as the Santa Train - a procession of police cars, firetrucks and ambulances, all with emergency lights and sirens on - got closer.
"I didn't think I could get out here on the porch fast enough," Parks said.
Her children, however, had been on the porch all day.
Parks said her children knew they'd get to meet Santa Claus but they didn't know they would be getting any gifts.
"Do You Hear What I Hear" played as emergency vehicles started to file into the street in front of their house. As first responders and Forgotten Child Fund volunteers started unloading boxes of toys, the children got more excited.
Their favorite gifts were the brand new bicycles, they said, as they thanked and wished everyone a merry Christmas.
"You guys just don't know how much y'all made my day," Parks told the first responders and volunteers. "This really means a lot to me because, like I said, I wasn't able to provide for my kids this year like I normally could do."
Every year since 1965, the Forgotten Child Fund has been providing Christmas toys to children whose families can't afford them. And every Christmas Eve, the fund selects a group of families to visit with its Santa Train.
At each stop, volunteers with trash bag-sized sacks full of stuffed animals hand out the toys to neighborhood children, too.
Dozens of first responders and their families - even Santa Claus himself - join the train each year and carry boxes and bags full of toys as excited adults and children watch from their homes, curious about the commotion as the train winds its way through neighborhoods.
This year, the train operated a bit differently due to the COVID-19 pandemic. Fewer first responders - all masked up - participated, and the public was unable to take part. The gifts were dropped off in the families' driveways rather than being carried into their homes. And Merry Christmas wishes were exchanged from afar.
But despite the pandemic and having to start looking for a new storage facility after finding out its lease won't be renewed, the fund provided gifts for more than 10,500 children this year, Forgotten Child Fund spokesman Clay Ingle said.
"It's been a trying time working around COVID," he said, adding that he's thankful for the volunteers and hopes everyone can stay safe.
From the street in front of Parks' house, the volunteers and first responders gathered for a group picture. It was the last stop of the night.
Before they left, they all shouted, "Merry Christmas!"
Contact Rosana Hughes at 423-757-6327, rhughes@timesfreepress.com or follow her on Twitter @HughesRosana.