Photo Gallery
Tackling opioid addiction in the workplace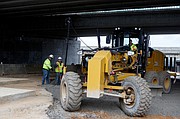 The opioid epidemic was in its infancy when Scott Elam, the risk manager and director of training for Wright Brothers Construction Company, first learned five years ago that his company needed to change its approach to addiction.
Elam and other company leaders had just returned from a conference for their health insurance group. A keynote speaker there told them about the growing prevalence of drug abuse due to prescription opioids - a class of drugs that includes powerful painkillers such as oxycodone, hydrocodone and codeine.
Opioids trigger the brain's "feel-good" hormones, which dampen a person's perception of pain and boost feelings of pleasure, but that effect can also make the drugs highly addictive, according to the Mayo Clinic website. Opioids can also cause serious and fatal side effects, particularly when taken in high doses or with other substances.
Tennessee's rate of opioid prescriptions was the second highest in the nation and peaked in 2012, prompting new policies that reduced the total number of opioid prescriptions. But as prescription rates fell, drug overdose deaths due to the illicit drugs heroin, fentanyl, cocaine and methamphetamine all increased, according to the 2019 Tennessee Drug Overdose Report.
Between 2016 and 2017, heroin overdose deaths in Tennessee rose from 260 to 311 and fentanyl deaths spiked from 294 to 500. Cocaine overdose deaths increased from 130 total deaths in 2013 to 306 deaths in 2017, and methamphetamine deaths increased from 80 deaths in 2013 to 319 deaths in 2017, surpassing cocaine overdose rates for the first time. At the same time, 1,261 Tennesseans died of an opioid-related overdose and medical providers treated at least 23,600 nonfatal overdoses, according to state data.
With around 600 to 800 employees, depending on the season, the Charleston, Tennessee-based Wright Brothers takes on major construction projects across the Southeast, including the Volkswagen Assembly Plant site preparation and U.S. Highway 27 reconstruction in Hamilton County.
It's physically and mentally demanding, as well as hazardous, work. Employees must operate and work around heavy machinery and explosives needed to move large quantities of earth. Meeting project deadlines often means working 12 hours per day, 6 days per week and at night, when road traffic is lightest.
"What we do is unforgiving. If you make a mistake, if someone's head is not in the game or if someone's under the influence, it may not just be them who gets hurt," Elam said.
The safety sensitive nature of construction makes it even more prudent to have a sober workforce. However, the strenuous work increases one's chances for injuries, leading to treatment or self-treatment with pain medication such as marijuana or opioids.
"You may have a healthy employee, they get injured and then they are prescribed opiates, and then that problem may turn into a much much bigger problem," Elam said, adding that Wright Brothers has worked with prescribers and their insurance company to not use narcotics as a first line treatment.
Construction workers are the most likely of all occupations to use cocaine and misuse prescription opioids, according to a study published this fall in the journal Drug and Alcohol Dependence. They're also the second most likely to use marijuana after service industry workers, the study found.
Bradley Jackson, president and CEO of the Tennessee Chamber of Commerce and Industry, said substance use makes it even harder for businesses to fill needed positions, especially when unemployment rates are low. The opioid epidemic annually cost Tennesseans more than $2 billion in 2017, largely due to lost income of people who have left the labor market due to a substance use disorder, according to a policy research group at the University of Tennessee cited by the chamber in a news release. While all industries have been impacted, Jackson said the construction, manufacturing and hospitality industries in Tennessee have "really suffered."
"Employers are in a pinch. We heard of a case of 100 applicants, they narrowed the list down to 40, and out of 40 only nine came back and passed the drug test," Jackson said. "The company hired all nine, but then after two months only two remained, because the market is so competitive."
Jackson said substance use has become a top workforce concern in the state, prompting the chamber to roll out a "Statewide Opioid Toolkit" to help businesses identify and combat the crisis. The toolkit includes an employer resource library with policy best practices and a directory of local and statewide resources, such as preventive services and coalitions, local recovery care organizations, unused prescription drug take back programs and national treatment and support programs.
"Businesses know they have employees who have addiction issues, but oftentimes they don't know what to do," he said.
Elam said that while drug policies for construction companies must be comprehensive, Wright Brothers has worked to create a culture that encourages an open dialogue about addiction and modified its employee assistance program to look more toward treatment options.
"We can't have someone on site who's under the influence of things, so we have to be very careful, but we try to partner with our employees and give them options," Elam said. "If they have a problem, we try to help them find a solution, find a place to go get that help, and go through a process of rehabilitation to bring them back."
He said Corporate Chaplains of America, which provides 24/7 access to workplace chaplains to help people in crisis, has also been critical to the company's success.
"They are as much involved or not involved as the employee wants, and they try to touch back with our employees weekly," Elam said. "It's arguably the best money we've ever spent as a company, and it also helps with this addiction issue, because it's talking about the root cause - anxiety and pain."
In addition to its toolkit, the Tennessee Chamber is hosting events to bring employers, first responders, health care representatives, and recovery care organizations together with local chambers. Events took place in Jackson and Kingsport in January, and upcoming events are scheduled in Nashville on Feb. 11 and Maryville on Feb. 20. Employers and interested community members can find the toolkit and more information at www.tnchamber.org/otk.
Wright Brothers has worked to provide resources in Southeast Tennessee through ATS the Bridge, an anti-drug organization formed to spread awareness, locate treatment options and help sustain sobriety for those affected by substance abuse. Elam is the group's chairman and spends much of his time nowadays speaking at local schools and helping community members.
"You've got a surplus of people in recovery that are needing career skills. We need employees. So let's see if we can teach these guys how to be construction workers," he said.
Through one of their partnerships, Elam recently hired two workers in recovery, and "they're model employees."
"We're hopeful that more people will start thinking that direction, because those may be your best employees," he said. "They're willing to work hard to maintain sobriety and provide for their family, because they've seen where this ends if you make the wrong choice."
Contact Elizabeth Fite at efite@timesfreepress.com or 423-757-6673.