Photo Gallery
Tackling opioid addiction in the workplace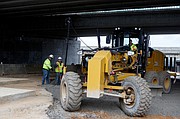 The opioid epidemic was in its infancy when Scott Elam, the risk manager and director of training for Wright Brothers Construction Company, first learned five years ago that his company needed to change its approach to addiction.
Elam and other company leaders had just returned from a conference for their health insurance group. A keynote speaker there told them about the growing prevalence of drug abuse due to prescription opioids - a class of drugs that includes powerful painkillers such as oxycodone, hydrocodone and codeine.
Opioids trigger the brain's "feel-good" hormones, which dampen a person's perception of pain and boost feelings of pleasure, but that effect can also make the drugs highly addictive, according to the Mayo Clinic website.