Local teachers are wondering how much of Gov. Bill Lee's proposed 4% teacher hike they might see this year if his budget passes.
Lee is proposing to spend $117 million on educators' pay in his new budget, part of a nearly $650 million increase in education funding, but last year Lee's budget also included funding to increase teacher pay - and yet Hamilton County teachers didn't receive a raise.
Instead of a promised 2.5% raise, which Hamilton County Schools officials said would have actually ended up beinig around a 1.5% increase for all certified staff positions, including those not funded by the state, Hamilton County teachers instead received two one-time bonuses totaling $2,055 after the Hamilton County Commission voted down the district's initial budget proposal.
"We want to make sure that we state that any forward movement on pay is a good thing, however, when you look at the numbers, there are several key parts of this that play into this," said Kendra Young, a science teacher at East Hamilton Middle High School and co-founder of Hamilton County United, a new teacher activist group.
Photo Gallery
Proposed teacher pay hike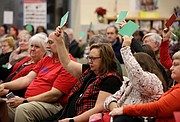 Hamilton County has more than 500 teachers not covered under Tennessee's education funding formula, the Basic Education Program (BEP), so any dollars appropriated toward teacher salaries would be spread among all certified staff.
"What happens then is that pool of money that Gov. Lee has set aside is divided among that actual number of teachers. That takes that 4% down to about 2-2.5%, which is not even a cost of living [increase]," Young said.
Beth Brown, president of the Tennessee Education Association, said this is a problem across the state.
"It becomes even more of an issue for those rural districts who don't have the tax base to make up for what the state's not funding." Last year, Brown noted, there was a "lot of talk [about] how much money the state had been sending in state raises over the past five years. And I told them I've not gotten anything."
John DeVore, a sixth grade English language arts teacher at Hixson Middle School, said such a raise wouldn't help fix the disparities between Hamilton County teacher salaries and surrounding counties, including North Georgia.
"Additionally, a 4% raise is less than what was proposed by the school board during the last budget cycle, and because it applies statewide, it does nothing to fix disparities in pay with surrounding counties," DeVore said in an email. "But the increase simply doesn't cover the extra hours we work, the money we personally invest, or the stress we endure. The governor's approach seems to be akin to handing a Band-Aid to a man who just lost his arm and bragging about how great he is at field medicine. It's better than rubbing dirt on it, but only marginally."
DeVore and Young both agreed that the work must be done at the local level.
Though Young believes Superintendent Bryan Johnson and Hamilton County school board members are supportive of increasing teacher pay, she worries that county commissioners, especially the five that voted against a property tax rate increase to fund public education last summer, don't see it as a priority.
Hamilton County United organized last year after the budget cycle and has begun to rally teachers to speak out about their concerns, including funding. In November, the group invited local elected officials to a townhall to discuss how to better invest in and support local public schools.
The group, along with the local teachers union - Hamilton County Education Association (HCEA) - have also previously said they would work for a 10% teacher pay increase in Hamilton County Schools' FY 2021 budget, along with pay increases for certified staff.
Jeannette Omarkhail, president of HCEA, said the real issue is how the state funds education overall.
"It would take $1.2 billion to bring Tennessee up to the regional average of per pupil spending," Omarkhail said. As for the BEP, Omarkhail argues that it is fully-funded for what it does, but it's not an appropriate model for the entire state.
"There is an imbalance in the BEP," she said. 'They base it on what they believe your county can [fund], but that's not the reality. Every district has different needs and different resources."
State Democrats have been calling on Lee to allocate an additional $1.5 billion annually into K-12 public education, amounting to about a 25% increase over the current $5.25 billion in the state's share of spending, as well has demanding changes to the state's school funding formula.
Instead, Lee proposed the $650 million increase in his record $40.82 billion forecasted budget during his State of the State address Monday night.
Carrie Bishop, a reading and language arts teacher at Hixson Middle School, said she was thankful for the commitment to public education that Lee expressed in his address.
"I am especially encouraged by Governor Lee's investment in teacher salaries. When the Governor said, 'We will do whatever it takes to make Tennessee the best state in America to be a student, and that means making Tennessee the best state in America to be a teacher' it sent a powerful message to teachers here in Hamilton County," Bishop wrote in an email. "We know that teachers are the #1 in-school factor for student success – and it's clear Governor Lee appreciates that. I was moved to tears when I heard him say that."
Locally, Johnson and Chief Business Officer Brent Goldberg told the Times Free Press last month that teacher pay would be the top priority in this year's budget request.
The district is holding community budget meetings, starting next week, before developing a budget to present to the school board.
Johnson is also anticipated to talk about teacher pay during his own State of the System address Thursday evening at Howard Connect Academy.
Staff writer Andy Sher contributed to this report.
Contact Meghan Mangrum at mmangrum@timesfreepress.com or 423-757-6592. Follow her on Twitter @memangrum.