Photo Gallery
Medal of Honor Center opens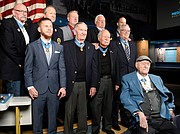 Just after 11 a.m. Saturday, hundreds of people celebrated under falling blue balloons and gold confetti marking the official opening of the Charles H. Coolidge National Medal of Honor Heritage Center.
The yearslong process of creating the center culminated in the morning ceremony, which featured 10 Medal of Honor recipients, families of service members, local and state politicians.
Tennessee Gov. Bill Lee said the day was an opportunity for Americans to reflect on how fortunate they are and to recognize the courage of service members.
"It is so important not only to honor and recognize the men and women and the sacrifices that have been made, but for the next generations to remember why it is we live in the greatest nation in the world," Lee said.
The medal is the highest military honor. Since its creation, nearly 3,500 have been awarded. The 19,000-square-foot center near the Tennessee Aquarium features an interactive education program for area schools so students can learn about the recipients and their shared values of citizenship, commitment, courage, integrity, patriotism and sacrifice. Leaders of the center said they want to impact the community beyond creating a historic space.
General B.B. Bell, chairman of the center's National Advisory Board, emphasized the legacy of Chattanooga in the history of the award. The Medal of Honor was first awarded in 1863 for Andrews' Raid, a Union attack on Confederate railways between Atlanta and Chattanooga.
"Chattanooga is therefore the rightful place, the birthplace of America's highest award for valor, because it is here where it all began," Bell said. "Over 3,000 medals later, the medal's heritage and its birthplace finally have a home on the very ground where it all started."
Special recognition was paid to Charles Coolidge, a Signal Mountain native and one of two living World War II recipients of the award. Coolidge received the award for leading 27 infantrymen holding back the German military over several days in France.
Coolidge's son, Charles Coolidge Jr., thanked those in attendance on behalf of his father.
"It's his fervent hope and prayer that [the center] will serve as a beacon for present and future generations of Americans," Coolidge Jr. said.
Continuing his father's eternal optimism, Coolidge Jr. said the center will impact Chattanooga and the surrounding area for generations to come.
The first months of the center will feature a special exhibit for Coolidge. Visitors can see footage of him receiving his Medal of Honor in the battlefield, as well as a filmed re-enactment of Coolidge's heroic stand in France.
The heritage center is now open to the public for tours.
Contact Wyatt Massey at wmassey@timesfreepress.com or 423-757-6249. Follow him on Twitter @news4mass.